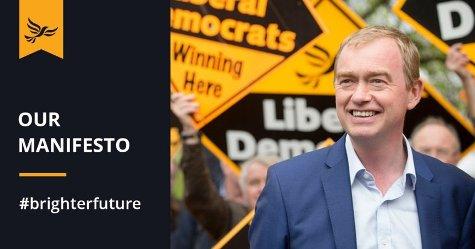 On 17 May 2017, the Liberal Democrats launched their manifesto for the 2017 General Election. You can read it in full here.
International Affairs 
Liberal Democrats are internationalists – working with our European and global partners to champion human rights, help the poorest and protect our country and our allies. We will fight isolationist policies to maintain the UK's proud record of international leadership.
Our Plan for International Affairs
Continue to spend 0.7% of national income on aid: reducing poverty, defending human rights, protecting the environment and preventing violent conflict.

Defend international co-operation against the rising tides of nationalism and isolationism.
Suspend arms sales to Saudi Arabia and control arms exports to countries with poor human rights records.
Working for peace and security across the world
This is a challenging time for peace and security across the world. Terrorist organisations prosper, the conflict in Syria continues to present a significant problem to the region and the world, and rising tensions between Russia and the USA threaten a longstanding balance of power.
The UK has a proud record of playing a leading role in the European Union and in international institutions like the UN, NATO and the Commonwealth and should continue to do so, promoting wherever possible the liberal values of freedom and opportunity for all. We will:
Champion the rules-based international order, which provides a strong basis for multilateral action to address the world's most pernicious problems including poverty, armed conflict, disease, climate change, and the abuse of human rights including forced marriage, so-called 'honour' killings, and Female Genital Mutilation.
Use all aspects of government policy – trade, aid and diplomacy as well as military cooperation – to strengthen UK efforts to prevent violent conflict.
Work with our international partners to address the ongoing refugee crisis, which has seen more people displaced across the world than ever before.
Support the UN principle of Responsibility to Protect, focusing on conflict prevention, and only resorting to military intervention to prevent mass civilian atrocities if all other means of resolution have been fully exhausted.
Improve control of arms exports by:
- Implementing a policy of 'presumption of denial' for arms exports to countries listed as Human Rights Priority Countries in the Foreign and Commonwealth Office's annual human rights report.
- Enforcing end-user certification on all future arms export licenses with an annual report to Parliament on this certification.
- Creating a public register of arms brokers.
Liberal Democrats believe that despite efforts to prevent violent conflict, sometimes military intervention is necessary. The UK should only militarily intervene when there is a clear legal and/or humanitarian case, endorsed by a vote in Parliament, working through international institutions whenever possible. We will encourage dialogue and mediation to reduce conflict between and within countries, working through the UN and other agencies.
In response to current major conflicts worldwide, we will:
Work with international partners to tackle violent extremism manifested by organisations like Daesh and Boko Haram, paying special attention to UK citizens who have fought overseas for terrorist organisations, and may become significant sources of terrorist activity if and when they return to Britain.
Seek new ways to bring an end to the conflict in Syria, working within the UN to break the deadlock in the Security Council. We will work to deter the use of chemical and conventional attacks on civilians, and demand humanitarian access and the release of political prisoners and their families.
Remain committed to a negotiated peace settlement to the Israeli-Palestinian conflict, which includes a two-state solution. We condemn disproportionate force used by all sides. We condemn Hamas' rocket attacks and other targeting of Israeli civilians. We condemn Israel's continued illegal policy of settlement expansion, which undermines the possibility of a two-state solution. We support recognition of the independent State of Palestine as and when it will help the prospect of a two-state solution.
Suspend UK arms sales to Saudi Arabia in response to their consistent targeting of civilians, in breach of International Humanitarian Law, in Yemen. We will work with international partners to re-commence the peace process in Yemen.
Promote democracy and stability in Ukraine and neighbouring countries against an increasingly aggressive Russia. We will work closely with European and other international partners to exert maximum economic and political pressure on Russia to stop interfering in the affairs of sovereign Eastern European nations, and will stand by our obligations under the NATO treaty in the event of threats to NATO member states.
International development
Liberal Democrats have always been – and remain – strongly committed to ensuring justice and equity for poor people around the world. We believe that the UK must continue to play a leading role in ending poverty and promoting environmentally sustainable development, through implementing the UN Sustainable Development Goals. We will:
Maintain our commitment to spend 0.7% of UK Gross National Income on overseas development assistance, in line with the OECD definition, which we legislated for in the last Parliament.
Invest to eliminate within a generation preventable diseases like TB, HIV and malaria and explore new ways to support research and development into vaccinations and treatment to combat these and other deadly diseases and infections.
Develop a global education strategy to address the urgent funding crisis causing 263 million children to miss out on schooling.
Lead international action to ensure global companies pay fair taxes in the developing countries in which they operate, including tightening anti-tax haven rules and requiring large companies to publish their tax payments and profits for each country in which they operate.
Continue building the resilience of poorer countries to resist future disasters, investing in healthcare and infrastructure and training emergency response volunteers, and respond generously to humanitarian crises wherever they may occur.
Provide greater resources for international environmental cooperation, particularly on climate change and on actions to tackle illegal and unsustainable trade in timber, wildlife, ivory, and fish.
In light of the US government's dangerous and anti-science attacks on international programmes of vaccination and family planning, which impact disproportionately on the health of women and children, seek to protect global spending on these essential provisions.
Standing up for Liberal values
Liberal Democrats believe that British foreign policy and international aid should seek to promote the liberal values of human rights and democracy throughout the world. We will:
Support free media and a free and open Internet around the world, championing the free flow of information.
Support the current UN initiative to protect journalists and to combat the impunity with which many countries treat those who attack reporters on the frontline. To this end, we will provide ad hoc funding to UNESCO's International Programme for the Development of Communication.
Campaign strongly for the abolition of the death penalty around the world.
Champion global anti-corruption initiatives to safeguard global security and economic development and maintain a strong voice in international platforms on ending corruption. We will implement outstanding commitments made by the British Government at the 2016 Global Anti-Corruption Summit.
Publish a government anti-corruption strategy.
Introduce Sustainable Development Goals audits of new trade, investment and development deals, reviewing the impact of the deal on People, Planet, Prosperity, Peace, and Partnership
Maintain funding for the BBC World Service, BBC Monitoring and the British Council.
Develop a comprehensive strategy for promoting the decriminalisation of homosexuality around the world, and advancing the cause of LGBT+ rights.
Prioritise support, protection and equal rights for women and girls, which is both right and essential for effective, sustainable economic development. We will aim to end female genital mutilation worldwide within a generation.
Appoint an Ambassador-level Champion for Freedom of Belief to drive British diplomatic efforts in this field, and campaign for the abolition of blasphemy, sedition, apostasy and criminal libel laws worldwide, having already been responsible for ending them in this country.
Rights
Liberal Democrats are internationalists – working with our European and global partners to champion human rights, help the poorest and protect our country and our allies. We will fight isolationist policies to maintain the UK's proud record of international leadership.
Defend human rights by opposing any attempt to leave the European Convention of Human Rights.

Offer sanctuary to 50,000 Syrian refugees and 3,000 unaccompanied refugee children by 2022.
Rights and equalities
Whether by righting past wrongs, protecting citizens, or increasing freedom, the Liberal Democrats believe that legislation defending rights and liberties protects individuals and drives opportunity for many under-represented groups.
Liberal Democrats oppose all discrimination and believe that government should take an active role both in punishing discrimination and in ensuring it does not happen in the first place. Our society is only strong once it includes everybody – regardless of their background.
To extend diversity in public life and business, we will:
Extend the Equality Act to all large companies with over 250 employees, requiring them to monitor and publish data on gender, BAME, and LGBT+ employment levels and pay gaps.
Require diversity in Public Appointments. We will introduce a presumption that every shortlist should include at least one BAME candidate.
To safeguard rights and promote equalities, we will:
Campaign to reduce intolerance, including anti-Semitism, and hate crimes alongside organisations such as Show Racism the Red Card, the Anne Frank Trust UK, and Kick It Out.
Guarantee the freedom of people to wear religious or cultural dress, and tackle the growing incidence of Islamophobic hate crime.
Develop a government-wide plan to tackle BAME inequalities, and review the Equality and Human Rights Commission to determine whether it is effectively fulfilling its role and whether its funding is adequate.
Enshrine the UN Convention on the Rights of the Child in UK law.
Liberty
Liberal Democrats believe that we should all be free from an overreaching state and that the individual freedoms guaranteed by the European Convention on Human Rights and the Human Rights Act are central to a free and democratic society.
For that reason, the Liberal Democrats will:
Oppose any attempt to withdraw from the ECHR or abolish or water down the Human Rights Act.
Terrorism and Violent Extremism
As recent events across Europe – and at the heart of our own democracy, have shown, terrorism and violent extremism threaten us all. As liberals, we must have an effective security policy which is also accountable, community- and evidence-based, and does not unduly restrict personal liberty.
That's why the Liberal Democrats will:
Continue cross-border co-operation between security forces across Europe.
Permit intercepts where justified and permit surveillance of those suspected of serious crime and terrorism with proper judicial oversight.
Scrap the flawed Prevent strategy and replace it with a scheme that prioritises community engagement and supports communities in developing their own approach to tackling the dangers of violent extremism.
Roll back state surveillance powers by ending the indiscriminate bulk collection of communications data, bulk hacking, and the collection of Internet Connection Records.
Oppose Conservative attempts to undermine encryption.
Notify innocent people who have been placed under targeted surveillance where this can be done without jeopardising ongoing investigations.
Immigration and Asylum
Immigration and asylum are under attack. Immigration is essential to our economy and a benefit to our society. We depend on immigration to ensure we have the people we need contributing to the UK's economy and society, including doctors, agricultural workers, entrepreneurs, and scientists and so many others. Immigration broadens our horizons and encourages us to be more open, more tolerant.
Refugees are human beings fleeing from war zones and persecution and we have a legal and moral obligation to offer them sanctuary. The Liberal Democrats are proud of the UK's historic commitments to assisting those seeking refuge from war, persecution and degradation, and believe that we should continue to uphold our responsibilities.
The immigration and asylum systems have suffered from inefficiency and severe backlogs and delays over many years, harming their credibility and ability to operate effectively. We recognise that large-scale immigration has placed strains on some local communities and services. Major improvements are urgently needed.
For that reason, when it comes to immigration the Liberal Democrats will:
Ensure that the immigration system is operated fairly and efficiently, with strict control of borders, including entry and exit checks and adequately funded Border Force policing of entry by irregular routes.
Hold an annual debate in Parliament on skill and labour market shortfalls and surpluses to identify the migration necessary to meet the UK's needs.
Continue to allow high-skilled immigration to support key sectors of our economy, and ensure work, tourist and family visas are processed quickly and efficiently.
Recognising their largely temporary status, remove students from the official migration statistics.
Ensure the UK is an attractive destination for overseas students. We will reinstate post-study work visas for graduates in STEM (Science, Technology, Engineering and Maths) subjects who find suitable employment within six months of graduating. Give the devolved administrations the right to sponsor additional post-study work visas.
Work with universities to ensure a fair and transparent student visa process and find ways to measure accurately the number of students leaving at the end of their course.
Establish a centrally-funded Migrant Impact Fund to help local communities to adjust to new migration and meet unexpected pressures on public services and housing.
Provide additional government funding for English as an Additional Language classes to help migrants and residents gain independence and integrate with their local communities.
And for asylum, the Liberal Democrats will:
Apply the asylum system fairly, efficiently and humanely including the process for those who have no right to be here.
Offer safe and legal routes to the UK for refugees to prevent them from making dangerous journeys, which too often result in the loss of life for example via reform of family reunion rules to make it easier for refugees to joining relatives already living in safety in the UK.
Expand the Syrian Vulnerable Persons Resettlement Scheme to offer sanctuary to 50,000 over the lifetime of the next Parliament.
Re-open the Dubs unaccompanied child refugee scheme, ensuring Britain meets its responsibilities by taking in 3,000 unaccompanied refugee children. Liberal Democrats would offer these children indefinite leave to remain, meaning they will not be deported once they turn 18.
End indefinite immigration detention by introducing a 28-day limit.
Speed up the processing of asylum claims, reducing the time genuine refugees must wait before they can settle into life in the UK.
Expect working-age asylum seekers who have waited more than six months for their claim to be processed to seek work like other benefit claimants, and only to receive benefits if they are unable to do so.
Offer asylum to people fleeing countries where their sexual orientation or gender identification means that they risk imprisonment, torture, or execution and stop deporting people at risk to such countries.