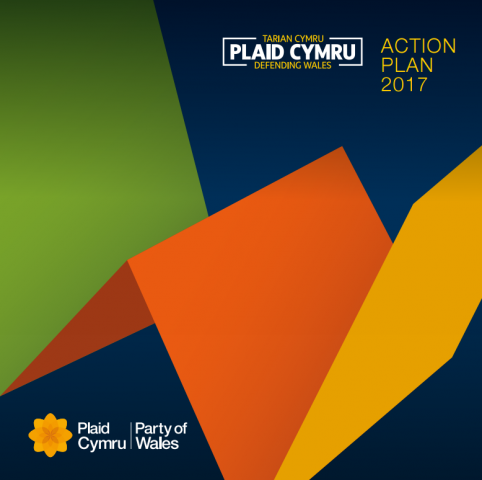 Plaid Cymru launched their manifesto on 16 May 2017. You can read it in full here.
Defending Wales On the global stage (page 48 & 49)
Plaid Cymru is the hardest working party in Parliament. Hywel Williams protected Bangor University international student Shiromini Satkunarajah from deportation by securing 171,000 signatures on a petition and putting pressure on the Home Office to release her. Plaid Cymru voted against the illegal war in Iraq and led a cross-party campaign to impeach Tony Blair for his war crimes. We also voted against air strikes in Syria.
Wales was once a global trading superpower. We now face a situation where we are forced to go cap in hand to a Westminster Government that cosies up to dictators and attacks our closest allies. Plaid Cymru wants an outward-looking, ambitious Wales. By electing Plaid Cymru MPs, you can make sure Wales's voice is heard on the global stage. 
Military action and relationship with the US (page 50)
Where we are: The Tory Prime Minister is willing to do anything to appease her new-found friend, Donald Trump. Unnecessary, undemocratic and ill-considered military action is likely. 
Plaid Cymru's answer: We will oppose military action without UN and Parliamentary authority.
Where we can be: Wales as part of a global community where we work together to keep each other safe and secure.
International Aid and Refugees (page 51)
Where we are: The Tories are not doing enough to help those in need. The UK Government is more interested in selling arms to Saudi Arabia than taking our fair share of refugees.
Plaid Cymru's answer: We will maintain the 0.7% of GDP commitment on international aid and fight for the Dubs amendment, allowing vulnerable refugee children into the UK, to be upheld.
Where we can be: A fairer Wales within a fairer world where we don't turn our back on children in need of our help. 
Immigration (page 51)
Where we are: This government is proposing unworkable and illogical immigration policies which will hurt jobs and wages in Wales.
Plaid Cymru's answer: We will create a Welsh Migration Advisory Service so that we can have a system that suits Wales's needs. Welsh-specific visas are necessary to plug skills gaps and to protect our health service from staff shortages. International students must be taken out of net migration targets.
Where we can be: A logical immigration policy that works for Wales, where students and job creators can come, but wages aren't undercut and communities are protected.