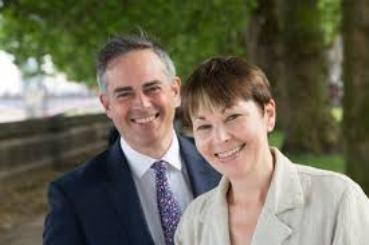 The aid budget
The Green Party condemned UKIP's proposal to cut aid spending from 0.7% of national income to 0.2%. They believe it should be increased to 1%. Jonathan Bartley, Green Party co-leader, said:
"Cutting the aid budget will cost lives. Any move to rollback our commitment to international development would be a dereliction of this country's duty to the rest of the world.
"UKIP's little-Englander approach has no place in a global, interconnected world. We should be increasing our aid budget, not slashing it by billions of pounds. There's nothing anti-establishment about scrapping help for those in need.
"Our foreign aid spending is crucial to help stamp out inequalities around the world. A solution that simply creates another problem elsewhere is no solution at all.
"We know that aid alone isn't enough, and that it must come alongside fairer trading rules, but it is the bedrock of a credible foreign policy where Britain can play a positive role in world affairs. In the coming weeks the Green Party will put forward a bold plan to step up Britain's global commitments on aid, climate change and nuclear disarmament." 
Syria
The Green party condemned Assad's 'barbarous and criminal use of chemical weapons against innocent men, women and children'. Jonathan Bartley went on to say that the crisis in Syria was complex and Trump's airstrikes against an Assad airbase in April risk exacerbating the conflict. Bartley added that the UK should rethink its approach to Syrian refugees and allow more refugees to take refuge in the UK. Caroline Lucas stressed the need for hard and soft diplomacy to hold Assad to account and reaffirmed the Green Party's concerns about Trump's unilateral approach in bombing the Assad air base. 
Detention Centres
Deputy leader of the Green party, Amelia Womack, has condemned detention centres such as Yarls Wood calling them 'inhumane, costly and totally unecessary'. The party has called for an end to immigration detention and called for the release of women who have expereinced sexual violence in the short term. They would also ban male staff from supervising female detainees, who currently supervise women whilst showering, dressing and using the toilet. The Greens have also pledged to implement a three month maximum time limit for processing asylum applications and fund integrated support for asylum seekers. 
Immigration
The Green party has slammed the alleged Conservative pledge 'to cut migration to tens of thousands'. Co-Leader Jonathan Bartley said 'It's time the Conservative Party stopped trying to pin the blame for unemployment, the housing shortage and NHS overcrowding on migrants and acknowledged the abject failure of its own policies, cuts and severe underinvestment.'
Islamophobia and UKIP
Caroline Lucas has described UKIP's integration agenda as being 'full throttled islamophobia' and has pledged to stand up against 'politics of hate'. Lucas continued that Paul Nuttall's attacks on Muslims are a desperate attempt to stay relevant after the Brexit referendum.