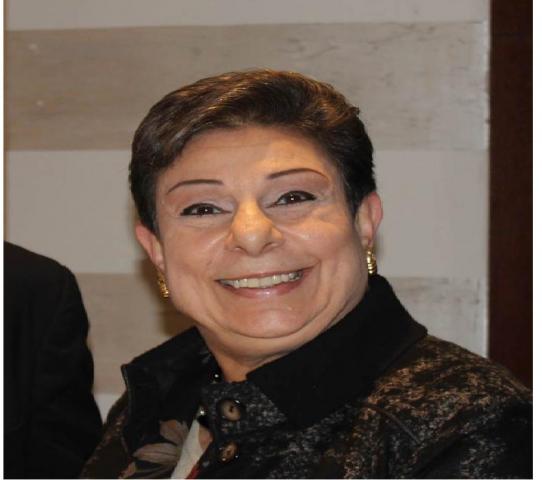 Hanan Ashrawi, Ph.D.
Former PLO Executive Committee Member,Member of Palestinian Legislative Council and Head of the PLO Department of Culture and Information
Dr. Hanan Ashrawi is a distinguished Palestinian leader, legislator, activist and scholar who served as a member of the Leadership Committee and as an official spokesperson of the Palestinian delegation to the Middle East peace process, beginning with the Madrid Peace Conference of 1991.  Dr. Ashrawi was appointed as the Palestinian Authority Minister of Higher Education and Research (1996), but she resigned from the post in protest at the non-implementation of reform plans in governance and peace talks (1998).Prior to that, she was Dean of the Faculty of Arts at Birzeit University, and head of its Legal Aid Committee since the mid-1970s.
Dr. Ashrawi was elected to the Palestinian Legislative Council representing Jerusalem (1996), and, she was re-elected for the "Third Way" bloc ticket (2006).  Making history as the first woman to hold a seat in the highest executive body in Palestine, she was elected as member of the Executive Committee of the Palestine Liberation Organization (PLO) in 2009. 
As a civil society activist, she founded MIFTAH, the Palestinian Initiative for the Promotion of Global Dialogue and Democracy (1999) and continues to serve as head of its Board of Directors.  In the same year, Dr. Ashrawi founded the National Coalition for Accountability and Integrity (AMAN). Moreover, she is the founder of the Independent Commission for Human Rights (ICHR) and has served as its Commissioner since 1994.
Dr. Ashrawi serves on the advisory and international boards of several organizations and is the recipient of numerous awards from all over the world. She is the author of many books, articles, poems and short stories on Palestinian politics, culture and literature. Her book This Side of Peace (Simon & Schuster, 1995) earned worldwide recognition.
Dr. Ashrawi received both Bachelor of Arts (B.A.) and Master of Arts (M.A.) degrees from the American University of Beirut and a Doctor of Philosophy (Ph.D.) degree in Medieval and Comparative Literature from the University of Virginia in the United States.  Moreover, she is the recipient of eleven honorary doctorates from universities in the U.S., Canada, Europe and the Arab world.