School workshops
Caabu has undergone a review of its current activities and it has been decided by its board of trustees to suspend its education programme. Caabu is trying to raise finance to continue this very important work but until such time as funds are received sadly we can no longer carry on with education talks at schools.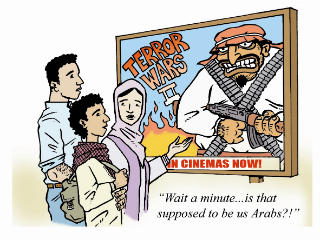 Caabu has an outstanding record in education work, with many years of experience running education workshops around the UK for a variety of ages and a wide range of subjects. We are happy to work with any group size, from five to five hundred, and have experience working with all ages from Secondary onwards.We are happy to tailor our material around your students needs whether you are looking for a full school assembly, a one off discussion class or a series of workshops covering an entire day. We have experience dealing with a variety of topics relevant to the Arab world, Arabic culture and broader topics such as perceptions of Islam and building a critical understanding of the media.
Popular Topics
Many topics fall within our field of expertise. If you're stuck for ideas the following is a list of the most commonly requested topics.
General introduction to the Arab World, Arabs and Arab culture
The Arab Uprisings
The Israel/Palestine conflict
Arab stereotypes and images of the Middle East
Multiculturalism in Britain
If you would like some advice on picking a topic, or have a particular issue you'd like to know if we can cover, contact caabu@caabu.org or call 02078321321.
Key Details
Caabu now has to charge a speakers fee for visits. We also ask that schools cover any travel expenses incurred, and, if necessary, the costs of overnight accomodation.
Our speakers are fully CRB checked.
All our speakers will require access to a laptop and a date projector. Our talks are usually based around a Powerpoint presentation, so any provided IT systems need to be fully compatible with the .ppt and the .pptx file formats.
Supporting our Education work
All of Caabu's work in schools is very demanding in terms of administration and staff time. The average one hour workshop, for example, costs Caabu approximately £150. So that we can continue to offer this vital service, we gratefully accept any contributions to our costs or donations for our work from the schools that we work with.To donate just click on the Paypal link on the right hand side of this page.