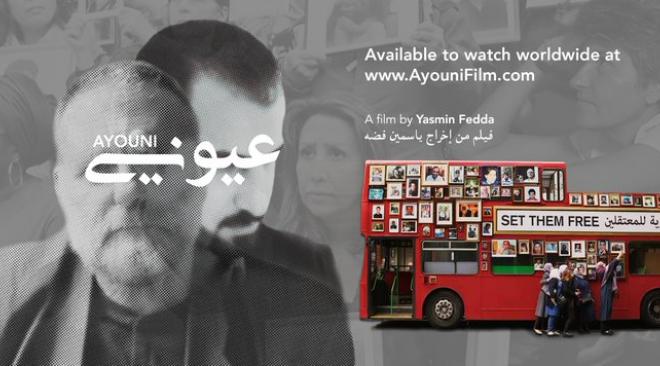 15 Jul 2020 14:00 - 15:00
Caabu invites you to an online briefing to coincide with the worldwide virtual launch of the film, Ayouni. This is an opportunity to hear from one of the protagonists of the film, Noura Ghazi Safadi, a Syrian human rights lawyer and activist, and the film's director Yasmin Fedda. 
You can watch a trailer to the film here. Ayouni is accessible to watch worldwide, and is available in 7 languages (English, Arabic, Italian, French, German, Spanish and Russian) on www.AyouniFilm.com. Ayouni is a Hakawati & Banyak Films production.
Film contributor Noura Ghazi Safadi, Syrian human rights lawyer, activist and wife of Bassel Khartabil, is a key release partner. She recently testified to the UN Security Council about forcible disappearance and detention in Syria - particularly in light of COVID. The film is a key opportunity to understand the context of her work and her story. Noura was one of the founding members of Families for Freedom, a Syria women led advocacy movement for detainees and their relatives. She also set up Nophotozone to provide legal assistance and legal empowerment to advocate for detainees, the forcibly disappeared and their families.
You can sign up for the discussion here using your email address. Once you have signed up, details will then be emailed to you. 
Please register below AHEAD of time to join this online briefing. This makes it much more helpful to us: https://zoom.us/meeting/register/tJYrcOyurTsiH9EQCJ2GRf2OhO3And3N8MJp 
When: Wednesday 15 July 2020, 14:00 UK time (BST) 
Where: Online. Sign up for the discussion here.
PLEASE DONATE TO SUPPORT CAABU'S VITAL WORK: We would be also be very grateful for any donations to help us in our work right now and keep our programme including the webinars going forward. Donate here. Become a member for £50 a year here.
You can watch previous online Caabu briefings on our Youtube channel which you can also subscribe to. 
Keep up to date with Caabu's work by liking our Facebook page and following us on Twitter.
Also if you would be interested in signing up as a member to support our work, you can do so here. You can also sign up as a Caabu member over the phone. Please do also watch our video, about 50 years of our vital work.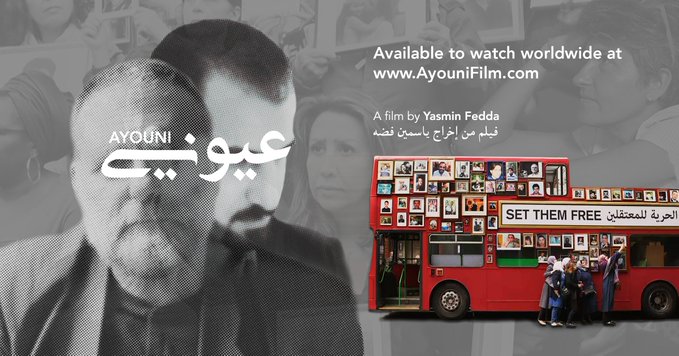 About the film: 
Noura and Machi search for answers about their loved ones - Bassel Safadi and Paolo Dall'Oglio, who are among the over 100,000 forcibly disappeared in Syria. Faced with the limbo of an overwhelming absence of information, hope is the only thing they have to hold on to. 'Ayouni' is a deeply resonant Arabic term of endearment - meaning 'my eyes' and understood as 'my love'. Filmed over 6 years and across multiple countries in search of answers, Ayouni is an attempt to give numbers faces, to give silence a voice, and to make the invisible undeniably visible.
More information about the film can be found on AyouniFilm.com and on the film's Twitter account: @AyouniFilm.
About the speakers: 
Noura Ghazi Safadi is a Syrian human rights lawyer and activist. Noura was one of the establishing members of Families for Freedom, a Syrian women led advocacy group for detainees and their relatives. She also set up Nophotozone to provide legal assistance and legal empowerment to advocate for detainees, the forcibly disappeared and their families.
She Tweets @nouraghazilaw.
Director Yasmin Fedda is an award winning filmmaker whose work has focused on themes from Edinburgh bakeries (Breadmakers; 2007) to Syrian monasteries (A Tale of Two Syrias; 2012), theatre (Queens of Syria, 2014); geek anarchism (Steal from the Capitalists; 2015) to forcible disappearance (Ayouni: My Eyes, My Love; 2020). Her films have been BAFTA-nominated and screened at international festivals including Sundance & Edinburgh FF. She occasionally makes broadcast films for the BBC and Al Jazeera English. Yasmin has held artist residences at the Mothlight Micro Cinema, Detroit, and at British School at Rome, Italy. Yasmin also teaches film in universities and hand on workshops. Yasmin has taught different aspects of film in various settings around the world including with: Syria Mobile Film Festival, British Council, Scottish Documentary Institute, Bidayyat for Audiovisual Arts, Malta City of Culture, and TPD Vietnam, amongst others. Yasmin has a PhD in Trans-disciplinary Documentary and is a lecturer in Film Practice at Queen Mary University. She was co- founder and programmer of  Highlight Arts  and is part of production company Black Leaf Films.
She Tweets @YazAboutTown.
Context for the film:
At a time when the dictatorship in Syria is still in power, and its position is being normalised, it feels crucial to respond to the crimes that have been committed in its name, and in the wake of the destruction it has created across the country. Since 2011, government forces, and other armed groups, have forcibly disappeared at least 100,000 people - making them absent, silenced, invisible.
Families and friends of the disappeared still face the difficult tasks of finding answers. In this context, it is essential to build and preserve a portfolio of war crimes that can be used for accountability and for eventual justice. Ayouni is a small contribution to this effort, bringing intimate stories and realities in focus. Sadly, it is a film that also speaks to a global issue: 'forcible disappearance' is a recent historical and contemporary strategy used to spread fear by targeting human rights defenders, relatives of those already disappeared, key witnesses and lawyers. It is used as a silent weapon of war in many countries in the world: from Mexico to Syria, Bangladesh to Laos, and from Bosnia and Herzegovina to Spain. This film will be particularly resonant in contexts where detention and forcible disappearance are regularly perpetrated against civilians.
The majority of those targeted in Syria are civil society activists and those who spoke out against oppression. Ayouni provides a space to reflect on current war crimes, and underlines the difficulty for language to truly capture and express the complex emotions that forced disappearance unravels. Ayouni renders visible what has been made absent through the personal and intimate stories of lovers Bassel and Noura, and siblings Paolo and Machi.
In the making of the film, the team has worked closely with the individuals involved, and organisations such as Families for Freedom, The Syria Campaign, Amnesty International. This film was made with support from Sanad, Doha Film Institute, Amnesty International, International Media Support & BFI through the Vision Award to Hakawati.
The silencing continues, but the voices of those forcibly disappeared are being heard loud and clear. 
Keep up to date with Caabu's work by liking our Facebook page and following us on Twitter.