Crispin Blunt MP has written to the Prime Minister, Boris Johnson, saying that the UK must at least continue to distinguish between goods and services made in Israel and today's occupied Palestinian territories, adding that the UK cannot stand idly by knowing that international law is planned to be broken next month, in July. This was written in response to Boris Johnson's letter on 1 May 2020, to a letter from 149 British politicians demanding that the UK impose sanctions on Israel in the event of annexation of occupied Palestinian territory. 
In the letter, Crispin Blunt writes: 
"Time is running out for Britain to play its role in upholding the international rules-based system and its duty to protect Palestinians under occupation. Publicly confirming the UK's position both on the illegality of annexation and on trade with Israel would be a welcome first step. The Government should also stand ready to publicly declare its undertakings in the event of this accepted and indeed expected breach of international law, and these should send a clear signal that we stand against illegal annexation of territory, even when carried out by our friends and allies. We have let the Palestinians down too many times from the non-implementation of the Balfour Declaration onwards for it to be remotely conscionable that we stand idly by again, knowing what is coming."
In the House of Commons on 16 June 2020, Crispin Blunt MP also challenged Prime Minister Boris Johnson on illegal Israeli annexation: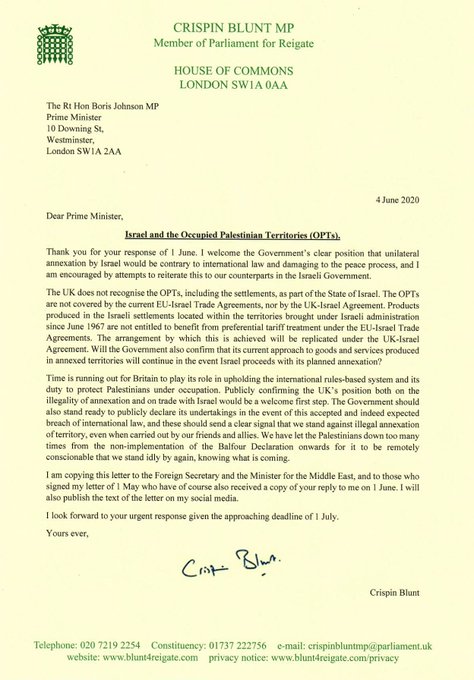 The response from Boris Johnson can be read here. The original letter from 149 British politicians can be read here.