Labour Manifesto 2019
The Labour Party has issued its manifesto ahead of the General Election on 12 December. We have included aspects of it that may be of relevance.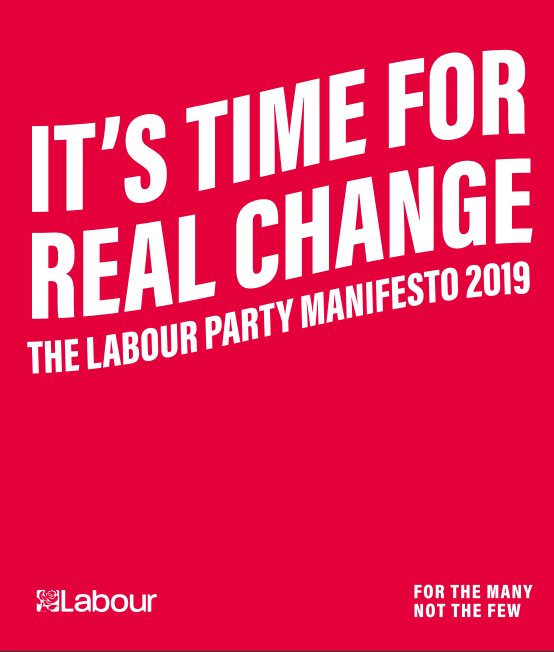 Rebuild Our Public Services
Police and Security
Security
We will address the failure of the Conservatives to take effective measures against a growing problem of extreme or violent radicalisation. We will ensure closer counter terrorism co-ordination between the police and the security services, combining neighbourhood expertise with international intelligence.
We will ensure the powers exercised by the security services are proportionate and used in accordance with human rights. We will review the circumstances requiring judicial warrant. We will ensure agencies are accountable and strengthen the powers of the Joint Intelligence and Security Committee. We will constrain the right of the Prime Minister to suppress publication of committee reports.
A Labour government will review our security strategies.
We will review the Prevent programme to assess both effectiveness and potential to alienate communities and consider alternatives including safeguarding programmes to protect those vulnerable to the recruitment propaganda and ideologies of the far-right and others who promote terror as a political strategy.
We will review the Protect programme to ensure that public authorities take appropriate security measures, without alienating the communities they serve.
We will evaluate the mobile phone trials with the aim of introducing an emergency alert system. We will use our diplomatic services, our aid budgets and our international standing to promote peaceful solutions to conflicts and tackle the risks arising from poverty, natural catastrophes and population displacements. Our national security is linked to global threats. We will respect international law and avoid needless military interventions.
Our security co-operation arrangements with EU neighbours are essential for our safety. If the British people confirm their decision to leave, we will prioritise agreement of a new UK-EU Security Treaty.
Border Security
Our border security prevents serious crimes including child abduction, people trafficking, smuggling of drugs and guns, terrorism and modern day slavery. The Tories have further weakened our borders, cutting another 200 jobs over the last four years. They have failed to deliver exit checks. In place of an effective border control they have required landlords, teachers and medical staff to work as unpaid immigration officers, creating a hostile environment.
A Labour government will review our border controls to make them more effective.
Tackle Poverty and Inequality
Race Equality
Achieving racial equality is a bedrock Labour value. It has never been more important than in the current climate. We are proud of the way our country has been shaped by the contributions, cultures and values of people from around the world.
The Conservatives have fanned the flames of racism, using difference to divide. They have made BAME people pay the price for their austerity project and scapegoated refugees and migrants. Never was this starker than with their 'hostile environment', leading to the scandalous treatment of the Windrush generation. Hate crime has more than doubled in the last five years. This is a wake-up call for all of us.
Labour will ensure a pathway to economic inclusion for all, putting an end to all forms of racism and discrimination in our economy and society. Inclusion will be at the heart of its programme for government.
We will:
Seek to end the politics of hate and commission an independent review into the threat of far-right extremism and how to tackle it.
Put wealth and power in the hands of the many, extend pay-gap reporting to BAME groups and tackle pay discrimination on the basis of race. • Commit our National Investment Bank to addressing discrimination in access to finance, which many BAME business owners face; and take action to ensure that BAME and women business owners have access to government contracts and spending.
Implement recommendations of the Lammy Review to address the disparity of treatment and outcomes for BAME people within the criminal justice system.
Create an Emancipation Educational Trust to educate around migration and colonialism, and to address the legacy of slavery and teach how it interrupted a rich and powerful black history which is also British history.
On religious discrimination, we will:
Strengthen protection for religious communities and amend the law to include attacks on places of worship (including synagogues, temples, mosques and churches) as a specific aggravated offence.
Review current levels of funding for and access to the Places of Worship Protective Security Funding Scheme, maintain funding in real terms for the Community Security Trust, and consult on giving it statutory protection to ensure that religious communities have the support they need.
Migration
A Labour government will establish a humane immigration system and end the 'hostile environment' that caused the Windrush scandal of British citizens being deported. Instead, our system will be built on human rights and aimed at meeting the skills and labour shortages that exist in our economy and public services.
Our immigration system must allow us to recruit the people we need, and to welcome them and their families. Our work visa system must fill any skills or labour shortages that arise. The movement of people around the world has enriched our society, our economy and our culture.
We will take decisive action to regulate the labour market to stop the undercutting of wages and conditions, and the exploitation of all workers including migrant workers. It is the actions of bad bosses and successive Conservative governments that have driven down wages and working terms and conditions. Labour will ensure all workers have full and equal rights from day one, with a Real Living Wage for all.
The Conservative policy of pursuing net migration targets has undermined our economy and our public services, refusing entry to essential key workers including nurses. It has created a hostile environment within our communities, encouraged the demonisation of migrants and enabled the callous use of three million residents as bargaining chips in our negotiations over EU withdrawal.
Moreover, the Tories have not once met their own targets. Their migration policies are a complete and damaging failure, whichever way they are looked at.
We will scrap the 2014 Immigration Act introduced by the Tories with their Liberal Democrat coalition partners. We are for a levelling up of rights, not a race to the bottom. We will not tolerate a two-tier system for those entitled to be here.
The Windrush scandal continues to create new victims. We will end its injustices and provide fair compensation to those who have unfairly suffered.
We will end indefinite detention, review the alternatives to the inhumane conditions of detention centres, and close Yarl's Wood and Brook House, from which immediate savings would contribute towards a fund of £20 million to support the survivors of modern slavery, people trafficking and domestic violence. We will ensure justice for migrant domestic workers and restore the overseas domestic workers' visa.
If we remain in the EU, freedom of movement would continue. If we leave, it will be subject to negotiations, but we recognise the social and economic benefits that free movement has brought both in terms of EU citizens here and UK citizens abroad – and we will seek to protect those rights.
In accordance with our values and domestic laws, we will uphold the right to a family life for British, EU and non-EU residents alike. We will end the deportation of family members of people entitled to be here and end the minimum income requirements which separate families.
Refugees
Refugees are victims of wars, environmental catastrophes, famine or persecution.
This government has failed its international legal obligations to refugees and to allow people to exercise their rights to seek asylum.
A Labour government will uphold those rights and meet those obligations. We will work with others to resume rescue missions in the Mediterranean, co-operate with the French authorities to put an end to the horrific camps, and establish safe and legal routes for asylum seekers.
Once here, refugees will have the right to work, access to public services and will be treated humanely by government at all levels.
A New Internationalism
Labour will put human rights, international law and tackling climate change at the heart of our international policies, and use our global influence to end the 'bomb first, talk later' approach to security. Labour will always do what is needed to protect the security of people in the UK.
International peace and security will be a primary objective of a Labour government's foreign policy. Britain deserves better than the Conservatives' reckless approach to complex global challenges or the outsourcing of UK foreign policy to US President Donald Trump.
Failed military interventions in countries like Libya have worsened security across North Africa, accelerating the refugee crisis.
Our approach will be based on our values. Within the first year of government Labour will:
Introduce a War Powers Act to ensure that no prime minister can bypass Parliament to commit to conventional military action. Unlike the Conservatives, we will implement every single recommendation of the Chilcot Inquiry.
Conduct an audit of the impact of Britain's colonial legacy to understand our contribution to the dynamics of violence and insecurity across regions previously under British colonial rule.
Invest an additional £400 million in our diplomatic capacity to secure Britain's role as a country that promotes peace, delivers ambitious global climate agreements and works through international organisations to secure political settlements to critical issues.
Effective Diplomacy
Internationalism is at the core of the Labour movement. We recognise our responsibility to confront injustices we see today and to correct the injustices of the past.
We will:
Establish a judge-led inquiry into our country's alleged complicity in rendition and torture, and the operation of secret courts.
Uphold the human rights of the people of West Papua and recognise the rights of the people of Western Sahara.
We have a duty to stand up for the security and sovereignty of our overseas territories, including the Falklands, and for the rights of our citizens and dualnationals abroad, and will continue fighting for justice on behalf of Nazanin Zaghari-Ratcliffe and other British nationals wrongly imprisoned or suffering mistreatment in captivity abroad.
Human Rights
Human rights and international humanitarian law are fundamental pillars of a secure global system. These principles are under threat. Some of the world's most powerful states choose to sell arms to human-rights abusing states. Conservative ministers, including Boris Johnson, have signed off well over £2 billion of arms sales to repressive regimes since June 2017.
Around the world, human rights defenders and civil society activists remain vulnerable to attacks, often carried out with impunity.
We will:
Immediately suspend the sale of arms to Saudi Arabia for use in Yemen and to Israel for arms used in violation of the human rights of Palestinian civilians, and conduct a root-and-branch reform of our arms exports regime so ministers can never again turn a blind eye to British-made weapons being used to target innocent civilians.
Reform the international rulesbased order to secure justice and accountability for breaches of human rights and international law, such as the bombing of hospitals in Syria, the illegal blockade of the Gaza Strip, the use of rape as a weapon of war against the Rohingya community in Myanmar and the indiscriminate bombardment of civilians in Yemen.
Appoint human-rights advisers to work across the Foreign Office and government to prioritise a co-ordinated approach to human rights.
Advocate for human rights at every bilateral diplomatic meeting.
Prioritising Conflict Prevention and Building Peace
The Conservatives have failed to play a constructive role in resolving the world's most pressing humanitarian crises, including in Kashmir, Yemen and Myanmar, and the escalation of tensions with Iran. The treatment of the Kurdish people in Syria, including by Turkey, and of the Uighurs in China has been met with total inaction and apathy by the current UK government. In some cases, they set aside regard for international law, including refusing to criticise Crown Prince Mohammed Bin Salman of Saudi Arabia over the murder of journalist Jamal Khashoggi.
Labour is committed to a comprehensive peace in the Middle East based on a twostate solution – a secure Israel alongside a secure and viable state of Palestine. There can be no military solution to this conflict, which must be settled on the basis of justice and international law. All sides must avoid taking action that would make peace harder to achieve. That means both an end to the blockade, occupation and settlements, and an end to rocket and terror attacks. Labour will continue to press for an immediate return to meaningful negotiations leading to a diplomatic resolution. A Labour government will immediately recognise the state of Palestine.
Labour will take all lawful action necessary to counter and confront all forms of terrorism, and we will advocate a long-term multinational political strategy, led by regional actors, to tackle the spread of extremism.
We believe effective diplomacy can address the drivers of conflict and insecurity.
We will:
Build support for UN reform, including assessing and developing democratisation initiatives, and improving the engagement of the General Assembly in decision-making to ensure its institutions are more effective at achieving peace.
Prioritise our responsibility to prevent conflict by investing in local capacities for peacebuilding in areas of conflict – advocating for political, multilateral strategies for peace.
Act immediately to urge negotiations towards a political resolution to conflict wherever it arises, including in the Middle East and sub-Saharan Africa.
Defence and Security
The primary duty of government is to guarantee the security of people in the UK. Labour's defence policy will be strategic and evidence-led. Our security at home is made stronger when the security of others elsewhere is guaranteed too.
An incoming Labour government will undertake a Strategic Defence and Security Review to assess the security challenges facing Britain, including new forms of hybrid, cyber and remote warfare. This review will also take account of the climate emergency, and associated threats of resource competition, involuntary migration and violent conflict.
Under the Conservatives:
Boris Johnson refuses to publish the report into possible foreign interference by Russia in UK democracy. • Trained army personnel have been cut from 102,000 to just over 74,000.
Armed forces and their families have been forced to live in sub-standard accommodation.
Failing outsourced contracts have not been terminated.
Our Armed Forces personnel received below-inflation pay rises for seven years.
The security challenges we face know no borders. Labour will increase funding for UN peacekeeping operations to £100 million. We will maintain our commitment to NATO and our close relationship with our European partners, and we will use our influence at the United Nations to support peace and security worldwide.
Labour supports the renewal of the Trident nuclear deterrent. Labour will also actively lead multilateral efforts under our obligations to the Non-Proliferation Treaty to create a nuclear-free world.
Labour's commitment to spend at least 2% of GDP on defence will guarantee that our armed forces are versatile and capable of fulfilling the full range of roles and obligations.
We will scrap the public sector pay cap, which resulted in a real-terms pay cut for our armed forces, ensure decent housing for forces members and their families, and guarantee better access for all forces children to good quality local schools. We will consult on creating a representative body for the armed forces, akin to the Police Federation.
Labour will improve opportunities for veterans through access to lifelong learning and training, housing and mental and physical health services, and will seek greater consistency in the implementation of the Armed Forces Covenant by public authorities.
We will pay a lump sum of £50,000 to each surviving British nuclear-test veteran to support them and their families with the health conditions they have suffered as a result of exposure to radiation. We will also ensure that black and Asian soldiers who fought in Britain's colonial armies receive a full apology and explore ways to compensate them for the discriminatory demob payments they received compared to their white counterparts serving at the same rank in the same regiments.
The UK defence industry is worldleading and Labour will continue to work with manufacturers, unions and export partners in line with Labour's foreign policy to support innovation in this sector to ensure it maintains its highly skilled workforce and worldclass apprenticeship programme. We are committed to procurement that supports UK defence manufacturing including our aerospace and shipbuilding, alongside a vibrant supply chain that includes the British steel industry and other component manufacturing companies providing good jobs throughout supply chains. Labour will publish a Defence Industrial Strategy White Paper, including a National Shipbuilding Strategy, that keeps all Royal Navy and Royal Fleet Auxiliary shipbuilding contracts in the 102 IT'S TIME FOR REAL CHANGE UK, to secure a long-term future for the industry and its workers.
Reducing our carbon footprint can only happen with ambitious emissions reduction targets at the Ministry of Defence, one of government's biggest energy users. So as part of our Green Industrial Revolution, we will create a Climate Change Sustainability Committee within the department to review the feasibility of increasing the use of sustainable energy in defence, and publish a strategy to accelerate the safe and sustainable recycling of our old nuclear submarines.
International Solidarity and Social Justice
The scale of the challenges facing our world are enormous. Conflict, climate change and a global economy rigged in favour of a tiny elite are driving instability and inequality across the world. A bold international development policy driven by social justice has never been more needed.
Labour will use Britain's influence within the World Bank, IMF and WTO to transform the rules of the global economy so they work for the many.
We recognise the need to address historic injustices and will reset our relationships with countries in the Global South based on principles of redistribution and equality, not outdated notions of charity or imperialist rule. Unlike the Conservatives, Labour is fully committed to a standalone Department for International Development (DfID), with an aid budget of at least 0.7% of gross national income. We will introduce the reduction of inequality as a goal for all aid spending alongside existing poverty reduction and gender equality goals.
For the Conservatives, too often humanitarian aid is undermined by their disastrous foreign policy, as in Yemen. Under Labour, we will ensure policy coherence across our international-facing departments. Under Labour, DfID will continue to respond to the world's biggest crises and will ensure humanitarian aid is provided according to need, not whether the UK has commerical or other interests in the country. DfID will assume a strong position in cross-government decision making, including a permanent seat on the Export Control Joint Unit responsible for licensing arms exports.
Our international programme will be based on human rights and gender equality.
We will:
Uphold basic rights to education, health and clean water by establishing a new Unit for Public Services within DfID, which will include increasing direct budgetary support to governments so they can build sustainable services for their citizens.
Promote fairer international tax rules and help countries in the Global South build progressive tax systems to finance essential public services.
Support trade unions internationally in their efforts to promote collective bargaining for better pay and conditions, and include binding social chapters in trade agreements to safeguard workers' rights.
Support ongoing UN efforts to introduce a binding international treaty on business and human rights, and make companies legally accountable for failing to prevent human rights abuses or environmental damage in their operations and supply chains, including criminal liability in the most serious cases.
Implement a gender transformative approach across all our international work, including tripling funding for grassroots women's organisations and establishing an independent ombudsman to tackle abuse in the development sector.
Labour respects the crucial role played by small-scale farmers the world over in guaranteeing people the right to food.
We will:
Establish an aid-funded Food Sovereignty Fund to enable smallscale farmers in the Global South to gain access to land, seeds and finance, and uphold indigenous peoples' right to land.
Support sustainable local food and agriculture markets in the fight against climate change.
Labour believes human rights should drive our trade policy.
We will:
Implement UK arms export controls to the highest standard, putting an end to exports where they might be used in violation of human rights or international humanitarian law.
Ensure government procurement contracts are not granted to companies that are complicit in serious human rights abuses, and require all UK trade agreements to be consistent with international humanitarian law. • Introduce legislation to ensure transparency and parliamentary scrutiny of trade and investment agreements.
Reject any trade agreements that undermine labour standards or environmental protections, and rule out UK Export Finance support to companies engaged in bribery or corruption.
Labour recognises the right to essential medicines as an integral part of the right to health.
We will:
Promote fairer international patent regimes that do not prevent countries from accessing essential medicines and support efforts to increase the transparency of medicines pricing so governments can negotiate fair prices.
In the long term, ensure that all medicines developed with the support of UK taxpayer money are accessible to people in the Global South.