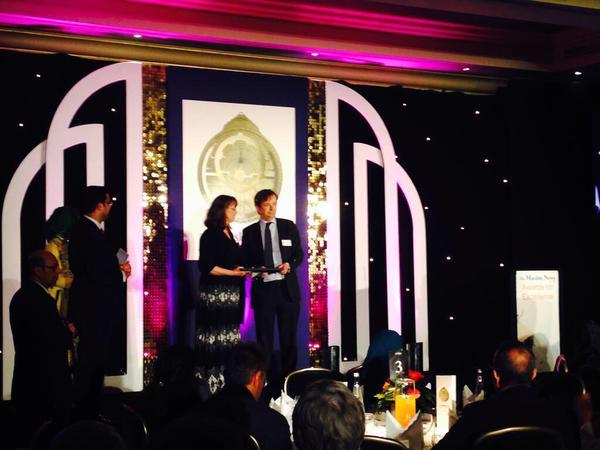 Chris Doyle, Director of the Council for Arab British Understanding (Caabu), has won the prestigious Annemarie Schimmel Award for Excellence in championing a Muslim cause.  He was presented with the award at the Muslim News Awards for Excellence ceremony in London Wednesday 25 March in the presence of the leader of the UK opposition, the Rt Hon Ed Miliband MP and the Secretary of State for Education, Rt Hon Nicky Morgan MP.
Shaheda Dewan, Head of External Affairs and Campaigns for Islamic Relief UK, who sponsored the event said:
"We are very proud to have partnered with Caabu on several occasions. This award is recognition of the sustained and powerful contribution that Chris has made both on air and in print to voicing and analysing the issues that are impacting on communities and individuals across the Middle East."
"This is a powerful recognition of the important work that Caabu has been doing for nearly half a century.   It is a reminder of the crucial role that the organisation plays in forming and challenging British policy on the Middle East, not least in fighting for Palestinian rights and striving to bring an end to the crisis in Syria," Chris Doyle said.
Caabu's Parliamentary delegations over the course of the current Parliament to Palestine, Jordan and Lebanon have given UK parliamentarians the opportunity to see at first-hand the situation on the ground for Palestinians, and the extent of Syria's refugee crisis.
The delegations are vital in enabling  Caabu to maintain its presence in the political establishment, fighting for the issues of importance to the organisation, its members, supporters and friends, as well as Palestinians, Syrians and others  across the region.  
"At a time when the Muslim community is feeling increasingly marginalised in the UK, and the Middle East is becoming ever more polarised, our work is more important than ever.  Caabu will continue to be at the forefront in championing the causes that matter," said Doyle. 
Caabu Chair Andy Love MP said:
""This prestigious award is a timely recognition of the magnificent work that Chris Doyle and his team at Caabu have been carrying out.  It is fair to say that Caabu's efforts inside the British government and Parliament have made a critical difference in the the political understanding of many of the crises of the Middle East.  I am delighted that these have been recognised."
1)    For more information or interviews contact Chris Doyle, on + 44207 832 1321 or +447968 040281.