Everyone at Caabu is devastated at the scenes from Beirut after the explosions. Our thoughts and prayers are with the Lebanese people. The international community including the UK should respond quickly and effectively to help the city and its people recover.
Here we have collated a few ways to help those impacted by the blast, including supporting organisations working on the ground, both local Lebanese and internationals NGOs. 
If there is something important we may have missed, then please do let us know. 
Important list of local Lebanese and international NGOs
A list has been collated of various local Lebanese and international NGOs to support. They include food banks, educational organisations, cancer charities, and those working with Syrian and Palestinian refugees. A list of organisations that require volunteers can also be found here. A useful Google Document of resources can be found here, which also includes many of the organisations and initiatives we have listed below.
Image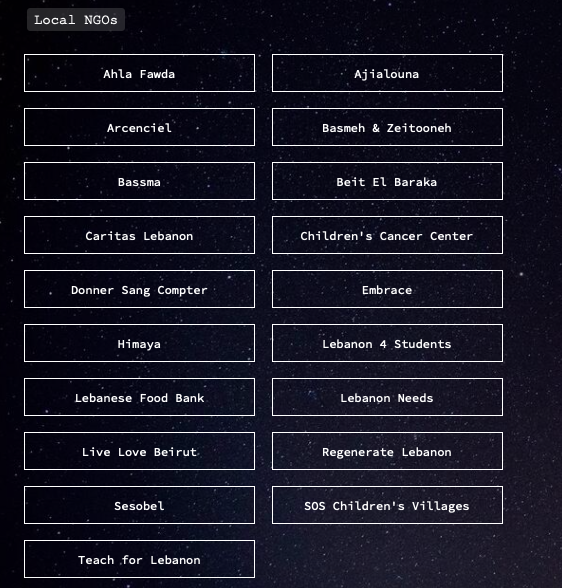 * This list was not created by Caabu. It has been brought to our attention that Caritas Lebanon has been the focus of dispute between various civil society organisations in the country, some of whom have argued that Caritas' work in Lebanon's migrant detention facilities effectively aids and abets the government's detention of migrants. More information here.
Disaster relief after the explosion
Impact Lebanon has set up a disaster relief fundraiser for those affected by the blast in Beirut. They will be coordinating with Lebanese NGOs on how to use the money raised most effectively. 
Image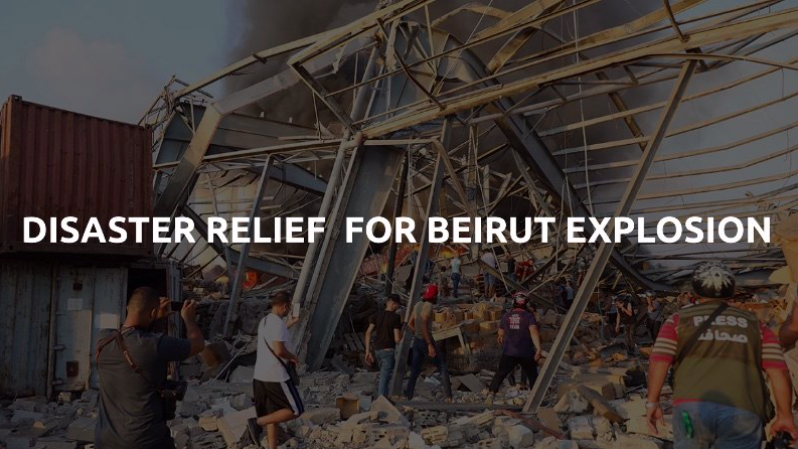 100% from the purchase of these prints by Raphaelle Macaron will go to the emergency relief fund above.
Image
Nouri Flayhan is also taking illustration commissions with 100% of the proceeds going to a variety of charities and NGOs in Lebanon.
Image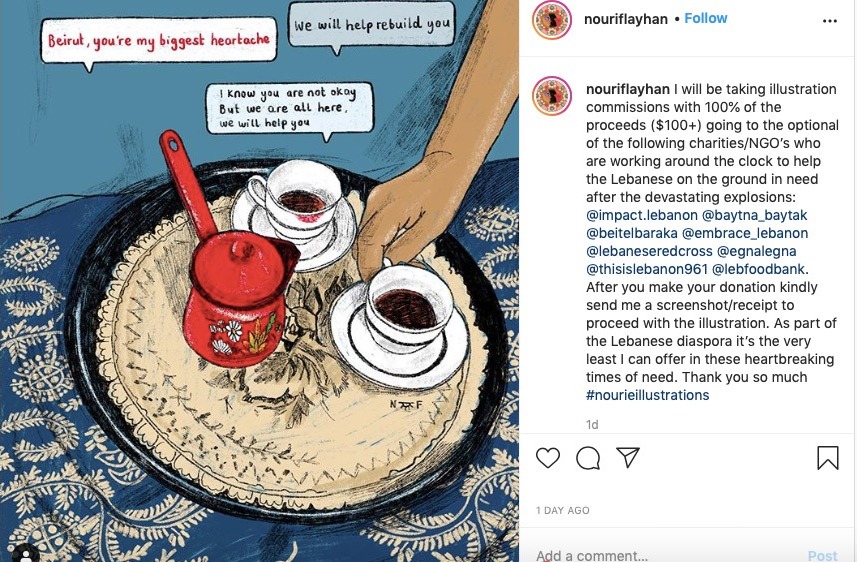 Lebanese Red Cross 
You can donate to the Lebanese Red Cross to support their efforts in Lebanon. 
The British Red Cross are also raising funds here in the UK to support the Lebanese Red Cross.
Image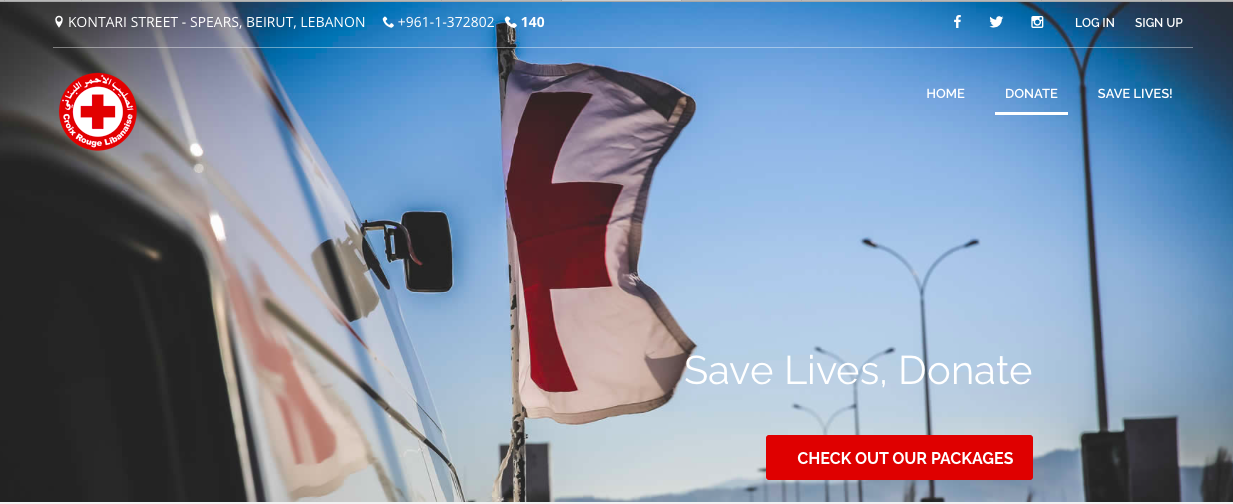 Charities to help in Lebanon
This Twitter thread from Zahra Hankir, listing charities to help in Lebanon during the country's economic and Coronavirus crisis is from July 2020, but has been updated to reflect the most recent events. 
Image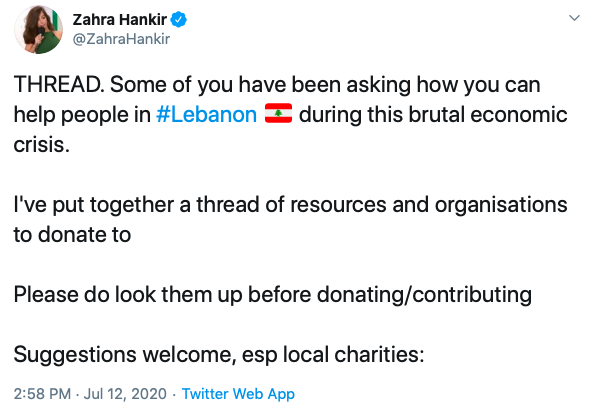 This Twitter thread from Abir Ghattas also has many suggestions, including ban account details for some of the organisations listed.
Image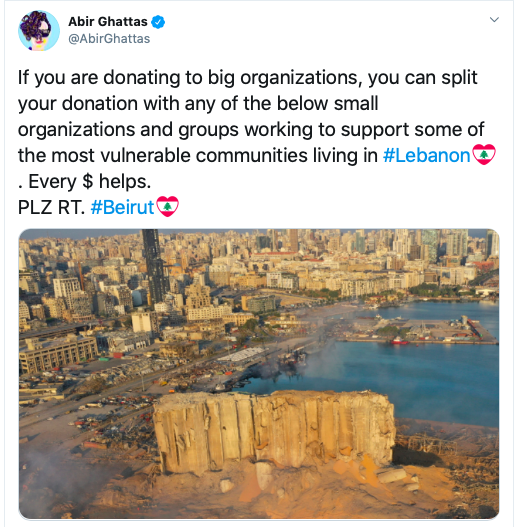 Lebanese NGO, Basmeh and Zeitooneh helping some of the most vulnerable and marginalised communities
In the UK, the  Smile and Olive Foundation is raising funds for Lebanese NGO Basmeh and Zeitooneh for Relief and Development (B&Z), who work with some of the most vulnerable and marginalised communities in Lebanon, including refugee communities. Funds will be used to  to shelter, feed and medicate those impacted by recent events. 
Image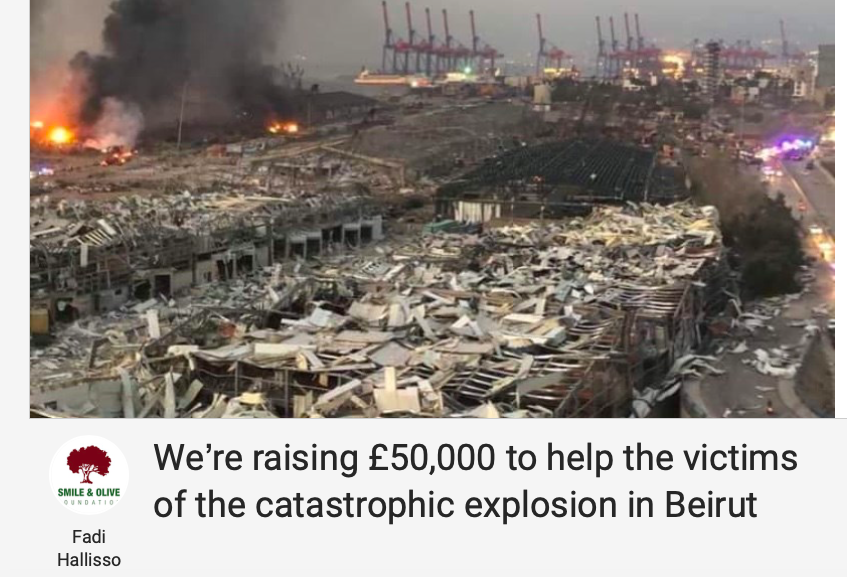 Medical Aid for Palestinians emergency response
British charity Medical Aid for Palestinians has launched an emergency response and will be supporting the work of the Palestinian Red Crescent Society (PRCS) in Lebanon.
"Hospitals in Beirut, which have suffered shortages in medical supplies for many months due to the economic crisis, are now overwhelmed by the large number of casualties. Some hospitals were damaged by the blast and had to transfer patients to other hospitals.
Despite very limited resources, PRCS have mobilised their ambulances and medical teams to join the rescue operations and Haifa hospital, the PRCS hospital in Beirut, has opened its doors to the injured.
Immediate needs include oxygen masks, Gipsona casts, intravenous fluids, bandages, gauze, syringes, x-ray films, surgical blades, disinfectants, suturing materials, magnesium sulphate for burns, antibiotics and other medical supplies and emergency room medicaments."
Image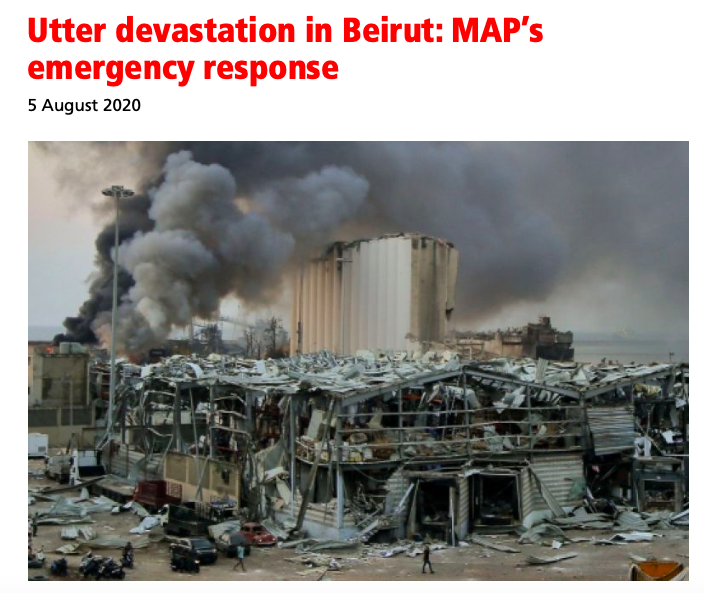 Help food security in Lebanon by supporting Bedayati
45% of Lebanon's population is estimated to be living below the poverty line in 2020. Lebanese NGO Bedayati has been responding to this. Donations will help support a community kitchen and efforts to get marginalised young people  into the labour market. More details can be found here.
Image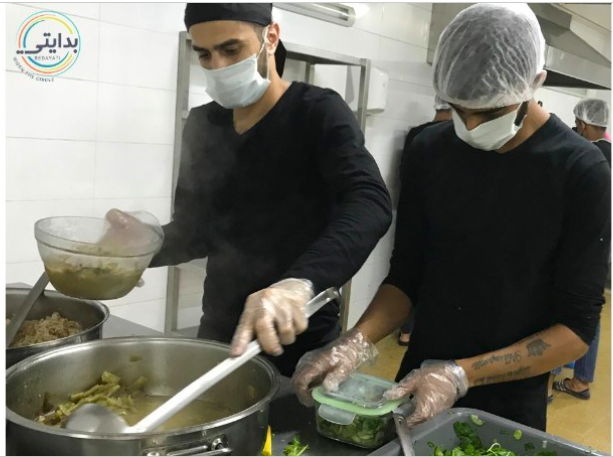 Assisting domestic workers and victims of the karbala system in Lebanon through Egna Legna Basidet
Ethiopian run domestic worker organisation, Egna Legna Basidet is raising funds for domestic workers in Lebanon hit hard by the economic and Coronavirus crises. 
Image
The Migrant Community Center, providing a safe space for migrant domestic workers in Lebanon
The Migrant Community Center offers "safer spaces where migrant workers can build powerful networks and access information, resources, classes, training, direct assistance, and long-term support. MCC works with migrant-led collectives and supports their community organizing, collective action, self-advocacy, and activism against systemic racism and injustice -- with a central focus on women as the agents and leaders of change."
Ways to donate can be found here.
Image

Tahaddi Lebanon - providing support to those facing extreme economic hardship 
Tahaddi offers holistic support to families facing extreme economic hardship by providing education, health and psychosocial services.
Image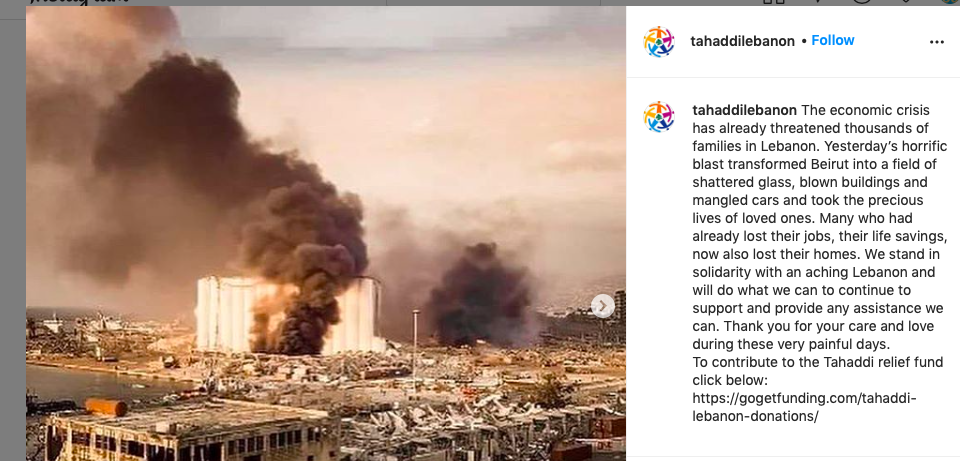 Syria Relief's Emergency Response
You can support Syria Relief's efforts to provide emergency medical and food support to those victims of the blast. Syria Relief already works with Syrian refugees in Lebanon. 
Image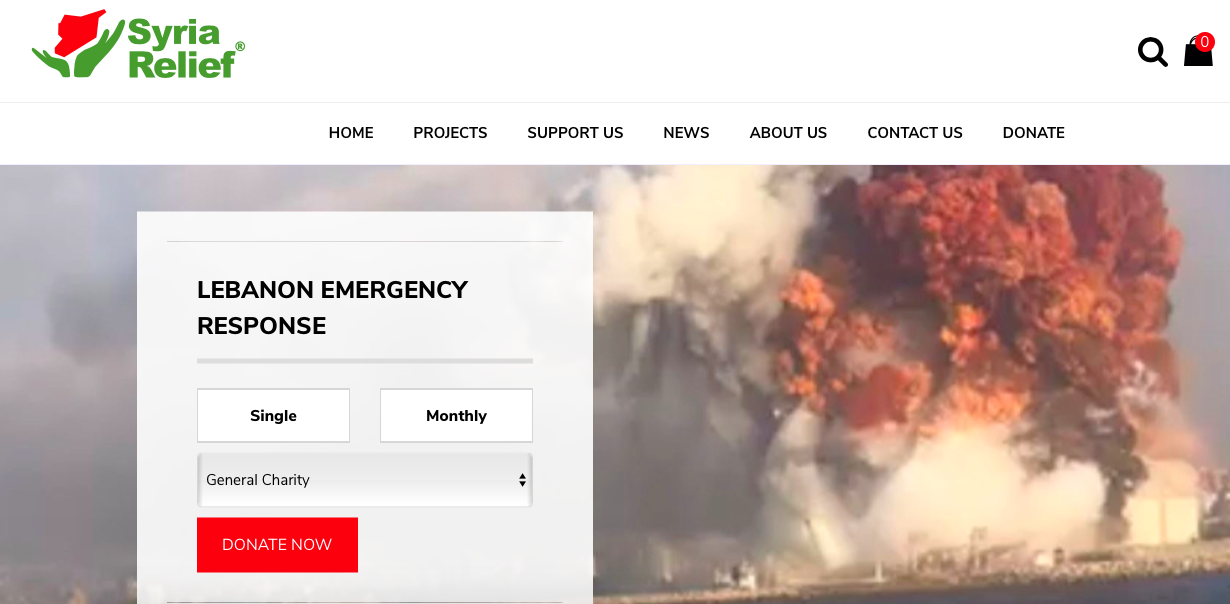 Supporting small and micro businesses in Beirut devastated by the blast, through Rise Up Lebanon
Rise Up Lebanon has a fundraiser to help re-build Lebanese Micro and Small Businesses affected by the massive explosion in Beirut.
Image
Rebuilding Beirut with Pride -  support from the UK's LGBTQ+ community, their allies and the Lebanese Diaspora 
The UK's LGBTQ+ community, their allies and the Lebanese Diaspora have set up a fundraiser, with proceeds going to several of the organisations listed above and in other fundraisers - the Lebanese Red Cross, Beit El Baraka , Basmeh & Zeitooneh and Embrace Lebanon. A portion of the proceeds will also go to the Lebanese Transgender Relief Fund and are they are in conversations with the LGBT+ community on the ground to identify other streams of direct support. 
Rebuilding Beirut with Pride have also several online events planned, and will host an event at the Bell in Whitechapel, London, where they will celebrate Arab and queer art and talent and help rebuild Beirut in the process. More details here. 
Image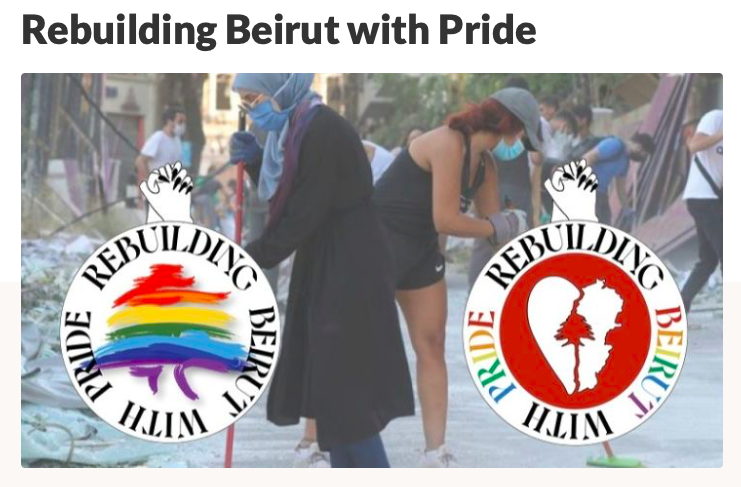 Assistance with finding loved ones 
An Instagram account, Locate Victims Beirut, has been set up trying to locate likely victims of the Beirut explosion. Details have been sent in by families, friends, colleagues.
Image
Providing accommodation to those in need
The Open Houses Lebanon Instagram account, has been set up providing details from those able to provide somewhere to stay across Lebanon for those in need because of the Beirut blast. A Twitter thread of places to stay being offered can be found here and a map of shelters here. 
Image

Urgent blood needs 
Urgent blood needs are being listed for those in Lebanon. This allows those to register their needs on the site. 
Image