Over 60 UK Parliamentarians, from various parties, and from both the House of Commons and the House of Lords have written to the Foreign Secretary, Rt Hon James Cleverly MP calling for him to secure the release of pro-democracy activist and writer, Alaa Abd el-Fattah – a British citizen who has been unlawfully imprisoned in Egypt for nine years, and get him safely to the UK.
26 October 2022
Dear Foreign Secretary,
We are writing to you with urgency today, about the continued persecution and psychological torture of the pro-democracy activist and writer, Alaa Abd el-Fattah – a British citizen who has been unlawfully imprisoned in Egypt for nine years – in the hope that you can finally resolve his case and bring him safely back to the UK.
Alaa is not short of supporters in Westminster. His case was raised twice by former Prime Minister Boris Johnson and Liz Truss MP, as Foreign Secretary, told Parliament she was "working very hard for his release." As Minister of State for the Middle East and North Africa, you wrote that you were "urgently seeking consular access". That was on May 30th.
We write now to ask for urgency. Alaa's life is at serious risk. He is out of hope and has been on hunger strike since 2 April 2022. Since 26 May, he has been consuming 100 calories a day - a teaspoon of honey and a bit of milk is all that's been keeping him alive. Today he is on Day 189 of his strike. He may not live for much longer.
Alaa went on strike in order for the British Embassy in Cairo to have access to him, access that the Embassy has been denied for nine months now, despite repeated requests and seemingly in contravention of the Vienna Convention on Consular Relations, which in Article 36 expressly provides for the facilitation of consular access to imprisoned nationals. The Egyptian Attorney General has even questioned publicly the veracity of Mr Abd el-Fattah's citizenship. This gives us grave concerns about the precedent being set for our constituents arrested in Egypt as well as other countries. We are particularly concerned that Egypt, a longstanding strategic partner of the UK, would act with seeming disinterest to our government's legitimate duty of care for British citizens.
COP27, just a few days away, will be a moment of intense public scrutiny on Egypt. Several important British climate groups have already expressed concern that the conference will be used to paper over human rights concerns in the country. We understand that the UK government has lent significant support to the Egyptians to deliver a complex logistical operation, and to secure the legacy of COP26. We ask that you also ensure that the UK uses the opportunity to secure Alaa's release.
Specifically, we support the recent call from dozens of international organisations asking for the unconditional release of all persons arbitrarily detained for exercising their rights to the freedoms of expression, peaceful assembly and association, before COP27. We ask that you use your good offices towards this end and bring Alaa Abd el-Fattah safely back to the UK. In doing so, you would complete a job started by your predecessor as Foreign Secretary and the former Prime Minister; you would secure a diplomatic win for Britain in a moment of increasing global instability, winning a significant victory for democracy worldwide and you would ensure that the essential climate negotiations remain the principal focus at COP27.
Alaa's situation is so grave that it requires a robust message. In that light, we strongly encourage you to make clear to your Egyptian counterparts that Britain's engagement with COP will be seriously undermined by the continued mistreatment of one of its citizens.
Yours sincerely,
Vicky Foxcroft MP
Full list of signatories below.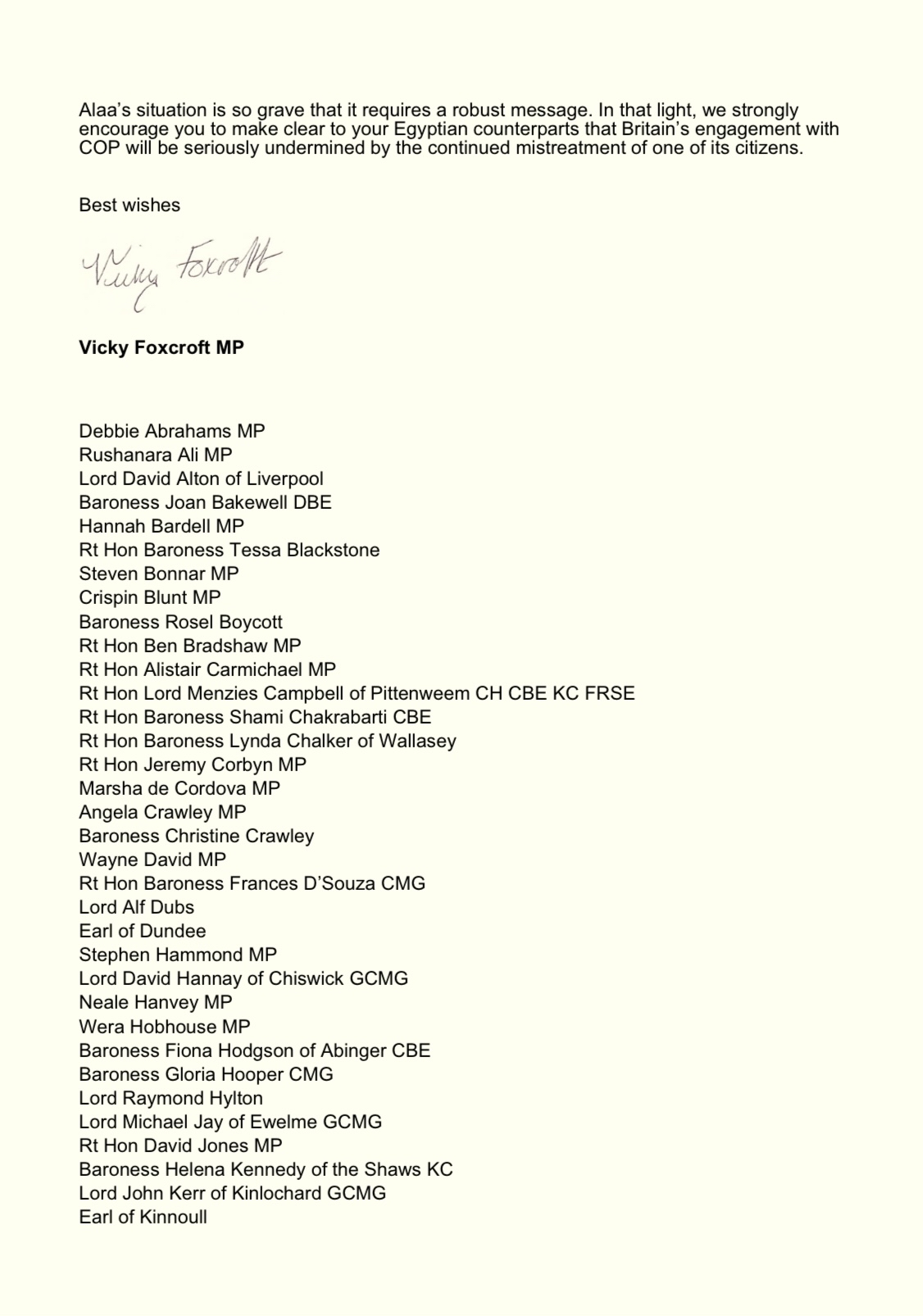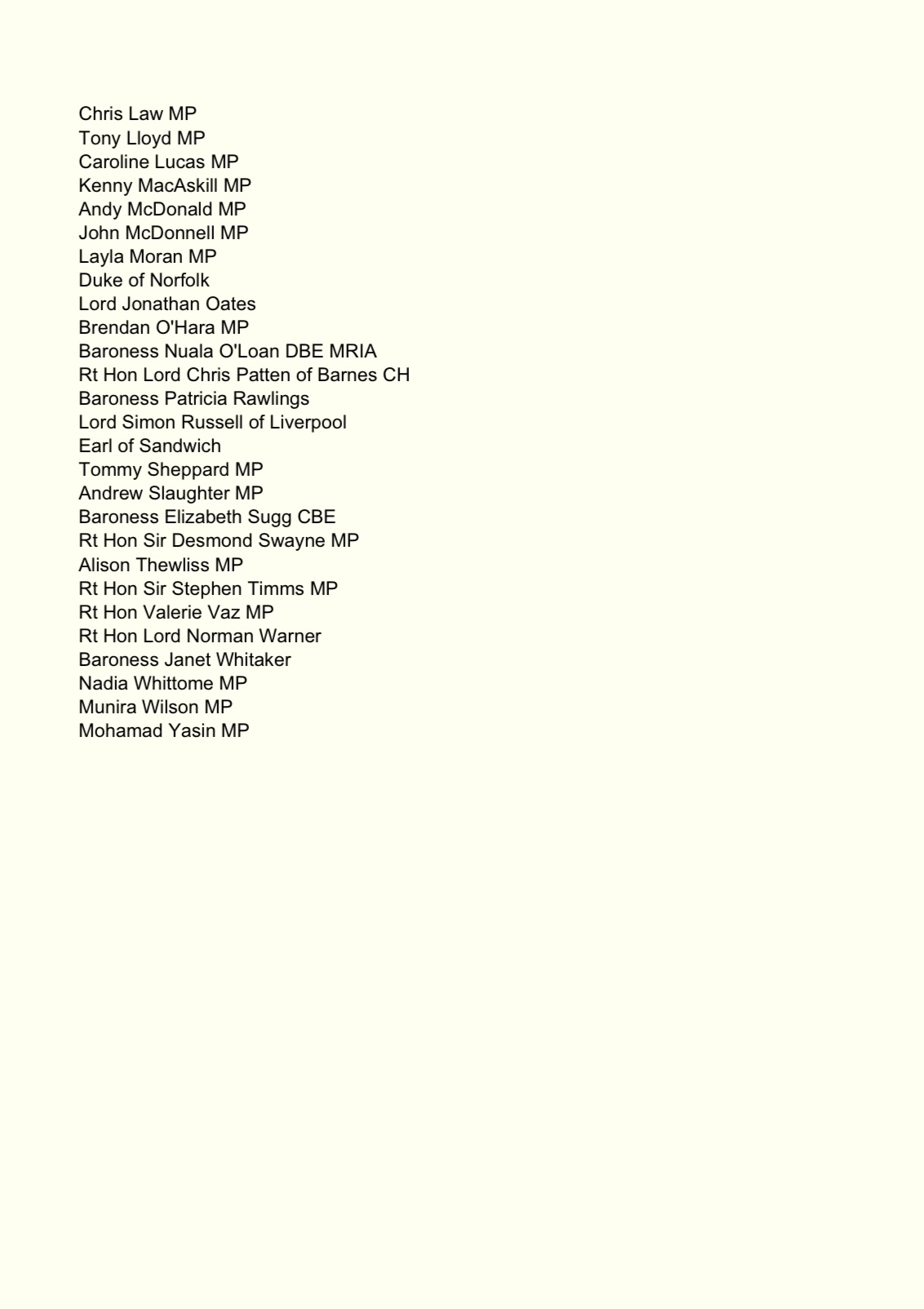 Debbie Abrahams MP
Rushanara Ali MP
Lord David Alton of Liverpool
Baroness Joan Bakewell DBE
Hannah Bardell MP
Rt Hon Baroness Tessa Blackstone
Steven Bonnar MP
Crispin Blunt MP
Baroness Rosel Boycott
Rt Hon Ben Bradshaw MP
Rt Hon Alistair Carmichael MP
Rt Hon Lord Menzies Campbell of Pittenweem CH CBE KC FRSE Rt Hon Baroness Shami Chakrabarti CBE
Rt Hon Baroness Lynda Chalker of Wallasey
Rt Hon Jeremy Corbyn MP
Marsha de Cordova MP
Angela Crawley MP
Baroness Christine Crawley
Wayne David MP
Rt Hon Baroness Frances D'Souza CMG
Lord Alf Dubs
Earl of Dundee
Stephen Hammond MP
Lord David Hannay of Chiswick GCMG
Neale Hanvey MP
Wera Hobhouse MP
Baroness Fiona Hodgson of Abinger CBE
Baroness Gloria Hooper CMG
Lord Raymond Hylton
Lord Michael Jay of Ewelme GCMG
Rt Hon David Jones MP
Baroness Helena Kennedy of the Shaws KC
Lord John Kerr of Kinlochard GCMG
Earl of Kinnoull
Chris Law MP
Tony Lloyd MP
Caroline Lucas MP
Kenny MacAskill MP
Andy McDonald MP
John McDonnell MP
Layla Moran MP
Duke of Norfolk
Lord Jonathan Oates
Brendan O'Hara MP
Baroness Nuala O'Loan DBE MRIA
Rt Hon Lord Chris Patten of Barnes CH
Baroness Patricia Rawlings Lord Simon Russell of Liverpool
Earl of Sandwich
Tommy Sheppard MP
Andrew Slaughter MP
Baroness Elizabeth Sugg CBE
Rt Hon Sir Desmond Swayne MP
Alison Thewliss MP
Rt Hon Sir Stephen Timms MP
Rt Hon Valerie Vaz MP
Rt Hon Lord Norman Warner
Baroness Janet Whitaker Nadia Whittome MP
Munira Wilson MP
Mohamad Yasin MP