Huge support for Parliamentary motion on Palestinian child detainees
An Early Day Motion (EDM) on the military detention of Palestinian child detainees by Israel has attracted huge levels of support from British MPs. 128 cross-party MPs have signed the EDM (as of 1 February 2017) making it the fifth most supported EDM in the 2017-19 Parliamentary Session.
The EDM was tabled by Britain-Palestine All Party Parliamentary Group Chair, Richard Burden MP, and sponsored by MPs Lisa Nandy, Andy Slaughter, Alistair Carmichael, Tommy Sheppard and Grahame Morris. The EDM reads:
That this House notes with concern that hundreds of Palestinian children continue to be arrested, detained and tried in Israeli military courts, despite the practice involving widespread and systematic violations of international law and being widely condemned; further notes that allegations of ill-treatment at the hands of Israeli authorities include blindfolding, physical violence and arrest at night; notes the disparity between the treatment of Israeli and Palestinian children by Israeli authorities and calls for those authorities to treat Palestinian children in a way that is not inferior to the way they would any Israeli child; notes that, as the occupying power in the West Bank, Israel has a responsibility under international human rights conventions for the safety, welfare and human rights protection of Palestinian children living under occupation; notes with concern that the recommendations of Unicef's 2013 Children in Israeli Military Detention Report remain largely unmet; and urges the Government to urgently engage with the Government of Israel to end the widespread and systemic human rights violations suffered by Palestinian children in Israeli military custody.
This widespread & systematic violation of international law has been highlighted further by the case of 16 year old Ahed Tamimi.
Caabu encourages all of its members and supporters to get in touch with their MPs, asking them to sign this EDM if they have not done so already.Details on how to find and contact your MP can be found here.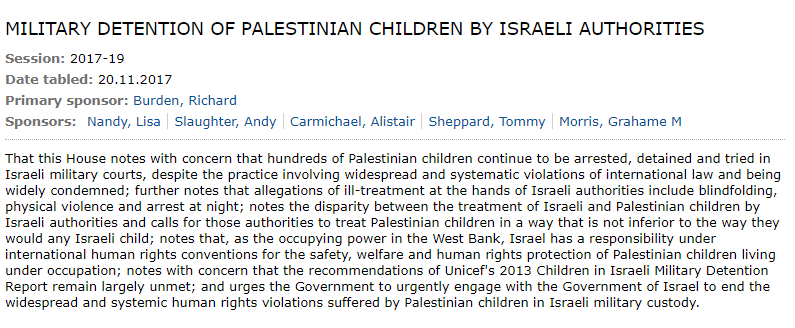 According to Military Court Watch statistics, as of 30 November 2017 there were 313 Palestinian children in military detention. The monthly average for 2017 was 310.