Latest: (6 December 2023)
Caabu is following the horrific events in southern Israel and Gaza that have seen thousands of Israeli and Palestinian civilians killed.  The Israeli bombardment of Gaza has been savage, destroying huge swathes of civilian infrastructure. Israel started intensifying ground assaults, invading areas of northern Gaza accompanied by the most intense bombing campaigns up to this point. It has encircled Gaza City. Its forces advanced inside from the north and south.
The humanitarian truce deal agreed by Israel and Hamas that lasted a week came to an end on 1 December. Israel blamed Hamas for this. Israeli air strikes killed at least 109 people in Gaza, less than twelve hours after fighting resumed. Since 1 December, over 1207 Palestinians have been killed, 70 percent of whom were women and children.
On 30 November, the seventh and final day of the extended pause, UN reports state that there was a release of 86 Israelis, 240 Palestinians and 24 foreign nationals. The seventh day of the extended truce facilitated the release of 8 Israelis (six women and two children) and 30 Palestinians (seven women and 23 children).
Israeli bombardments around hospitals across Gaza had increased. All but one in the north, Al Ahli, are no longer functioning due to lack of power, medicines, oxygen, food, and water. The largest, Al Shifa, has ceased operating.  32 patients at Al Shifa, including three premature babies, have reportedly died since 11 November.
The scale of destruction has been immense. A Guardian analysis of satellite imagery of the northern Gaza Strip has identified over 1,000 craters visible from space within approximately 10 square kilometres.  This has included attacks on hospitals and major bombings of refugee camps including the largest one at Jabalia.
UNRWA stated on 13 November that it would have to cease operations in Gaza within 48 hours due to lack of fuel. Since then, on 18 November, UNRWA stated that Israeli authorities approved just half of the daily minimum fuel requirements, expressing that "Humanitarian organisations should not be forced to make tough decisions between competing lifesaving activities". 
This chapter of the conflict started on 7 October when Hamas fighters breached Israel's fence that encircles Gaza and attacked Israeli communities around the strip.
We have made several urgent calls to Britain's political leadership including in a meeting with Sir Keir Starmer, Ed Davey and in oral and written briefings to MPs and Peers. 
1) The importance of all parties adhering to international law - this includes an obligation to distinguish between combatants and civilians at all times, not to use collective punishment, and not to attack medical facilities and personnel. 
2) Demand an immediate ceasefire leading to a long-term political solution that leads to peace, security and dignity for both Palestinians and Israelis
3) Urgent humanitarian access into Gaza - the situation has reached catastrophic proportions - Read Chris Doyle's article in Prospect magazine here
4) An end to the 'total siege' that Israel imposed on 9 October
5) A release of all Israeli hostages - so far 4 out of 220 have been released
6) Full support for an ICC investigation into possible war crimes with the guarantee of accountability 
Summary
As of 5 December, the fatality count within Gaza, as a result of Israeli bombardment and attacks, has reached at least 16,248, including well over 6,150 children. This comes as 160 bodies were recovered from under rubble on 27 and 28 November, and fighting fiercely resumed following the breakdown of the truce deal. Previous UN reports stated that 2,700 people were presumed to be missing or under rubble, including 1050 children. 36,000 are injured. The real Palestinian death toll is likely far higher as it is currently impossible to collect full data with many bodies still under rubble and inaccessible. 
Hamas attacks on 7 October, combined with rockets and mortar fire, have led to over 1,200 Israeli deaths, mostly civilians. 299 Israelis remain hospitalized as of 20 October — 49 in serious condition — since the Hamas onslaught. As of 5 December, 85 Israeli soldiers have been killed. 
Hamas and Palestinian Islamic Jihad continue to fire rockets indiscriminately into Israel. These are war crimes. 
Over one-third of hospitals in Gaza (12 of 35) and nearly two-thirds of primary health care clinics (46 of 72) have shut down due to damage from hostilities or lack of fuel. 62 attacks on healthcare, resulting in 16 health workers killed, and 29 health facilities and 23 ambulances damaged or destroyed. 280,000 housing units have been damaged or destroyed, accounting for over 60% of all homes in Gaza. You can add your signature to the petition to the UK Government, demanding a ceasefire, here.
Caabu calls for an immediate ceasefire and for all international leaders to make every effort to bring one about. Only by ending the killing can progress towards a political solution take place and the humanitarian catastrophe be addressed. As yet, neither the Prime Minister nor the Leader of the Opposition has called for this.  See our statement alongside other UK charities here, and our press release issued on 31 October: The failure of the government and Labour to call for a ceasefire is a betrayal of Palestinian civilians in Gaza.
Israel continues with intensifying ground assaults, invading into Khan Younis and areas east of Rafah. This is in addition to ongoing ground clashes spanning from around and within Gaza city to numerous areas in the North Gaza governate. These offensives are continually accompanied by the most intense bombing campaigns across Gaza. Israeli forces have maintained the effective severance of the north from the south along Wadi Gaza, except for the corridor to the south.
On the night of 27 October Israel cut all internet and phone lines into Gaza, demonstrating the total control it has over the strip it occupied. Some connections were resumed in the early hours of 29 October but these were cut again on 1 November. This impacted heavily on the emergency services ability to locate injured and those in need of hospitalisation. 
Internal displacement of Palestinians in Gaza has been extensive. Over 400,000 Palestinians were displaced, according to the UN, prior to the Israeli order to flee. The displaced figure is now up to 1.8 million, according to the UN, which amounts to almost 80% of the population.
From 25 October following earlier remarks by the US Secretary of State, Anthony Blinken, the Prime Minister and Leader of the Opposition called for humanitarian pauses. The humanitarian pause which began on 24 November is a small step in the right direction, and the truce deal is welcome but is not sufficient; the release of all hostages and a proper ceasefire is imperative to ending the violence. Pauses do not press the parties towards a situation where the fighting stops, all hostages released and a political way forward can be found, the only exit from this carnage.  
The UN General Assembly did vote on 27 October for an "immediate, durable and sustained humanitarian truce," the release "of all civilians who are illegally being held captive," the protection of international institutions, and ensuring the safe passage of humanitarian aid into the Gaza Strip. 120 states, voted in favour, 14 against, whilst 45, including the UK abstained on this. 
Requirement on Israel to respect international law
Israeli actions in Gaza must be in accordance with international law, something it has not done in previous military operations. It has to make every effort to distinguish in all its actions between military and civilian targets, including infrastructure. in Gaza. It is also vital that Israel not be allowed to collectively punish the Palestinian population of Gaza including by cutting off of electricity as has already been done. Israel has also cut water supplies. (See UN OCHA update 10 October) -  the situation is so grave that many lawyers and genocide experts are discussing whether Israel may be guilty of the crime of genocide in Gaza. (See this debate including with Chris Doyle on Palestine Deep Dive)
Israeli siege of Gaza is collective punishment and a war crime
On 9 October, the Israeli Defence Minister declared a total siege of Gaza. "I have ordered a complete siege on the Gaza Strip. There will be no electricity, no food, no fuel, everything is closed. We are fighting human animals and we will act accordingly." Caabu condemns this - this is a collective punishment of a captive civilian population and a war crime.
In an interview on LBC News, Chris Doyle commented: "What we are seeing at the moment, is the collective punishment of 2.2 million people in the Gaza Strip, a siege that was declared yesterday by the Israeli defence minister in which he described Palestinians as animals, denying them food, water, electricity power. Now, that is wrong. It's a war crime. It's collective punishment. And we have to get away from a situation, where one crime then justifies another crime then justifies another crime. No, crime justifies another. So the killing of those civilians in Israel was utterly horrific. The kidnapping, the threats to kill them all horrific, but it does not mean that you then turn away and ignore the bombing of civilian infrastructure which has been going on. Hospitals have been bombed, there have been entire neighbourhoods that have been bombed."  An Israeli army spokesman has gone and said "our focus is on (creating) damage, not on precision." 
Humanitarian catastrophe
The humanitarian situation in Gaza has moved to one of catastrophic from one of crisis prior to 7 October. Water is running out and Palestinians are forced to drink saline water, even sea water. The health system is on the brink of collapse. Caabu Director Chris Doyle wrote this in Prospect about the humanitarian situation: "The only way to push back this humanitarian catastrophe is a ceasefire and lifting of the siege. Anything less than that will not suffice."
In a packed-out meeting to UK parliamentarians, hosted by the Britain-Palestine All Party Parliamentary Group, the Palestinian ambassador, Dr. Husam Zomlot, called for an immediate and urgent ceasefire. The Group also heard from Jordan & Qatar's Ambassadors, voicing concerns for Palestinians in Gaza & the dangers of regional escalation. See Tweet here.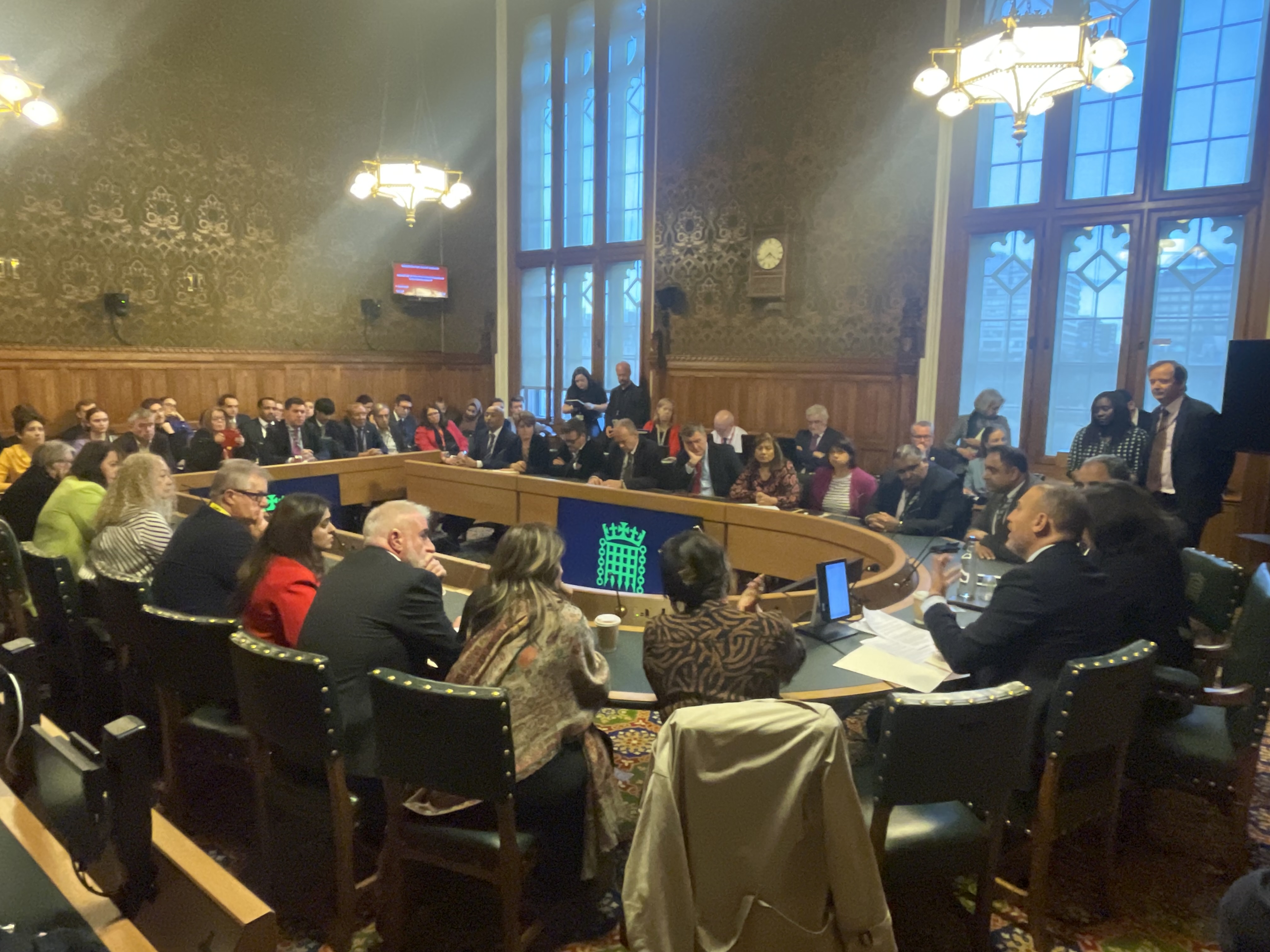 In an interview on 25 October, Chris Doyle called for an immediate ceasefire to end the carnage in Gaza. 
Threat of forcible transfer
On 13 October, the Israeli military informed the UN that the entire Palestinian population in the northern part of the Gaza Strip has to move within 24 hours. This according to the UN represents 1.1 million Palestinians. Please see our press release on why this constitutes the threat of forcible transfer. 
Freedom of Palestinians central to this conflict
Chris Doyle, Caabu's Director has emphasised in media interviews that what this has highlighted is that the future of the Palestinians is absolutely central to this conflict and cannot be ignored or bypassed. "There is a long-term failure on Gaza and on the issue of Palestine. The assumption that you can leave that small strip of land to fester and it can stay contained, it won't. If you have 75 years of enforced exile, 56 years of military occupation,16 years of blockade and impose a regime of apartheid, you do not get calm, you do not get peace; hell in Gaza will never equal heaven in Israel – you will get a reaction. Israel has now declared war, but for Palestinians, it already had.  Occupation for them is a daily aggression."
In an interview with the National, Doyle looked at the long-term horizon arguing that, "The international community as a whole has to take stock of this. We have a long-term situation in Gaza which is completely unsustainable, two million under blockade with no horizon. Whilst you maintain that, there's an inevitability to have these conflagrations. If we go back to the status quo, we can be assured there will be further lives lost and ruined."
Escalation in the West Bank and across the region
Caabu is also concerned about the situation in the West Bank including East Jerusalem. As of 5 December, Israeli soldiers and settlers have killed at least 249 Palestinians in the West Bank since 7 October, 65 of them children. Palestinians in the West Bank are largely prevented from traveling between cities. Crossing with Jordan closed. According to Palestinians Caabu spoke to, everyone is really frightened with no idea what will happen next. The West Bank economy is in a desperate situation as many Palestinians cannot work.
The real danger is that this spread even further with drastic and terrible consequences. This includes the risk of a war between Israel and Hizbollah. International leadership is lacking right now. Statesmen need to work to de-escalate the situation urgently. 
Need for a political solution as there is no military solution
Chris Doyle was interviewed by Paul Brand on LBC News about the UK's position. Doyle commented that Britain should be looking to de-escalate the situation rather than stoking by giving Israel a green light to a ground invasion. UK should remind Israel of its obligations under international law, not least because in past Israeli military operations on Gaza it stands accused by the UN and major human rights groups of committing war crimes. Above all, Britain should be pushing for a viable political process to resolve the conflict the only way forward to resolve this conflict with freedom and security for both Israelis and Palestinians. 
On 30 November in another interview with TRT World, Doyle offered his insight into Blinken's visit to Israel, as well as how a significant gap is opening up between the US and Israel over how the war is fought, settler violence and a Palestinian state.
Media Inquiries
Caabu has taken a huge number of media inquiries and have been able to field many Palestinians for interview, to tell their story. However, Palestinians in Gaza are under massive duress. Many can barely charge their phones, and the internet is at a premium right now in Gaza. Members of the media will I am sure understand but it is very difficult for agencies to get speakers from Gaza itself. 

For any queries or requests for interviews please contact Chris Doyle - [email protected] +447968040281
Resources
APPG briefings
Britain-Palestine APPG briefing: Consequences of Israeli Human Rights Violations on the Mental Health of Women in Gaza. Link here. 
Reports from earlier Israel operations on Gaza
Israeli human rights groups reports
This is How We Fought in Gaza 2014 - Testimonies of 111 Israeli officers and soldiers - Breaking the Silence - May 2015
Black Flag: The legal and moral implications of the policy of attacking residential buildings in the Gaza Strip summer 2014 - B'Tselem - 28 January 2015
Palestinian human rights groups reports 
In Children's Eyes:  Children and War: Stories from Gaza children in summer 2014‎ -  Al Mezan Centre for Human Rights, 27 May 2015
Books
Gaza: A History by Jean Pierre Filiu
Gaza: Preparing for Dawn by Donald Macintyre
Updated 6 December 2023