Foreign Office confirms JCB equipment use in demolitions in the West Bank to Caabu board member Paula Sherriff MP
Foreign Office and Department for International Development Minister Rt Hon Alistair Burt MP has replied to a question from Caabu board member Paula Sherriff which was asked in the Urgent Question on the demolition and forcible transfer of Khan al Ahmar on 4 July 2018 on JCB bulldozers being involved. The letter, dated 10 September 2018, was only received on 19 November 2018 owing to having been sent to an incorrect email address.
In the debate, Paula Sherriff MP got an assurance from Alistair Burt that he would investigate JCB's involvement in Israel's demolition and forcible transfer of Khan al Ahmar. She said:
"I have just heard that 35 people have been injured so far today as a direct result of the demolition. I know the Minister to be a very decent man, so will he pledge specifically to investigate why JCB bulldozers were used in the demolition of homes, given that it is certainly a serious breach of international law, if not a war crime?"
In his written response, Alistair Burt confirmed the use of JCB equipement in demolitions in the West Bank:
"We note the media reports and photographs that show JCB diggers around demolition sites. The reports that we are aware of show these diggers at the demolition site of Abu Nuwar. Officials from the British Consulate-General in Jerusalem are aware that JCB equipment has been used on site. They witnessed the presence of JCB equipment at Khan al Ahmar when they visited on 4 July to demonstrate the international community's support for the village. From our enquiries, we understand that the demolitions are carried out by private contractors on behalf of the Israeli Civil Administration, so these private contractors would be the owners of any relevant equipment.
I assure you that the British Government is committed to encouraging and fostering respect for human rights among UK businesses, including the promotion of the UN Guiding Principles on Business and Human Rights and the OECD Guidelines for Multinational Enterprises. Where, and with whom, a company decides to trade is however a decision for each company to reach, taking account of the legal and regulatory environment including international human rights law."
Whilst the OECD Guidelines should be ahered to, it is the duty of the British Government as a high contracting party to ensure compliance with the Fourth Geneva Convention.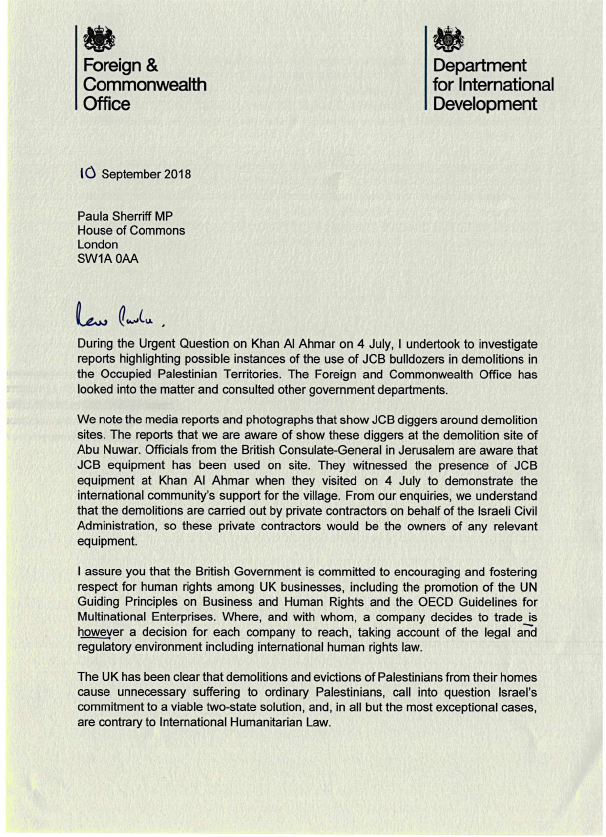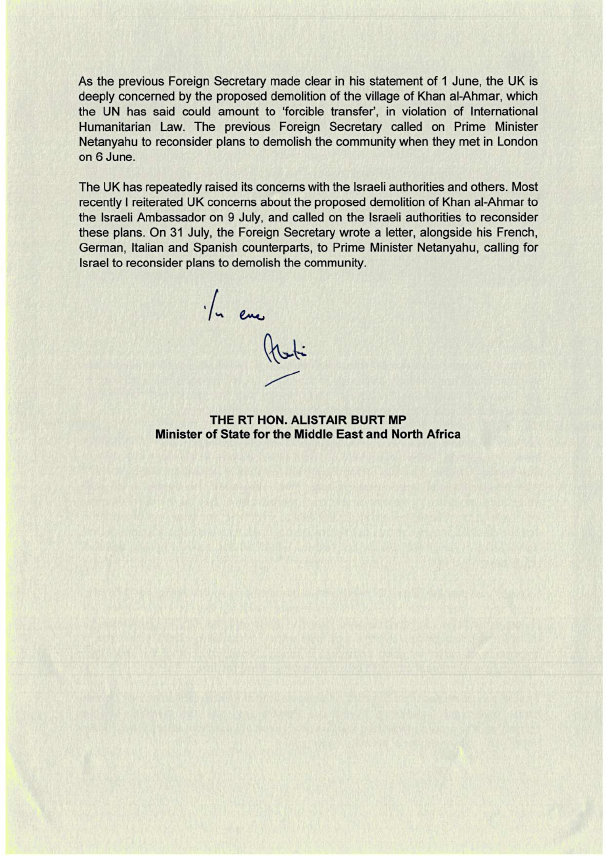 Minister Burt assures Paula Sherriff that use of JCB machinery in demolition of Khan al Ahmar will be investigated from Caabu on Vimeo.