Caabu was appaled by Kelvin MacKenzie's column in today's (Monday 18th July) edition of The Sun, which legitimised xenephobia (pictured below).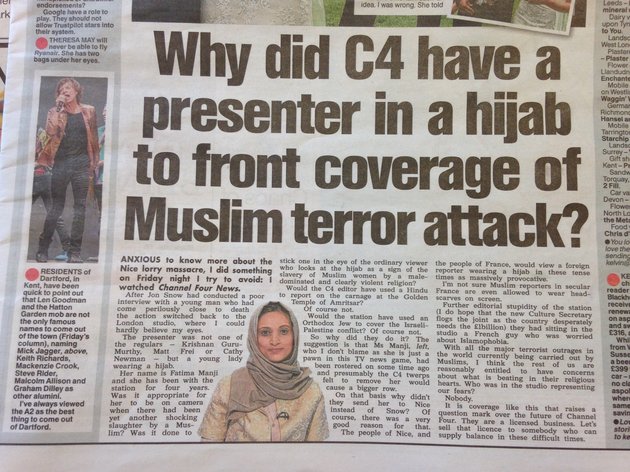 In response, Caabu has lodged a complaint with the Independent Press Standards Organisation (IPSO): 
"To whom It may concern:
Caabu (The Council for Arab-British Understanding) is deeply concerned by Kelvin MacKenzie's column piece in today's (18/07) copy of The Sun. It serves to increase xenophobic sentiment and perpetuates a discriminatory view of Muslims.
MacKenzie's description of the atrocious Nice attack on the 14th July as "Muslim terror" is deplorable. It suggests that somehow all practising Muslims are at fault for the attack by Mohamed Lahouaiej Bouhlel. This is hugely discriminatory and inaccurate. The actions of one disturbed young man, who was reportedly not religious, are not the fault of an entire religion.
In addition, the article attacks the Channel 4 presenter Fatima Manji for reporting on the story. This implies that Ms Manji herself had some connection to the attack due to her headdress. The suggestion that she could not represent "our fears" is incomprehensible. There is no reason why she, just like other Muslims in the UK, would not fear the possibility of an attack on them. Muslims have been the biggest victims of ISIS and Al-Qaeda violence. What could it be that disqualifies Ms Manji from expressing our fears and grief?
MacKenzie also describes the presence of a Frenchman who was worried about Islamophobia as "editorial stupidity" is very strange. The man has every right to express his concern about islamophobia, especially when there are articles in widely read publications, such as MacKenzie's own, conflating extremist terror and all those who practice Islam and describing a world religion as "clearly violent". Would MacKenzie hold the same view were a Christian presenter reporting on far-right Christian extremist attacks?
The article is worrying in its legitimisation of islamophobic sentiment and is insensitive and potentially dangerous at a time of grief and heightened tensions such as this.
Yours sincerely,
Caabu"