Caabu and Medical Aid for Palestinians delegation visits Palestine September 2015
A Caabu and Medical Aid for Palestinians delegation has just returned from Palestine after a five day delegation from 31 August 2015 to 4 September 2015. The delegation included former Conservative International Development Minister, Sir Alan Duncan MP, former Conservative Secretary of State for Wales, Rt Hon David Jones MP, Labour MPs Sarah Champion and Paula Sherriff, Scottish National Party (SNP) MP John Nicolson and Liberal Democrat Peer, Lord Purvis of Tweed.
The delegation met with Palestinian and Israeli officials, including Palestinian Prime Minister Dr Rami Hamdallah and a representative from Israel's National Security Council.
Over the course of the delegation, the Parliamentarians had meetings with Ray Dolphin on UNOCHA in Jerusalem about the situation in the West Bank and Gaza, with Gerard Horton of Military Court Watch and Salwa Duaibis from the Women's Centre for Legal Aid Counselling about Palestinian child detainees and the effects on their families, and had briefings with representatives of the BADIL Resource Center for Palestinian Residency and Refugee Rights, Defence for Children International Palestine, the AIDA Advocacy Working Group, and Norwegian Refugee Council (NRC). They also met with the British Deputy Consul General in Jerusalem. Daniel Seidemann of Terrestrial Jerusalem also gave the group a geopolitical tour of the city, and they also met other Israeli NGOs in Jerusalem and toured the Hadassa Hospital.
The Parliamentarians had a moving visit to Duma, seeing the burnt out home of the Dawabsheh family. 18 month old Ali Dawabsheh was killed in an arson attack after illegal Israeli settlers broke into his home, firebombed it, and barricaded the family inside. Ali's father Sa'ad died just over a week after the arson attack on 31 July 2015, andhis mother Reham succumbed to her injuries and died on 6 September 2015. She sustained third degree burns on 90% of her body. Sa'ad and Riham's four year old son, Ahmed, is the only survivor.
Members of the Dawabsheh family welcomed the delegation into their home and spoke of their fears of further settler attacks and continued violence and the sense of feeling totally unprotected by the Israeli army and police. In their view, it is only a matter of time before something like this happens again. The uncle of Sa'ad Dawabsheh told the delegation that he knew who the settlers were, but had no faith in Israel bringing them to justice. The delegation also visited the burns unit of Rafidiya Hospital in Nablus (supported by Medical Aid for Palestinians), where the family were initially treated. Many patients come in with burns injuries, mostly caused by candles and gas heaters, and in cooking accidents due to a lack of electricity.
The delegation also visited Bedouin communities in the Jordan Valley, who rely on a mobile clinic supported by Medical Aid for Palestinians. The mobile clinic visits local Bedouin communities, providing much needed support, in particular to women and children.
The delegation also visited Susiya, the South Hebron Hills, and Hebron with Breaking the Silence. They met met Palestinian communities in Susiya and the South Hebron Hills under constant threat of demolition and forced eviction. In one community, where several buildings have been demolished, the chickens in the farm across the road had a constant supply of water and electricity. A 'luxury' that their Palestinians neighbours do not have. Today, the UN announced that Israel plans to demolish 17,000 Palestinian buildings in the West Bank to force them off their land to increase settlement building.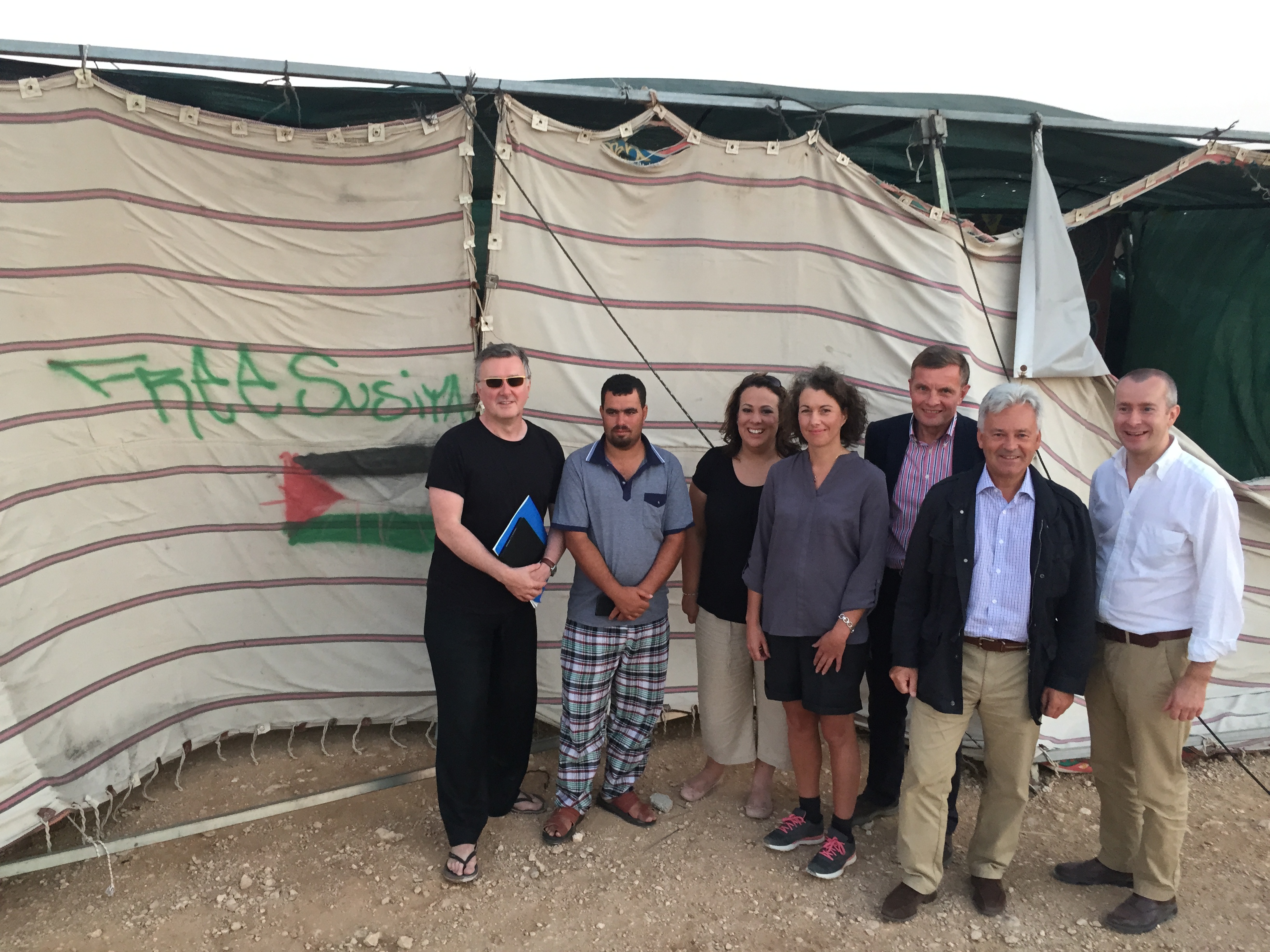 In Hebron, the delegation witnessed the sterilised streets where Palestinians are unable to walk down, access the front doors to their homes, and drive down the roads that illegal Israeli settlers enjoy. Once a thriving city, the area of Hebron under Israeli control is now an eerie ghost town. Read more about Caabu's Parliamentary delegations here.