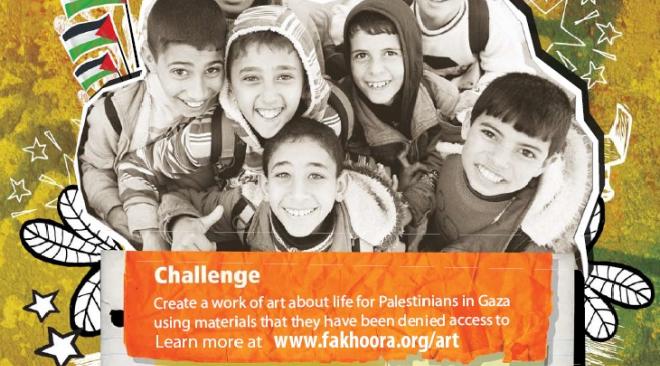 Caabu on behalf of Al Fakhoora is running a one day event for 11-18 year olds, giving them the opportunity to work with professional artists at a central London location.
The workshop will be hosted and led by Reedah al-Saie, founder of the Mica Gallery and a renowned expert on modern Islamic and Middle Eastern Art. Throughout the day, budding young artists will be given an insight into the creative process, learn more about our art competition and have an opportunity to build on their skills. They will also meet a Palestinian artist, who will talk about how they developed their ideas through art and the process of experimentation.
Students taking part in the workshop can enter their work in the 'Life in Gaza' Schools' art competition, with the chance to win some great prizes - including an HD digital video camera.
For more on the competition see www.fakhoora.org/art
The entire day is free of charge and is open to anyone of secondary school age (11-18). The workshop will run from 9.30-4.30 on 18 April 2011.
Places are limited so we will need to know as soon as possible if you wish to attend - please email parsonse@ caabu.org or call 02078321320.
PLEASE NOTE THIS EVENT IS ONLY OPEN TO SECONDARY SCHOOL STUDENTS