On Our Land - Protecting cultural heritage in South Hebron Hills: Caabu briefing
Date: Thursday, 21 Nov 2019 11:00am to 12:30pm
See Map
Caabu, Arab British Centre, 1 Gough Square
EC4A 3DE
Closest Tube: Chancery Lane, Temple, Blackfriars, Farringdon
See Map
Over the past two years around 30 young people from 33 Bedouin communities in South Hebron Hills, occupied Palestinian territories, have interviewed older generations to gather intangible cultural heritage.
Caabu is pleased to be able to invite you to a briefing with representatives of the youth research team, Sameeha Huraini, Khalil Makhamra and Fatima Nawaja (details at the bottom of this email), will be visiting the UK to embark on a speaking tour, in order to share their work to preserve the heritage of Bedouin Palestinian communities for future generations.
The researchers have made a short film about their work, which will form part of their tour, along with excerpts from the oral history interviews they have been collecting. More details about the project can be found here.
When:Thursday 21 November 2019, 11:00
Where: Boardroom, The Arab British Centre, 1 Gough Square, London EC4A 3DE. Click here for directions.
RSVP is essential. Please confirm your attendance with Joseph Willits (willitsj@caabu.org).
Keep up to date with Caabu's work by liking our Facebook page and following us on Twitter.
Also if you would be interested in signing up as a member to support our work, you can do so here. You can also sign up as a Caabu member over the phone. Please do also watch our video, about 50 years of our vital work.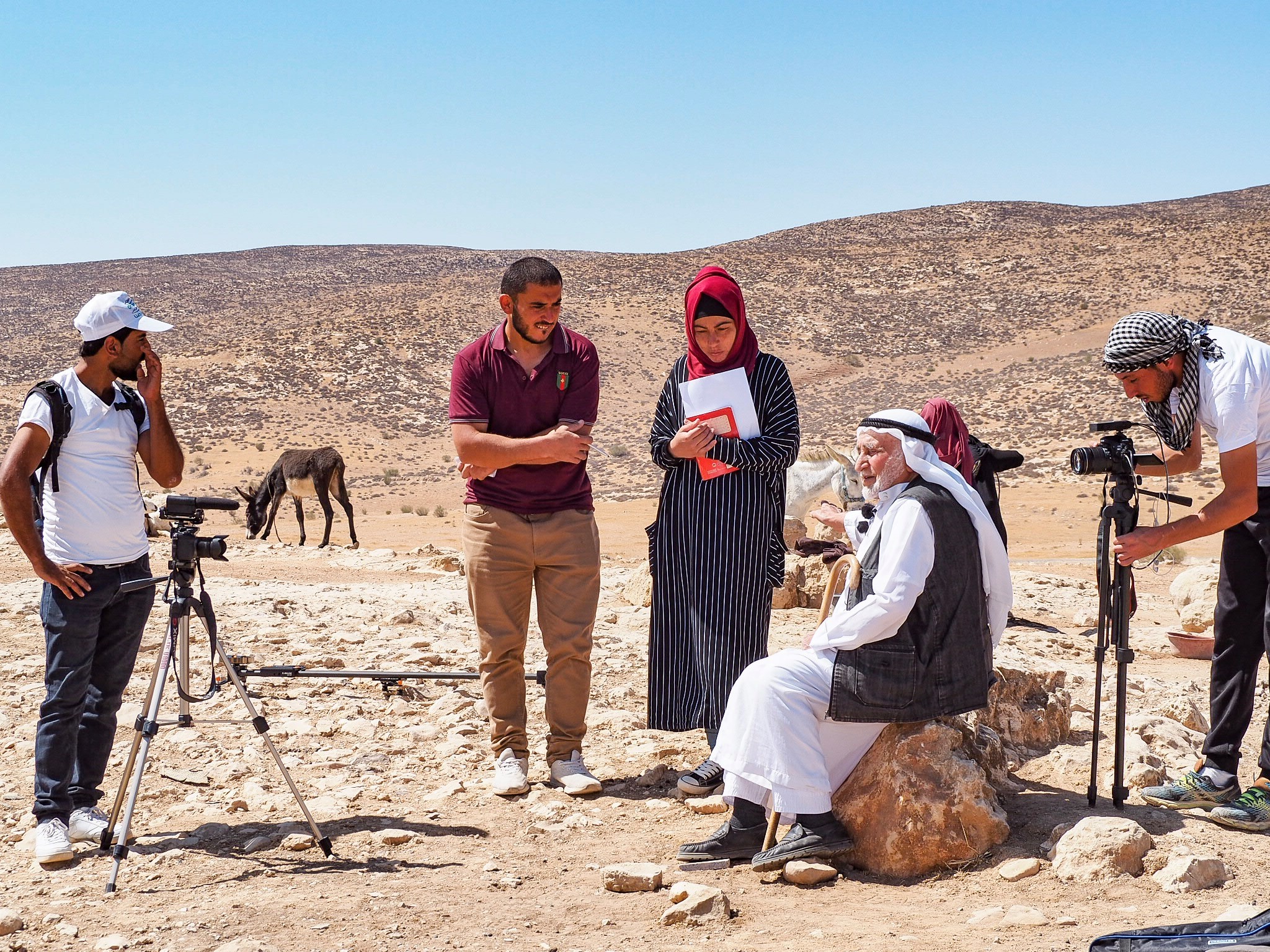 About the project - On our Land - Putting our homes on the map

"We need to tell people, not just in Palestine but all over the world, what a group of university students are working on and how important this project is. This is our culture and it our responsibility to save it. I think it is the youth's responsibility because we have the energy, we are educated in universities -we can read, write and understand. I have learned so much" (Sameeha Hureini)
The Bedouin communities of Palestine have a rich cultural heritage, including vivid oral tradition, pastoral and agricultural practices, food and drink, and traditional arts and handicrafts, which is intertwined with that of their non-Bedouin Palestinian neighbours. . This heritage is at risk as a result of the Israeli occupation which has seriously impacted on how Bedouins share their lived cultural heritage between generations and communities.
The creation of Israeli closed military zones, the imposition of severe restrictions on movement between Israel, the Gaza Strip and the West Bank, and evictions of communities has threatened the existence of traditional ways of life. Paying attention to cultural heritage protection has become a low priority for many when compared to pressing needs such as jobs, education, or legal protection.
"I wasn't very interested in culture. I never really thought about researching my heritage, documenting it or presenting it in an exhibition. Our community never really talked about heritage. Now that has changed. Now as soon as I hear someone reference to the past, I think about interviewing them and learning more. So much of our past has been buried...when we interviewed people it all surfaced. I thought, why not work a more on this?"(Youth researcher)
"My views have certainly changed. Overall, before this project I wasn't really aware about our heritage, I wasn't very interested in the beginning. This project raised my sense of awareness about protecting our heritage. If don't protect it, it will disappear and we would lose our heritage. I appreciate the project for raising our sense of awareness."(Youth researcher).
The aim is to demonstrate the value of cultural heritage protection as an important potential resource to support social and economic life in communities in South Hills.
The On Our Land is a collaboration between the Centre for Trust, Peace and Social Relations at Coventry University, and a Palestinian community organisation, the Popular Struggle Coordination Committee.
The project is funded by the British Council Cultural Protection fund (the British Council's £30m Cultural Protection Fund, in partnership with the Department for Digital, Culture, Media and Sport, is set up to protect cultural heritage at risk due to conflict in the Middle East and North Africa). The project was initially awarded funding from August 2017-December 2018 (Phase 1), and then awarded an extension for January 2019-December 2019 (Phase 2).

About the speakers
Khalil Makhamra is from Jinba village to the south of South Hebron Hills. Khalil is a student at Al Quds Open University in Yatta city, he is studying computer science.Khalil joined the project in 2018 and conducted several interviews about the traditional milk products and living in caves.
Sameeha Hurainiis from Al Twani village in the South Hebron Hills. Sameeha is studying English literature at Hebron University.She has been part of the On Our Land project since the in 2017. Sameeha conducted several interviews about traditional Palestinian folk songs. "I am so happy to be a part of this because it has helped me know more about my cultural heritage and the importance of protecting it, through our interviews with the older generation."
Fatima Nawajais from Susiya village in the South Hebron Hills. She has been part of the On Our Land project since 2017. Fatima conducted several interviews and helped other youth researchers in conducting and preparing the interviews. "Cultural heritage is a proof of our identity. Through our stories and documentation of daily life of our elders before occupation, this has led to us to grow more attached to our land and it increased our belief in our right over this land."

Keep up to date with Caabu's work by liking our Facebook page and following us on Twitter.