27 Jun 2022 12:00 - 13:00
Caabu invites you to an Online Book Launch with Sally Hayden to discuss her book, 'My Fourth Time, We Drowned: Seeking Refuge on the World's Deadliest Migration Route':
Sally will be discussing her recently published book My Fourth Time, We Drowned: Seeking Refuge on the World's Deadliest Migration Route, with Labour Member of the House of Lords, refugee advocate and himself a former child refugee, Lord Alf Dubs. She will talk about the shocking and devastating journeys refugees face trying to reach sanctuary and safety in Europe.
The book is a finalist for the 2022 Orwell Prize for Political Writing.
My Fourth Time, We Drowned: Seeking Refuge on the World's Deadliest Migration Route can be purchased here. All titles we've hosted online book launches for can be found and purchased here. Books by Caabu speakers can be purchased here through Caabu's affiliate page on Bookshop.org. Caabu receives 10% of any purchase made as does an independent book shop. 
When: Monday 27 June 2022, 12:00 Noon (BST, UK time).
Where: Online. Sign up for the discussion here. 
Chair: Lord Alf Dubs, Labour Member of the House of Lords 
The event will also be live-streamed on Caabu's Youtube channel which you can also subscribe to. Previous Caabu briefings and discussions can also be watched here and a recording of this event will be posted here afterwards also. Previous Caabu briefings can be watched in this playlist here. 
Caabu has created an affiliate page on Bookshop. This means, that with any purchase through this site, 10% of the sale price will be sent to us and another 10% will go to support local bookshops. We think this is a great way to support Caabu's work and independent bookshops across the country. More details about it can be found here.
My Fourth Time, We Drowned, can be purchased here and is listed in theonline events section of our Bookshop page, where you can find titles from previous speakers at Caabu's online briefings.
Buy other books from previous online Caabu briefings here and from physical events we've hosted here.
We hope you enjoy reading any of these titles, and supporting Caabu in the process.
You can sign up for the discussion here using your email address. Please note that sign up is a two part process. Once you have signed up with your email address, this will then be approved, and details will then be emailed to you ahead of the event. Please do check your inbox (including Junk and Clutter folders) for this email with the link to join the event on the day. 
Please register below AHEAD of time to join this online briefing. This makes it much more helpful to us: https://us06web.zoom.us/meeting/register/tZMrduuhqDsiH9xXxz2oL4RAFZ7IfySAFktB
PLEASE DONATE TO SUPPORT CAABU'S VITAL WORK: We would be also be very grateful for any donations to help us in our work right now and keep our programme including the webinars going forward. Donate here. Become a member for £50 a year here.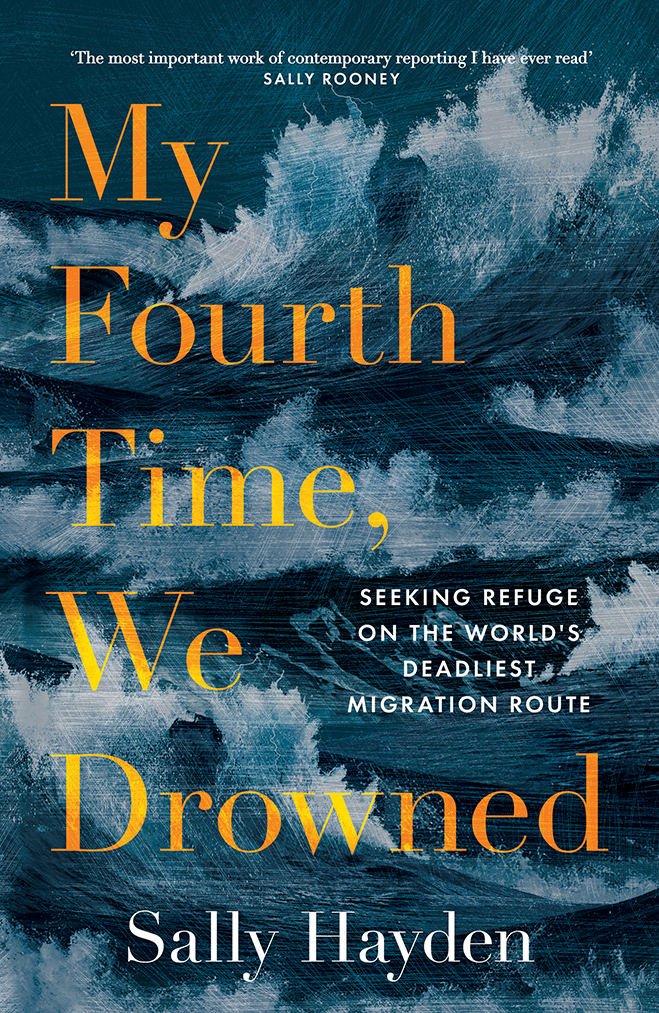 You can watch previous online Caabu briefings on our Youtube channel which you can also subscribe to. 
Keep up to date with Caabu's work by liking our Facebook page and following us on Twitter. Please do also watch our video, about 50 years of our vital work. 
About the book:

The Western world has turned its back on refugees, fuelling one of the most devastating human rights disasters in history.

In August 2018, Sally Hayden received a Facebook message. 'Hi sister Sally, we need your help,' it read. 'We are under bad condition in Libya prison. If you have time, I will tell you all the story.' More messages followed from more refugees. They told stories of enslavement and trafficking, torture and murder, tuberculosis and sexual abuse. And they revealed something else: that they were all incarcerated as a direct result of European policy.

From there began a staggering investigation into the migrant crisis across North Africa. This book follows the shocking experiences of refugees seeking sanctuary, but it also surveys the bigger picture: the negligence of NGOs and corruption within the United Nations. The economics of the twenty-first-century slave trade and the EU's bankrolling of Libyan militias. The trials of people smugglers, the frustrations of aid workers, the loopholes refugees seek out and the role of social media in crowdfunding ransoms. Who was accountable for the abuse? Where were the people finding solutions? Why wasn't it being widely reported?

At its heart, this is a book about people who have made unimaginable choices, risking everything to survive in a system that wants them to be silent and disappear.
 
About the speaker: 
Sally Hayden is an award-winning journalist and the author of 'My Fourth Time, We Drowned: Seeking Refuge on the World's Deadliest Migration Route'. 
She is currently the Africa correspondent for the Irish Times, and has also worked with VICE News, CNN International, the Financial Times, TIME, BBC, the Washington Post, the Guardian, the New York Times, Channel 4 News, Foreign Policy, Al Jazeera and Newsweek, among others.
Sally has reported across the Middle East, Africa and Europe, and is a two-time winner of foreign correspondent of the year at the Newsbrands Irish Journalism Awards. She has twice sat on the committee deciding the winner of Transparency International's Anti-Corruption Award. In 2019, she was included on the Forbes '30 Under 30' list of media in Europe.
She Tweets @sallyhayd.
You can read more about her on her website here: https://sallyhayden.net/. 
About the chair:
Lord Alf Dubs was born in December 1932 in Prague, and was one of the Czech children rescued from the Nazis in the Kindertransport. He had no idea of the identity of his rescuer until 1988, when a relative spotted his name on Esther Rantzen's This Is Your Life television programme featuring English former stockbroker Nicholas Winton, who had arranged for the transport of 669 children out of Nazi-occupied Prague. Alf Dubs campaigned for Winston to be honoured for his actions and he was later knighted.
Alf Dubs studied at the London School of Economics before entering a long career in public service. He has been a local councillor, MP for Battersea South and Battersea between 1979 and 1987, Parliamentary Under Secretary of State at the Northern Ireland Office from 1997 to 1999, Chair of the Fabian Society, Chair of Liberty, a trustee of Action Aid, Director of the Refugee Council and a trustee of the Immigration Advisory Service. He was also Deputy Chair of the Independent Television Commission from July 2000 to February 2001, a member of the Broadcasting Standards Council between 1988 and 1994, becoming Deputy Chairman in 1995, and then Deputy Chair of the Broadcasting Standards Commission until 1997.
Lord Dubs was appointed a Labour working peer in 1994, and is an active and independent-minded member of the House of Lords, participating in well over the average number of debates, and occasionally voting against the party on issues such as assisted suicide and reform of the House of Lords.
He is Chair of the All Party Parliamentary Group on Moldova and Chair of the All Party Parliamentary Group on European Union Enlargement and he serves on the Parliamentary Joint Committee on Human Rights. He is a trustee of the Open University, Chair of the Road Safety Foundation, and on the Advisory Board of the John Smith Memorial Trust, formed in 1996 to promote the ideals of democracy, social justice and good governance.
He Tweets: @AlfDubs.
Caabu is a not-for-profit cross-party organisation whose mission is to work for a British Middle East policy that promotes conflict resolution, human rights and civil society in the Arab world through informed debate and mutual understanding. Caabu is one of the most active NGOs working on the Middle East in British parliament since its establishment in 1967. From then on Caabu has assumed an active advocacy, educational and media role.
Keep up to date with Caabu's work by liking our Facebook page and following us on Twitter. Please sign up as a Caabu member or make a donation to support our work.