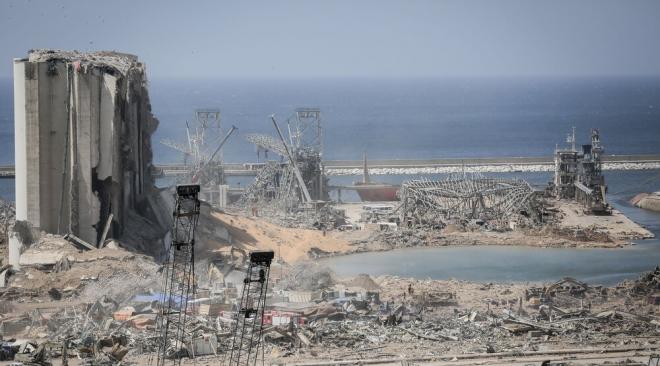 Caabu invites you to a panel discussion on the crisis in Lebanon on Friday 6 November at 2pm (UK time), with Alia Moubyaed, Ziad Majed and Ziad Abdel Samad.
Following the devastating 4 August blast in Beirut, the economic crisis and the huge protests over the last year against the Lebanese political elites, this panel will assess the current situation looking at how we got here and what should be done and not done both locally and internationally. Here is a reminder of ways to help Lebanon after the blast in Beirut, through this resource produced by Caabu.
You can sign up for the discussion here using your email address. Please note that sign up is a two part process. Once you have signed up with your email address, this will then be approved, and details will then be emailed to you ahead of the event. Please do check your inbox (including Junk and Clutter folders) for this email with the link to join the event on the day. 
Please register below AHEAD of time to join this online briefing. This makes it much more helpful to us: https://zoom.us/meeting/register/tJUkde2tqDsqGtJ6Cb8mLdCzMG-2Zrvcirmq 
When: Friday 6 November 2020, 14:00 UK time (BST) 
Where: Online. Sign up for the discussion here.
PLEASE DONATE TO SUPPORT CAABU'S VITAL WORK: We would be also be very grateful for any donations to help us in our work right now and keep our programme including the webinars going forward. Donate here. Become a member for £50 a year here.
You can watch previous online Caabu briefings on our Youtube channel which you can also subscribe to. 
Keep up to date with Caabu's work by liking our Facebook page and following us on Twitter.
Also if you would be interested in signing up as a member to support our work, you can do so here. You can also sign up as a Caabu member over the phone. Please do also watch our video, about 50 years of our vital work. 
About the speakers:
 
Alia Moubayed is an experienced analyst with more than 25 years of experience in government, international financial institutions, financial markets and think-tanks.
She is currently Chief Economist for the MENA region at an investment bank based in London. Prior to that, she worked at the International Institute for Strategic Studies (IISS) in London (2017-18), where she directed the Geo-economics and Strategy Program. Alia also worked as Chief Economist for the MENA region at Barclays in London (2008-2017). She joined Barclays from the World Bank which she integrated through the Young Professionals Program (YPP) and became a senior economist working in Europe and Central Asia, as well as Indonesia (2002-2008). She was also a member of the Task Force for World Bank Engagement with the Arab World. Prior to that, she held policy responsibilities in various economic institutions in Lebanon (1994-2001), including at the Banque du Liban; advisor to the Minister of Economy and Trade and Minister of Industry; and Managing Director of the Economic and Social Fund for Development at the Council for Development and Reconstruction.
Alia holds a BA in Economics with distinction and an MBA from the American University of Beirut, as well as a Master equivalent in Public Policy and Public Administration from the Ecole Nationale d'Administration (ENA) in France. She is also the founder of AWEAMENA - the Association of Women in Economics Across the Middle East and North Africa aimed at promoting the role of women in economic policy making in the region.
She Tweets @aliamoub. 
Ziad Majed is an Associate Professor and Program Coordinator for Middle East Pluralities at the American University of Paris.
Professor Majed teaches Middle East studies and writes on Lebanese, Syrian, Palestinian and Arab affairs as well as on regional political transitions and crises. Since 1994, he has been involved in research work and reform campaigns related to political processes and civil society causes in Lebanon and other Arab countries. For the last ten years, Majed has been regularly publishing articles in Arabic (in Now Lebanon, Al-Hayat, Al-Quds al-Arabi, Aljazeera studies, Journal for Palestine Studies, and Daraj) and in French (in Lorient Littéraire, Mediapart, Le Monde, L'Express, Libération and AOC). 
He recently authored "Syrie la révolution orpheline" (Actes Sud, Paris, 2014), co-authored "Dans la tête de Bachar Al-Assad" (Actes Sud, Paris, 2018) and he is currently preparing two publications on Consociational Democracy in Lebanon and on the ongoing struggle for Syria to appear soon.
He Tweets @ZiadMajed.
Ziad Abdel Samad is the Executive Director of the Arab NGO Network for Development (ANND), Based in Beirut, since 1999 ANND brings together 30 NGOs and 9 national networks from 10 Arab countries, active in the protection of social and economic rights. President of the Euro-Mediterranean NGO Platform, a network gathering 83 national and regional networks and organisations, Abdel Samad is engaged in many global and regional networks focusing in the Economic and Social public policies and targeting regional and global Institutions; such as the of Social Watch, an international network of citizen coalitions that monitors the implementation of the commitments made at the 1995 World Summit on Social Development in Copenhagen, and the coordination group of the Civil Partnership for Development Effectiveness (CPDE). He is also engaged with research institutions the Asia Pacific Research Network (APRN) and the Reality of Aid Network (RoA), and active in electoral reforms and monitoring at the national and regional levels, through the Arab Network for Electoral Reforms (ANDE) and the Civil Campaign for Electoral Reforms (CCER) in Lebanon.
He Tweets @ziadas.
Keep up to date with Caabu's work by liking our Facebook page and following us on Twitter.