26 Apr 2022 14:00 - 15:00
Caabu invites you to an online book launch with author and academic, Marc Owen-Jones, who will be discussing his new book, Digital Authoritarianism in the Middle East: Deception, Disinformation and Social Media, on Tuesday 26 April 2022 at 2pm (BST UK time).
Register for this online book launch here.
The book, published by Hurst Publishers and released on 28 April, can be purchased here through Caabu's affiliate page on Bookshop.org. Caabu receives 10% of any purchase made as does an independent book shop.
When: Tuesday 26 April 2022, 14:00 (BST, UK time).
Where: Online. Sign up for the discussion here.
The event will also be live-streamed on Caabu's Youtube channel which you can also subscribe to. Previous Caabu briefings and discussions can also be watched here and a recording of this event will be posted here afterwards also. Previous Caabu briefings can be watched in this playlist here.
Caabu has created an affiliate page on Bookshop. This means, that with any purchase through this site, 10% of the sale price will be sent to us and another 10% will go to support local bookshops. We think this is a great way to support Caabu's work and independent bookshops across the country. More details about it can be found here.
Digital Authoritarianism in the Middle East by Marc Owen-Jones is available to purchase here.
Buy other books from previous online Caabu briefings here and from physical events we've hosted here.
We hope you enjoy reading any of these titles, and supporting Caabu in the process.
You can sign up for the discussion here using your email address. Please note that sign up is a two part process. Once you have signed up with your email address, this will then be approved, and details will then be emailed to you ahead of the event. Please do check your inbox (including Junk and Clutter folders) for this email with the link to join the event on the day. 
Please register below AHEAD of time to join this online briefing. This makes it much more helpful to us: https://us06web.zoom.us/meeting/register/tZEpf-iprD4oHtMHEQod3ztdNKHyoGU9Vl1x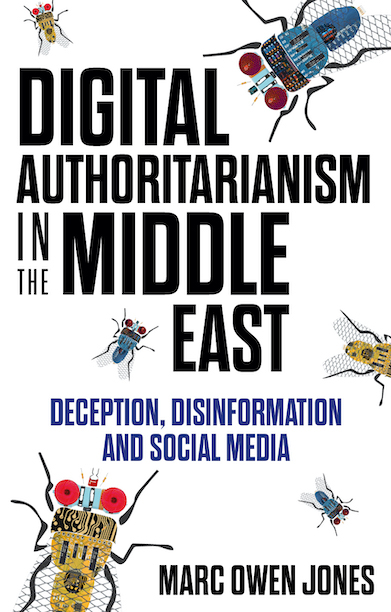 PLEASE DONATE TO SUPPORT CAABU'S VITAL WORK: We would be also be very grateful for any donations to help us in our work right now and keep our programme including the webinars going forward. Donate here. Become a member for £50 a year here.
You can watch previous online Caabu briefings on our Youtube channel which you can also subscribe to. Previous Caabu briefings on Palestine can be watched in this playlist here.
Keep up to date with Caabu's work by liking our Facebook page and following us on Twitter. Please do also watch our video, about 50 years of our vital work. 
About the speaker:
Marc Owen Jones is Assistant Professor of Middle East Studies at Hamad bin Khalifa University, Qatar, where he researches disinformation and digital media. He holds a PhD in Government and International Affairs from Durham University and has published extensively on Gulf politics and media. 
He Tweets: @marcowenjones.
About the book:
You are being lied to by people who don't even exist.
Digital deception is the new face of information warfare. Social media has been weaponised by states and commercial entities alike, as bots and trolls proliferate and users are left to navigate an infodemic of fake news and disinformation. In the Persian Gulf and the wider Middle East, where authoritarian regimes continue to innovate and adapt in the face of changing technology, online deception has reached new levels of audacity.
From pro-Saudi entities that manipulate the tweets of the US president, to the activities of fake journalists and Western PR companies that whitewash human rights abuses, Marc Owen Jones' meticulous investigative research uncovers the full gamut of tactics used by Gulf regimes and their allies to deceive domestic and international audiences. In an age of global deception, this book charts the lengths bad actors will go to when seeking to impose their ideology and views on citizens around the world. 
The book can be purchased here.
Caabu is a not-for-profit cross-party organisation whose mission is to work for a British Middle East policy that promotes conflict resolution, human rights and civil society in the Arab world through informed debate and mutual understanding. Caabu is one of the most active NGOs working on the Middle East in British parliament since its establishment in 1967. From then on Caabu has assumed an active advocacy, educational and media role.
Keep up to date with Caabu's work by liking our Facebook page and following us on Twitter. Please sign up as a Caabu member or make a donation to support our work.