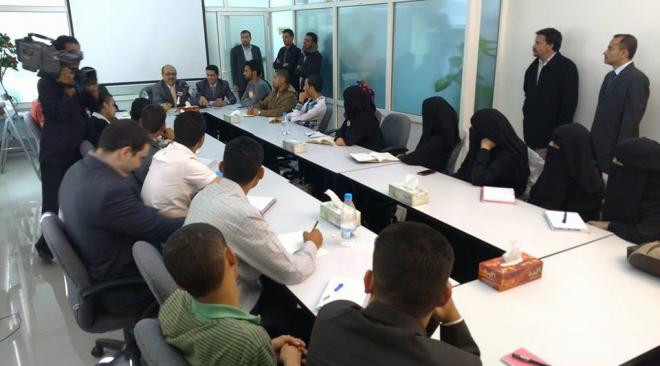 Thatcher Room, Portcullis House
Houses of Parliament, London
Caabu / MBI Al Jaber Foundation Panel Discussion on press and journalism in the Arab world: 
Three years on: the challenges of covering the Arab uprisings
Caabu and the MBI Al Jaber Foundation will be hosting a panel discussion on press and journalism in the Arab world: Three years on: the challenges of covering the Arab uprisings. The panelists will include Channel 4 News' International Editor Lindsey Hilsum; Heather Blake, UK Director of Reporters Without Borders; Asem Alothman, a correspondent for Al Jazeera Arabic's Saudi bureau; and Abdulrahman Elshayyal, formerly the BBC's  Business Development Manager, for the MENA region and West Asia.
The event coincides with the opening of the MBI Al Jaber Media Institute, the first privately funded organisation for the training of journalists in Sana'a, Yemen. You can learn more about the project here.
Keep up to date with this event by following Caabu's Facebook page. 
The event is public, so everyone is welcome, but it is important that you RSVP to Joseph Willits ([email protected]) to reserve a place. Seats may be limited.
When:Wednesday, 4 December, 6:30pm - 8pm
Where: Thatcher Room, Portcullis House, Houses of Parliament 
Chair: Adam Holloway MP
About the speakers:
Lindsey Hilsum is Channel 4 News International Editor, and the author of Sandstorm; Libya in the Time of Revolution, an account of the fall of Colonel Gaddafi. 
She also reported the "Arab Spring" from Egypt and Bahrain. She reported from Belgrade in 1999 when NATO bombed Serbia, from Baghdad during the 2003 US invasion, and covered the Fallujah assault in November 2004. Her reports from Africa, the Middle East and Russia have earned her several awards. From 2006-8 she was the Channel 4 News China Correspondent, based in Beijing. In 1994, she was the only English-speaking journalist in Rwanda when the genocide started.
She has been with Channel 4 News since 1996. You can see her reports here. She Tweets at @lindseyhilsum.
Heather Blake is the UK Director for Reporters Without Borders, UK (Reporters Sans Frontières) and Research Correspondent for the international secretariat and a Human Rights Research Associate to the Changing Character of War Programme, Oxford University.
Heather is the rapporteur for human rights foreign policy reports on Responsibility to Protect, the UN Human Rights Council Review and the occupied Palestinian Territories.  She is working on her fourth policy report on Kidnapping for Ransom.  Heather advises governments and the UN on human rights issues primarily on the Middle East and North Africa.  Heather has published articles and given many interviews to the international and UK media on press freedom and human rights, and is invited to speak regularly on human rights and press freedom issues at universities, various human rights institutions, UN missions, NGOs and the UK and European Parliaments.
Asem Alothman is Al Jazeera Arabic's correspondent in Saudi Arabia. He is a graduate of King Fahd University of Petroleum and Minerals, Dhahran, Saudi Arabia, where he founded the Media Club and chaired the student e-council.
In 2010 he was ranked by Forbes as the 67th most influential Tweep on Twitter in the Arab world 2010. He Tweets at @Asem. He has produced numerous short documentaries, which are available on  Youtube, about political and local issues in Saudi Arabia. In 2013 he was awarded the Saudi National Media Prize.
Abdulrahman Elshayyal is the executive manager of a new Pan-Arab media project that will be launched in January 2014. Based in London, it is a multi-platform news outlet with offices across the region.  He also acts as an adviser to the MBI Al Jaber Foundation's newly launched independent journalism training Institute  in Yemen.
He previously worked at the BBC in different departments. His last role was Business Development Manager at the BBC World Service for the MENA region and West Asia. He managed the BBC's relationships in 17 Arabic countries with government and private institutions. 
About the chair:
Adam Hollowayis the Conservative MP for Gravesham. He is a former Grenadier Guards Officer and Television Reporter. He has worked for Newsnight, World in Action, and as an ITN Reporter. He was best known in television for his work as an undercover reporter - his programmes including the award winning "No Fixed Abode" series where he lived homeless in London for about three months, showing the plight of the genuinely destitute. At ITN he was for a time Bosnia reporter, a London based general reporter and ran the investigative unit making News At Ten special reports.
Adam was educated at Cambridge University (MA Social and Political Science) and holds an MBA from Imperial College London. He is a former co-Chair of Caabu and was formerly on the board of Christian Aid. He was elected as a Member of Parliament in May 2005.
If you would like to attend this public panel discussion on press and journalism in the Arab world please RSVP to Joseph Willits ([email protected]), or get in touch via Twitter. You can also communicate with us on our Facebook group.
You will be able to follow the event on twitter:
To enter parliament, please use Portcullis entrance, marked 4 on this map.
Allow at least 30 minutes to pass through security.