28 Nov 2022 18:00 - 19:00
Caabu invites you to an online book launch on Algeria: From the Dark Decade to the Hirak, with author and academic Dr. Michael J. Willis,  who will discuss his new book, Algeria: Politics and Society from the Dark Decade to the Hirak on Monday 28 November 2022 at 6pm (GMT UK time).
Register for this online briefing here.
Algeria: Politics and Society from the Dark Decade to the Hirak published by Hurst Publishers can be purchased here. Books by Caabu speakers can be purchased here through Caabu's affiliate page on Bookshop.org. Caabu receives 10% of any purchase made as does an independent book shop.
When: Monday 28 November 2022, 18:00 (GMT, UK time).
Where: Online. Sign up for the discussion here.
The event will also be live-streamed on Caabu's Youtube channel which you can also subscribe to. Previous Caabu briefings and discussions can also be watched here and a recording of this event will be posted here afterwards also. Previous Caabu briefings can be watched in this playlist here.
Caabu has created an affiliate page on Bookshop. This means, that with any purchase through this site, 10% of the sale price will be sent to us and another 10% will go to support local bookshops. We think this is a great way to support Caabu's work and independent bookshops across the country. More details about it can be found here.
Buy other books from previous online Caabu briefings here and from physical events we've hosted here.
We hope you enjoy reading any of these titles, and supporting Caabu in the process.
You can sign up for the discussion here using your email address. Please note that sign up is a two part process. Once you have signed up with your email address, this will then be approved, and details will then be emailed to you ahead of the event. Please do check your inbox (including Junk and Clutter folders) for this email with the link to join the event on the day. 
Please register below AHEAD of time to join this online briefing. This makes it much more helpful to us:  https://us06web.zoom.us/meeting/register/tZUrduygrj4oH9ESFH-6vQuVsQpRvN_vnETb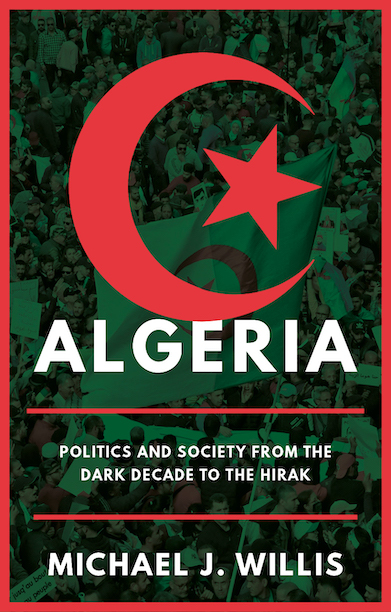 PLEASE DONATE TO SUPPORT CAABU'S VITAL WORK: We would be also be very grateful for any donations to help us in our work right now and keep our programme including the webinars going forward. Donate here. Become a member for £50 a year here.
You can watch previous online Caabu briefings on our Youtube channel which you can also subscribe to. 
Keep up to date with Caabu's work by liking our Facebook page and following us on Twitter. Please do also watch our video, about 50 years of our vital work. 
About the book:
When mass protests erupted in Algeria in 2019, on a scale unseen anywhere in the region since the Arab Spring, the outside world was taken by surprise. Algeria had been largely unaffected by the turmoil that engulfed its neighbours in 2011, and it was widely assumed that the population was too traumatised and cowed by the country's bloody civil war to take to the streets demanding change.
Michael J. Willis offers an explanation of this unexpected development known as the Hirak Movement, examining the political and social changes that have occurred in Algeria since the 'dark decade' of the 1990s. He examines how the bitter civil conflict was brought to an end, and how a fresh political order was established following the 1999 election of a dynamic new leader, Abdelaziz Bouteflika. 
Initially underwritten by revenue from Algeria's substantial hydrocarbons resources, this new order came to be undermined by falling oil prices, an ailing president, and a population determined to have its voice heard by an increasingly corrupt, out-of-touch and opaque national leadership. Exactly twenty years passed before Bouteflika's presidency was brought to an end by the Hirak protests—this book is an authoritative account of them.
About the speaker:
Dr Michael J. Willis is a Fellow of the Middle East Centre and St Antony's College at the University of Oxford where he has taught modern Maghreb politics since 2004. Algeria: Politics and Society from the Dark Decade to the Hirak is his second book on Algeria. His first was The Islamist Challenge in Algeria; A Political History published in 1997. He is also the author of Politics and Power in the Maghreb: Algeria, Tunisia and Morocco from Independence to the Arab Spring which came out in 2012.
He Tweets: @MichaelWillis11.
Caabu is a not-for-profit cross-party organisation whose mission is to work for a British Middle East policy that promotes conflict resolution, human rights and civil society in the Arab world through informed debate and mutual understanding. Caabu is one of the most active NGOs working on the Middle East in British parliament since its establishment in 1967. From then on Caabu has assumed an active advocacy, educational and media role.
Keep up to date with Caabu's work by liking our Facebook page and following us on Twitter. Please sign up as a Caabu member or make a donation to support our work.