Syria crisis appeals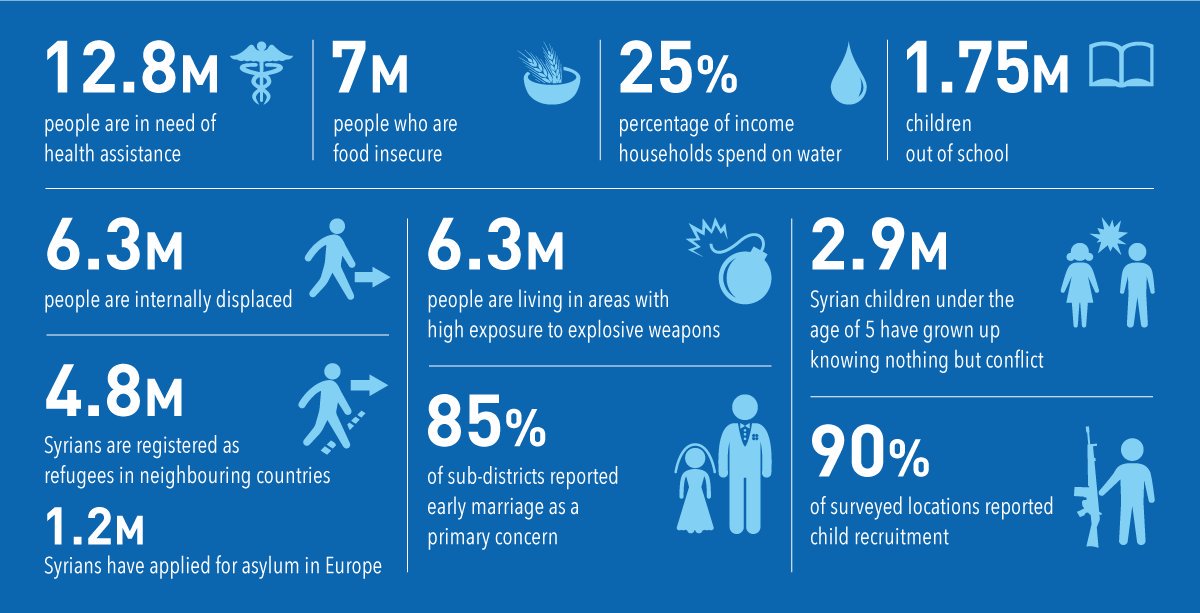 Syria is the site of one of the worst refugee crises in history. For over 6 years, people have been fleeing the consequences of the ruinous civil war. All international responses to the crisis are in dire need of economic support to sustain themselves. These are some of the organisations that work to provide basic services and shelter under incredibly difficult circumstances in Syria and the neighbouring countries.
11 million Syrians have become refugees
6,3 million are internally displaced
13,5 million Syrians need humanitarian assistance
In Syria, 95% of people do not have access to adequate healthcare
In Syria, 70% of people do not have regular access to clean drinking water
1 million Syrians have fled to Lebanon, 3 million to Turkey and 660,000 to Jordan
UNICEF work in Syria and the region to help refugees fleeing the civil war. They provide accommodation, medical care, education and psychological support to children.
Save the Children provide shelter, education and psycho-social support to millions of Syrian refugees, both internally displaced in Syria and living in the surrounding countries.
Islamic Relief delivers food parcels, cash assistance, sanitation and shelter in Syria.
British Red Cross has worked to bring medical supplies and emergency food aid to Syria.
Oxfam has provided water for over 1,5 million people fleeing the fighting in Syria, as well as providing cash assistance, food and medical supplies.
Muslim Aid deliver emergency food packs and assist in providing fuel for generators at hospitals.
CARE provides assistance to refugees in camps in Jordan, Lebanon, Egypt, Turkey and Syria. They deliver many forms of aid in the various countries.