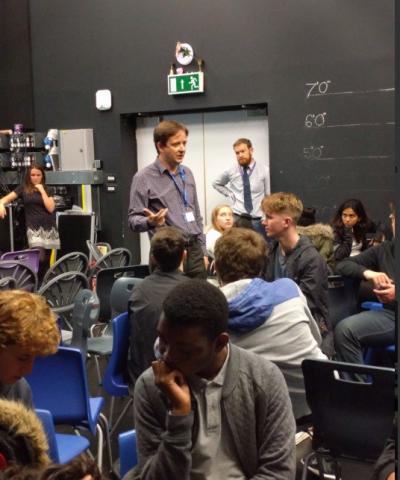 For more than fifty years Caabu has taken a lead in encouraging constructive engagement with the Arab world and Arab-British communities in British schools. Given that most people in Britain have a very limited understanding of the Arab world, its peoples, culture and history, working with young people is one of the most valuable contributions we can make.
Caabu's education programme, previously reaching 15,000 school children every year, leads in encouraging constructive engagement with the Arab world and Arab-British communities in schools. Unique in our focus on the Middle East, Caabu has over 50 years of experience delivering talks and workshops that support teachers to discuss some of the most sensitive issues of the day.
Our educational programme works to:
Navigate students in Caabu workshops through complex issues such as the Arab world, people and culture
Equip young people with a more engaged and open-minded approach
Cover a variety of subjects in Caabu teaching resources that the national curriculum does not sufficiently address
Caabu focuses on a wide range of subjects, covering topics such as Arab stereotypes, images of the Middle East, Israel-Palestine, the Arab Uprisings and the Syrian Refugee Crisis. Caabu facilitates in a variety of ways, delivering through assemblies, workshops and debates. Caabu is happy to explore new topics and methods of delivery according to school interest and preference. The education programme aims to inspire critical thinking and for students to look beyond the headlines to the underlying issues.
Produce two new free-to-use versatile, innovative and accessible quizzes that can be used by students, nationally and internationally, on a variety of platforms, from PCs to tablets.
Organise two cultural days for interested schools, bringing together a variety of tutors and speakers to inform students about Arabic culture.
Deliver talks and workshops, tailored to students needs, on subjects ranging from Arab stereotypes and images of the Middle East to Israel-Palestine, the Arab Uprisings and perceptions of Muslims in the UK
Run a series of three art workshops to generate interest in Arab culture and give budding young artists an insight into the creative process and an opportunity to work with professional artists.
"Sadly, many British schools do not cover the Middle East in their regular curriculum, and they are only starting to face up to the problem of 'Islamophobia'. Caabu is at the forefront of tackling this worrying tendency, and its visiting speaker service provides students with an insight into some of the most important issues of the day that they would otherwise be sorely lacking." Ahdaf Soueif, author.
For more information about Caabu's education programme, please email caabu@caabu.org.