SNP Manifesto 2019
The Scottish National Party (SNP) has issued their manifesto ahead of the General Election on 12 December. We have included aspects of it that may be of relevance.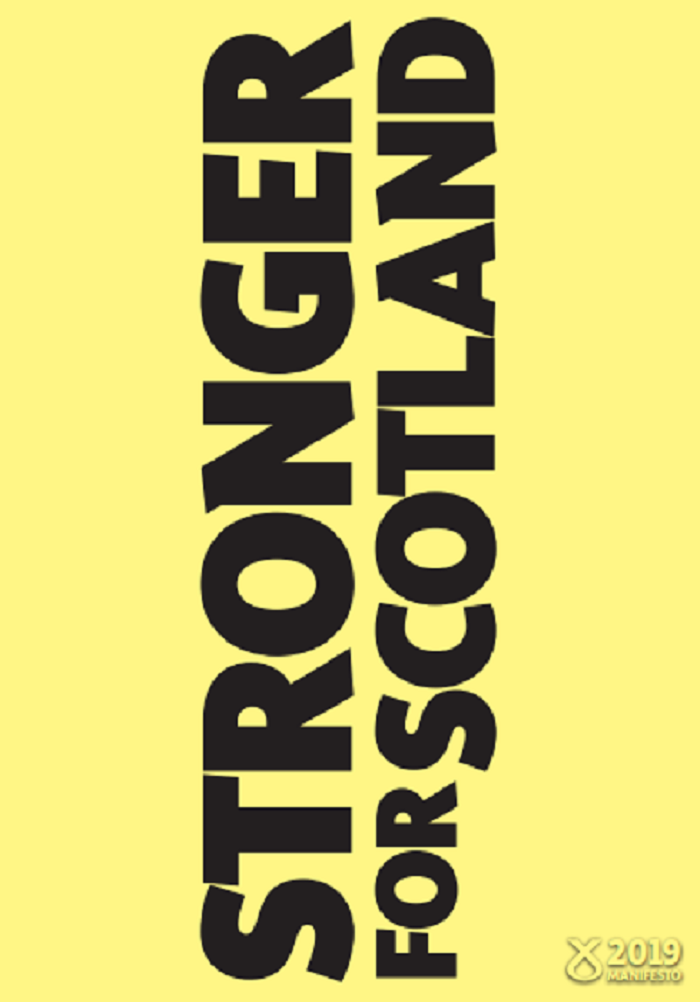 Our Key Pledges
A tailored migration system
We will seek the devolution of immigration powers so that Scotland can have an migration system that works for our economy and society.
We will oppose in all its forms the 'hostile environment' of the UK immigration system, and we will stand firm against the demonisation of migrants.
Scrap Trident
SNP MPs will build a cross-party coalition to scrap Trident as quickly and as safely as possible. We believe the billions spent on Trident should be invested in our public services.
Defending Democracy and People's Right
Extending Human Rights
The Tories' obsession with Brexit threatens the fundamental rights that people in the UK currently enjoy – not simply because we will lose the rights we have as EU citizens, but also because many Tories have openly said that they want to see the end of hard won rights that protect employment, the environment, health and safety. Tory denials don't explain why they removed safeguards that had been written into the EU exit deal Theresa May negotiated. Many of these safeguards have been removed from Boris Johnson's deal.
In contrast, the Scottish Government is a leader in human rights. It has moved to enshrine extended rights in law with the planned incorporation of the United Nations Convention on the Rights of the Child (UNCRC) and has established a human rights taskforce to develop a new statutory framework to improve human rights protection for everyone in Scotland.
The European Convention on Human Rights (ECHR) is already enshrined in the Scotland Act 1998, ensuring that human rights are protected by the Scottish Government and all Scottish legislation.
The SNP re-affirms its commitment to the Council of Europe and the ECHR.
SNP MPs will oppose any attempts by the UK government to scrap the Human Rights Act and withdraw the UK from the ECHR.
They will also press for the UK to introduce new rights including a right to food for all and to support and resource action which makes such a right meaningful for people. The SNP has adopted the definition of antiSemitism and Islamophobia and will continue to challenge all forms of racism and bigotry. We recognise the importance of working with diverse communities to ensure concerns are addressed.
We will urge the UK to follow Scotland's lead by incorporating the United Nations Convention on the Rights of the Child into domestic law. And we will press for ratification of the Council of Europe's Convention on preventing and combating violence against women and domestic violence – the Istanbul Convention – to have a clear timetable.
We will support an inquiry into the contribution and mechanisms that small nations and devolved administrations can develop to support the international rules based order, including in relation to climate change, the use of new technology as well as the protection and promotion of the rule of law, human rights, peace-making and poverty alleviation both at home and abroad.
Defending existing rights
Scotland is a welcoming and progressive country, and we value the contribution of all those who choose to make Scotland their home. Our diversity makes us stronger and more competitive as a nation.
Wherever you come from, if you have chosen to make Scotland your home, the SNP's message is simple – we welcome you and we want you to stay.
The SNP has been consistently clear that Freedom of Movement has benefited Scotland and should be allowed to continue so that, as well as people coming here, we too can live, work, study and travel across the EU freely.
EU citizens living and working in Scotland significantly enrich our society and make a huge contribution to Scotland's economy and public services. It is deplorable that the UK Government is forcing them to apply to retain their existing rights, and we continue to urge them to implement a declaratory system with proof of status.
SNP MPs will oppose Tory plans to introduce a minimum salary threshold - preventing anyone earning less than £30,000 from being admitted to the UK. Given that this translates into a salary level higher than almost two-thirds of people in Scotland earn, it would limit immigration solely to the better off.
That is simply wrong and we will oppose these plans at every opportunity.
We will continue to campaign for an extension to the no-deal three-year 'Temporary Leave to Remain' scheme, which discriminates against students in Scotland.
The UK government has introduced an Immigration Skills Charge – a charge for employers, including in the public sector of up to £5,000 per non-EEA worker. This fee penalises businesses, will lead to skills shortages, harm our economy and remove funding from frontline public services. We oppose this policy and remain concerned that the UK government will implement a similar charge for workers from the EU post-Brexit. SNP MPs will oppose any such moves and continue to press for the charge to be scrapped altogether.
Access to citizenship has become increasingly expensive. We support a review of the citizenship application process, with a view to bringing down its cost and reducing its complexity.
The reality that even the most vulnerable children – those in care – are now at risk of deportation simply because they cannot access the right documents is beyond deplorable, and SNP MPs will oppose such illiberal policies at every turn.
We will also continue to urge the UK government to introduce a less restrictive approach to family migration, including the repeal of the minimum income requirements for family visas, so families can settle in Scotland long-term.
SNP MPs will continue to press the UK government to end indefinite immigration detention. No other European country has indefinite detention. We continue to oppose the detention of children and vulnerable people, including pregnant women and people with mental illnesses. We will continue to call for the UK government to pursue alternatives to detention - we need a new approach which prioritises compassion and fairness over punishment and isolation.
A Place of Refuge
We believe that every country has a responsibility to tackle global issues such as the plight of refugees and the humanitarian impact of disasters and emergencies, and that the UK nations should be a place of safety.
Tragically, the UK Government's approach has been mired in the 'hostile environment' policy that has seen them fail in their most basic humanitarian moral duty.
That is why SNP MPs will demand that an independent body make decisions on asylum applications in place of the Home Office. This is part of a wider set of reforms supported by the SNP including:
the introduction of a fair asylum system and an end to detention for those claiming asylum • reopening of the Dubs Scheme for unaccompanied children, ending the scandal of children being abandoned by the UK,
the extension of the rules around family reunification to children,
a new scheme to ensure that families retain the right to remain together,
the creation of safe and legal routes for people to find protection in the UK, and • the right to work for asylum seekers, allowing them to contribute to our economy more fully and enabling parents to support their children.
The Syrian resettlement programme has shown how successful and life transforming refugee resettlement can be when properly resourced. The SNP will call on the UK Government to follow UNHCR recommendations and commit to taking 10,000 people per year under the Syrian Vulnerable Person Resettlement programme and to further commit to long term refugee resettlement beyond 2021.
We will continue to urge the UK Government to fundamentally change their approach to housing asylum seekers. Accommodation must be safe, suitable and dignified and accommodation providers need to be held accountable for standards by local authorities, and in Scotland, our housing regulator. There must be a legal duty on providers that there will be no lock changes in eviction cases. People cannot be made destitute because of a failed Home Office system.
SNP MPs will push for reform of the detention and asylum system for LGBT+ individuals escaping countries where homosexuality is still criminalised, removing unfair and invasive demands for 'proof' of sexuality or gender identity.
A Scottish migration system
Scotland relies on migration for growing our population – more so than anywhere else in the UK. In fact, all of Scotland's population growth over the next 25 years is projected to come from migration. Scotland needs people to want to work here, in our businesses, our universities and in our public services.
UK immigration policies do not take into account Scotland's unique circumstances and they are harmful to our communities and future prosperity. Tory immigration proposals would be disastrous for Scotland, sending our working-age population into decline, threatening tax revenues and causing serious staffing shortages in our NHS, care services and key sectors such as tourism, agriculture and construction.
With independence, and full power over migration policy, we can build asylum and immigration systems geared to meet Scotland's needs and built on fairness and human rights. In the meantime, the SNP will continue to seek devolution of migration powers so that Scotland can have an migration policy that helps to grow our population and works for our economy and society. And we will stand firm against the UK's hostile immigration environment and the demonisation of migrants. This includes campaigning to end visa fees for children and to ensure an automatic system of settled status for children in care and care leavers.
The UK Migration Advisory Committee recommended regional rural immigration pilot projects which was a welcome acknowledgement of the need for tailored migration policy for different parts of the country. We believe Scotland should be the location for these pilots.
We believe there should be an additional route for migration to Scotland, alongside UK routes, by means of a Scottish Visa. This could operate within a UK framework but the requirements should be set by the Scottish Government, accountable to the Scottish Parliament, and be designed to reflect and address Scotland's economic and demographic circumstances.
A Safer World
Taking our place; playing our role
We want Scotland's people to be better able to engage in a global world, our businesses to be more globally competitive and our nation to be strengthened through international co-operation. We believe in multi-lateral international cooperation to address the challenges the world faces and we want Scotland to play our full part.
We already seek to maximise the role Scotland plays – through action and leadership – in helping tackle global issues such as extreme poverty, injustice and inequality.
The SNP will continue to demand that the Government keeps to the UK's commitment to spend 0.7% of GDP on overseas development assistance, and that this money is concentrated in the hands of the Department for International Development and not spent on projects other than humanitarian aid.
The world's poorest and most vulnerable countries are the least responsible for climate change yet face its biggest impacts. SNP MPs will call for the UK government to redouble its efforts to tackle the international development challenges stemming from climate change, and to follow the lead of the Scottish Government by introducing a dedicated Climate Justice Fund.
We will continue to call on the Government, through the Foreign Office, to ensure that those human rights defenders that risk their lives to address injustices and protect others are given as much support as possible, including protections via asylum in serious cases.
The UN's Sustainable Development Goals are a blueprint for building a better future for all. SNP MPs will continue to press the UK government to act on these goals so we can tackle global challenges including poverty, injustice and inequality
Foreign Affairs
We place great importance on being a good global citizen, and we expect the UK government to participate fully in international institutions respecting their role and working with them for international peace.
SNP MPs will press for action on UN Security Council Resolution 1325, supporting women who play crucial roles in peacebuilding. Women who are disproportionately affected in armed conflict must be protected.
The SNP will continue to work with international partners to progress a lasting peace settlement in the Middle East, pursuing a two-state solution for Israel and Palestine. We will press the UK government to remain committed – with EU partners – to the Iran nuclear deal.
The UK has illegally maintained a military base in the Chagos Islands that resulted in the eviction of the entire local population. The SNP will continue to call on the UK to immediately withdraw from the Chagos Islands, in line with the UN's resolution that the UK should return control of the Chagos Islands to Mauritius.
We will continue to call on the Government to use all diplomatic channels to protect the Anglo-Sino Agreement that underpins the rights of the people of Hong Kong and use its influence to de-escalate violence in the region.
SNP MPs will continue to call on the UK government to ensure that it does all that it can to de-escalate the enflamed tensions between India and Pakistan over the status of Kashmir. We support the right of Kashmiri people to self-determination.
We will call on the UK government to commit to introducing mechanisms to prevent identity based violence and mass atrocities.
The SNP will continue to call on the Government to use all diplomatic channels to secure redress and justice for the Rohingya peoples that have been displaced.
SNP MPs will continue calls for recognition and protection for Kurdish minorities in Turkey, Iraq, and Syria.
SNP MP Hannah Bardell set up the All-Party Parliamentary Group (APPG) on Deaths Abroad, Consular Services and Assistance to improve support for families of those who die in suspicious circumstances abroad. We will press all relevant UK government departments, agencies, services and third-party organisations to recognise secondary victimisation and adopt a 'traumainformed' approach to protect and support families traumatised overseas. We will also press for all recommendations in the APPG report to be implemented.
A safer Scotland
With new security priorities in the wake of Brexit, and emerging threats in hybrid warfare, SNP MPs will continue to call on the UK government to carry out a new Strategic Defence and Security Review (SDSR). A review should assess the need for permanent basing of ocean-going conventional patrol vessels in Scotland.
Defence
The Tory government has presided over cuts to the defence estate in Scotland, while committing billions to a new generation of Trident nuclear weapons. It is becoming increasingly apparent that Scotland's distinct defence needs are not being met by the current UK government's defence policy. SNP MPs will campaign to retain existing Scottish bases and regiments. We will support our veterans and we will press for investment in conventional defence. We will also fight for the delivery of all contracts for Royal Navy Fleet Solid Support Ships to be restricted to UK shipyards.
Scrapping Trident
The SNP has never and will never support the retention or renewal of Trident. We believe that nuclear weapons are immoral, ineffective and expensive.
We want to see a world free from nuclear weapons, and with independence, Scotland can be an advocate for disarmament on the global stage.
In times of imposed austerity, the estimated £205 billion to be spent on a Trident replacement over the next 30 years could be far more effectively used to support our public services and build a better future for our children.
At Westminster SNP MPs will build a cross-party coalition to scrap Trident as quickly and as safely as possible.
We will press the UK government to meet their international obligations on nuclear disarmament.
Munitions
SNP MPs have led the way in challenging the UK Government's indefensible and unethical arms export policy, which sees billions of pounds worth of weapons being traded with serial human rights violators.
We will continue to urge the UK government to immediately halt all military support and arms sales to regimes guilty of violations of human rights and international humanitarian law. SNP MPs will never accept the use of lethal autonomous weapons – this is immoral and must be banned under international law.
And, here at home, the SNP will press the Ministry of Defence to take responsibility for the environmental impact of military munitions as a polluter. There is no such thing as acceptable environmental damage, and no department of government should have an environmental 'get-out-of-jail-free card'.