Plaid Cymru Manifesto 2019
Plaid Cymru have issued their manifesto ahead of the General Election on 12 December. We have included aspects of it that may be of relevance.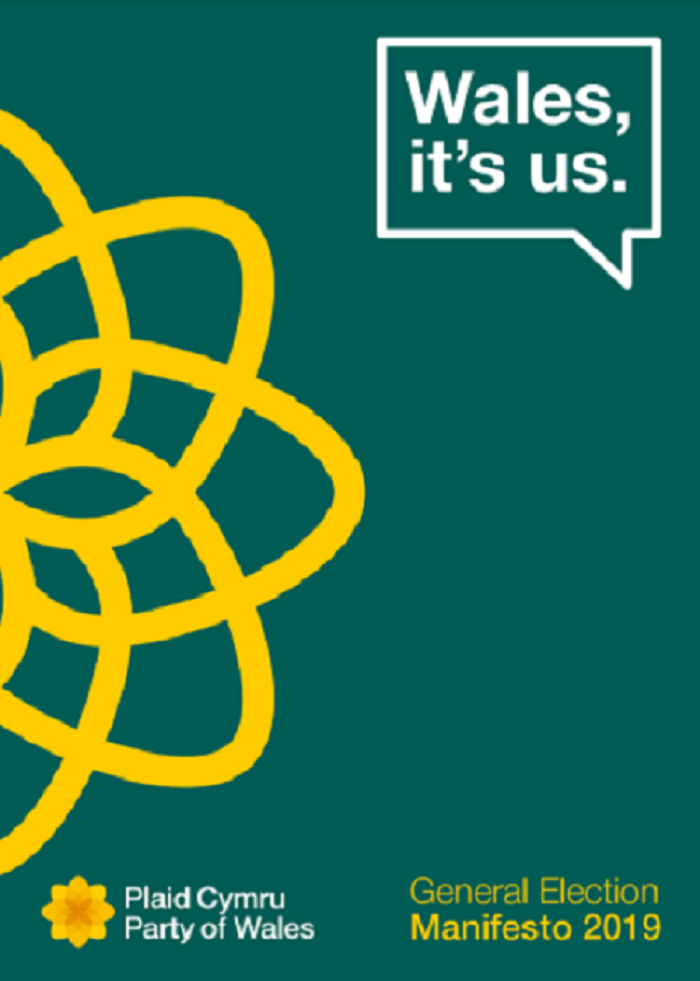 A Welsh Migration System
Migrants make a valuable and important contribution to Welsh life, both economically and culturally. Migration is important for many of our key sectors. For example, migrants make an important contribution to our NHS. Thirty per cent of our doctors received their training abroad, with 6% being trained in EU countries. Remaining in the EU is the best way of protecting EU citizens' right to work here.
This Westminster Government is proposing unworkable and illogical immigration policies which will hurt the Welsh economy. Instead, we need a rational immigration policy that works for Wales, where students and job creators can come, but wages aren't undercut.
In government in Wales, Plaid Cymru will create a Welsh Migration Advisory Service so that we can have a system that plugs skills gaps, especially in agriculture and social care, and protects our health service from staff shortages.
Plaid Cymru will also seek the devolution of migration policy, so that Wales can set its own migration quota according to our own needs, with greater flexibility, for example, in processing entrepreneur visas.
Where there are identified skills shortages, we should be actively recruiting across the EU. In addition, international students must be taken out of net migration targets.
Staying in the EU will enable our students and our researchers to study anywhere across Europe, which is in the best interests of Wales and the UK as a whole.
It is crucial that all migrants are treated with dignity and regard for their basic human rights. We want to protect the rights of migrant workers and combat all forms of labour exploitation and forced labour.
Plaid Cymru has consistently called for the rights of all EU citizens in the UK and UK citizens in the EU to be legally protected.
Like other EU countries, we must assume our responsibilities and provide aid and support for those fleeing war or persecution. We must take a more humane approach and show greater solidarity with refugees, including those crossing the Mediterranean in precarious circumstances. We will lead the call for an EU migration policy based on solidarity, which means moving towards a migration system based on a fair allocation of asylum seekers across all Member States.
Plaid Cymru wants Wales to be a nation of sanctuary for refugees fleeing war and oppression and will help refugees and asylum seekers integrate into Welsh society.
Combating Crime
Racism and Hate Crime
Everyone should be able to feel safe and respected within their communities. In Wales, Plaid Cymru will work with Police and Crime Commissioners to ensure that all hate crime – including homophobic, racist and anti-disability hate crime, and online abuse – is treated as a serious offence by Welsh police forces and investigated appropriately so that victims can feel confident and secure in reporting incidents.
We will proactively engage with a broad and representative spectrum of communities to ensure a plurality of views are heard and taken into account. In particular we will:
Combat Islamophobia, anti-Semitism, anti-migrant sentiment and all forms of racism and bigotry in politics, on our streets, online and in our media.
Work to increase the participation of minorities and women in politics and public life.
Address the underlying socio-economic challenges faced by BAME communities, including providing funding for English and Welsh language tuition, to encourage successful integration in Welsh society.
Enivronment and Climate Change
International Trade
Future trade deals undertaken by the UK, whether inside or outside the EU, should maintain and enhance environmental standards, minimise the environmental footprint of trade and make trade terms explicitly subject to environmental and human rights commitments. There should be specific protections for vital global ecosystems and habitats such as the Amazon, and for indigenous people.
Peace and Security
Plaid Cymru wants to see Wales as part of a global community where we work together to keep each other safe and secure.
Both the Tories and Labour want to spend billions on the renewal of an ineffective and unnecessary nuclear weapons system. Plaid Cymru are determined to prevent the renewal of a weapon of mass destruction and to scrap Trident. We will resist all attempts to relocate nuclear weapons in Wales or in Welsh Waters.
We will instead base our regiments at home in Wales with a properly funded and looked- after defence force. We will also work with the UK government and other agencies on cyber-defences to prevent technology attacks upon Wales and the rest of the United Kingdom.
Plaid Cymru believes that, with the exception of binding international treaties, the decision to go to war should require the support of all four nations and we demand that a vote is held in the Senedd prior to any UK-supported military intervention in foreign affairs. The people of Wales have a democratic right to support or oppose such incursions.
Plaid Cymru will take responsibility for our Welsh based veterans, in consultation with the Welsh Veterans Partnership. Veterans have been forgotten by successive governments, with vast numbers continuing to suffer mental and physical health issues with little access to the services they require. We will make sure that veterans receive excellent health care, including mental health care, and adequate housing.