Green Party Manifesto 2019
The Green Party has issued its manifesto ahead of the General Election on 12 December. We have included aspects of it that may be of relevance.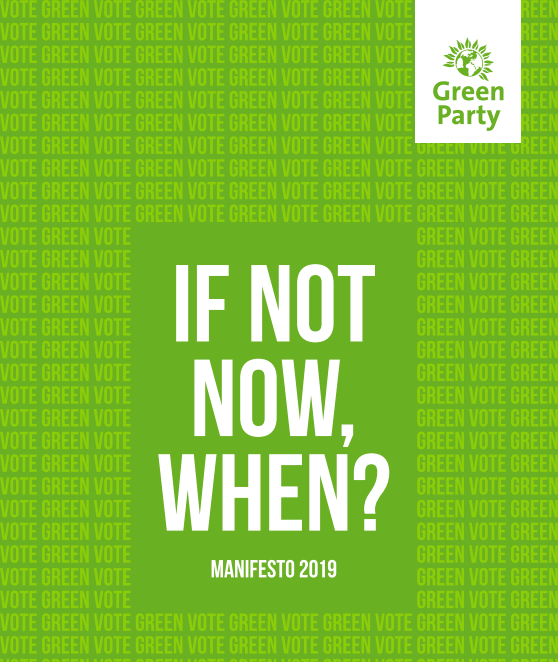 Remain and Transform
Transforming the European Union
Being part of the European Union offers us the best chance of facing down the big challenges of the future – from climate chaos to international terrorism. We are fully committed to working collaboratively with our closest neighbours to resolve the common issues we face and in the pursuit of peaceful and prosperous lives for all. The Green Party believes in this vision of international bridges, not walls, and is committed to realising it through building a truly democratic EU that delivers social rights and opportunities for all its citizens.
As Greens we have campaigned hard to keep the UK in the EU whilst also being strong voices for change and reform within the EU. It's time to transform the EU into a beacon of democracy, as well as making it more accountable and transparent.
We want to build on the positive changes secured by Green MEPs in Europe so far, to further rebalance power within the EU in favour of citizens and national self-determination, and away from corporate dominance. We believe this will lead to a renewed focus on the EU's potential to deliver effective solutions to poverty, inequality and climate chaos – and help secure a long-term, positive future for the UK in the EU.
Our plan to transform Europe will:
Advocate for the EU to prioritise policy areas where cross-border co-operation can help deliver real change. These include:
Reducing migration in the long term, by correcting imbalances caused by labour-market inequalities across Europe. EU policies hold the key to this, including an EU-wide minimum income guarantee, EU-wide minimum wages, and fiscal transfers via the Euro.
Working for peace, security and human rights. The EU was developed by WWII veterans to support peace in Europe and we celebrate the success of this peace mission.
Enshrine Freedom of Movement as a core principle of the EU – enabling people to freely live, learn and love without borders.
Reform European refugee policy, centring it on principles of humanity and compassion. We will campaign to re-establish a European sea-rescuing mission, to save all lives in danger in European waters.
Press for an urgent review on the safety of all migrants travelling to and across Europe.
Elected Greens delivering:
Decriminalising Humanitarian Assistance to Refugees
In June 2018 Green Members of the European Parliament proposed a motion calling on EU states to stop criminalising humanitarian assistance for desperate refugees. This came after cases when countries had detained and tried to prosecute European citizens working to save the lives of refugees at risk of drowning in the Mediterranean. The motion was won by the Greens, with then Green MEP for London Jean Lambert saying:
'I am delighted that the European Parliament has sent out a strong message calling on the European Commission and EU Member States to stop criminalising those who provide humanitarian assistance to people in desperate and life-threatening situations. We can, and must, do better.'
Growing Democracy
Shaking up central government
The Green Party's plan to ensure central government serves a modern UK will:
Scrap the Home Office, and end its decades-long creation of a hostile environment for Black Minority Ethnic (BME) and other minority communities. We will instead create a Ministry for Sanctuary and a Ministry of the Interior. The Ministry Green Party Manifesto 2019 Growing Democracy 39 for Sanctuary will be responsible for enforcing migration rules with compassion, and due regard for human rights, as well as providing recompense for those affected by the Windrush scandal. One of the Ministry of Sanctuary's first acts will be to abolish income requirements for people wishing to come to the UK to join a loved one – no families should be separated because of how much someone earns. The Ministry of the Interior will oversee domestic security with full regard to human rights and the needs of diverse communities.
Replace the Ministry of Defence with a Ministry for Security and Peace, making the promotion of peace a key foreign policy objective and linking the role of the defence services more closely to the world we now live in – a central part of their responsibilities will become defending environments around the world from the effects of climate chaos and dealing with the humanitarian and environmental impacts of climate-related disasters.
Close down the government's arms sales activities, including the Department for International Trade's Defence and Security Organisation (DSO), and end all subsidies and support for the UK arms industry's exporting of weapons and systems that fuel conflicts, violence and suffering across the world.
Global justice and international aid
As one of the world's richest countries and being amongst the first to industrialise, the UK has caused more historical climate change emissions than most. We have a moral imperative to right the wrongs of the past, including using our influence and wealth to help alleviate suffering and redress global power imbalances.
We want the UK to be a leading force for good in the world, to be the country that brokers peace and tries to resolve the refugee crisis. Our international policy will focus on co-operation in order to tackle climate chaos, to secure fairer, more sustainable societies around the world and encourage fair and peaceful resolutions to conflict. We will make supporting the United Nations' Sustainable Development Goals a priority.
We will build bridges not walls and we will empower people in the Global South to control their futures.
The Green Party's plan for global justice will:
Phase in an increase in spending on foreign aid from 0.7% to 1% of our GNI, making us the third highest donor (by Gross National Income) in the world by 2021.
Ensure that all UK aid is aimed at the poorest, and is locally designed, appropriate and subject to local scrutiny. Where feasible, aid will be given as grants, not loans.
Increase the proportion of aid paid to individuals through electronic cash transfers, providing regular monthly payments to women in the developing world. This builds on evidence showing that greater control over household resources by women can result in spending that benefits children and builds economic resilience. Write off debts owed to the UK by the poorest countries. Other aid-receiving countries in debt to the UK will have their debt service payments limited to 10% of export earnings per year.
Press other aid-giving nations and international bodies to embed the above principles in their aid programmes, and to abolish 'tied aid' (whereby a nation is only given aid in return for buying goods and services from the donor).
Require UK corporations to abide by the environmental, labour and social laws of their own country and of the country in which they are operating – whichever are the more stringent – and advocate for other corporations to do the same.
Introduce a new law on Universal Jurisdiction, to make it easier to prosecute those committing genocide, crimes against humanity and war crimes, wherever these crimes take place.
Seek to make the combatting of climate and ecological breakdown and the spreading of human rights and justice core purposes of the United Nations.
Seek resolution in line with international law and the principles of self-determination to long running conflicts, illegal occupations and human rights violations
Guarantee the rights of indigenous and native people by securing their autonomy, land rights and human rights, providing aid to protect cultures and support sustainable initiatives and ensuring that development schemes where the UK government has influence only take place with the permission, and under the active control of, indigenous people.
End the current practice of including investor-state dispute settlement mechanisms in trade and investment agreements. These mechanisms can give too much power to investors, at the expense of democracy, and need to be scrapped.
Ensure trade democracy by assessing the development impact of all trade and investment agreements and guaranteeing Parliament a vote on them.
These policies will integrate closely with those set out in the 'Green New Deal' chapter of this Manifesto, ensuring that international aid and UK foreign policy help other countries to reduce their carbon emissions and build sustainable economies.
The Green Quality of Life Guarantee
Tackling discrimination
Despite huge social progress over the past century, we still live in a society where factors like our gender, ethnicity and sexuality play a part in how we are treated.
The Green Party wants to actively challenge discrimination and exclusion, at the same time as creating opportunities for everyone to flourish. In doing so we recognise that rights for one group should not take away rights from others – that none of us are equal until we all are.
Our Green plan to transform society and end discrimination will:
Establish a cross-government strategy tasked with tackling ethnic inequalities, ranging from school exclusions through to biased treatment in the criminal justice system, and covering housing, employment and health.
Replace 'Prevent' with community cohesive policing which engages rather than antagonises Black Minority Ethnic (BME) communities and addresses concerns about the use of stop and search powers.
End the hostile environment which puts migrants, from the EU and further afield, at risk and increases racism and anti-immigrant Green Party Manifesto 2019 The Green Quality of Life Guarantee 61 sentiment. This will include ending indefinite detention, closing the immigration detention centres and ending the culture of abuse and violence that has prevailed in them. We will immediately suspend all deportation flights and allow refugees to live freely, with a right to work, whilst their applications are considered.
Bring forward a new humane immigration system with no minimum income rules for visas, full workplace rights for migrants, the right to work for asylum seekers and recourse to public support for migrants and asylum seekers who need it.
Guarantee safe and discreet access to public services such as the police, health and education, so that migrants can access these without fear of being subject to immigration enforcement. We will also abolish the draconian powers brought in under the 2014 and 2016 Immigration Acts and scrap health charging for migrants.
Create a new Ministry for the Interior that will be fully committed to upholding human rights. This Ministry will have responsibility for protecting the fundamental rights of Travellers, a group that are often overlooked in efforts to end discrimination.
Make a 'Windrush Day' bank holiday, to celebrate the contribution that migration has made to our society.
Confront racism, antisemitism and prejudice, including from an early age through a broader and decolonialised curriculum in school, focussing on histories and role models from a diverse range of ethnicities and religions.
Defend the right of people of all faiths – to express their faith, be that in religious clothing, food or reasonable accommodation of religious observance. We will also work with religious communities to defend the safety of places of worship.
Retain the Human Rights Act and reaffirm the UK's commitment to the European Convention on Human Rights.
Make misogyny a hate crime across the UK and increase the police's capacity to deal with domestic violence and misogynistic hate crimes. Funding to support the prevention and prosecution of all hate crimes will be increased, and police officers will be given further training in this area. We need an intersectional approach to hate crime, which recognises the groups of women who are most at risk.
Develop and implement a UK-wide strategy to tackle gender-based violence, including domestic violence, rape and sexual abuse, Female Genital Mutilation (FGM), and trafficking. This will include working with perpetrators to prevent them from continuing to abuse. We will also reverse cuts to legal aid to prevent survivors being forced to represent themselves against their abusers in court and introduce a new Domestic Abuse Bill, which enables prosecution of economic abuse.
Establish a new press regulatory regime which will allow women to make formal complaints about media coverage that will encourage misogyny against women. This regime will allow for third party complaints to be made, on behalf of women negatively affected by media coverage. Media-led misogyny affects women of all backgrounds, all ethnicities, all religions, cis and trans, lesbian, bisexual and straight – it's time to end it once and for all.