Conservatives Manifesto 2019
The Conservatives have issued their manifesto ahead of the General Election on 12 December. We have included aspects of it that may be of relevance.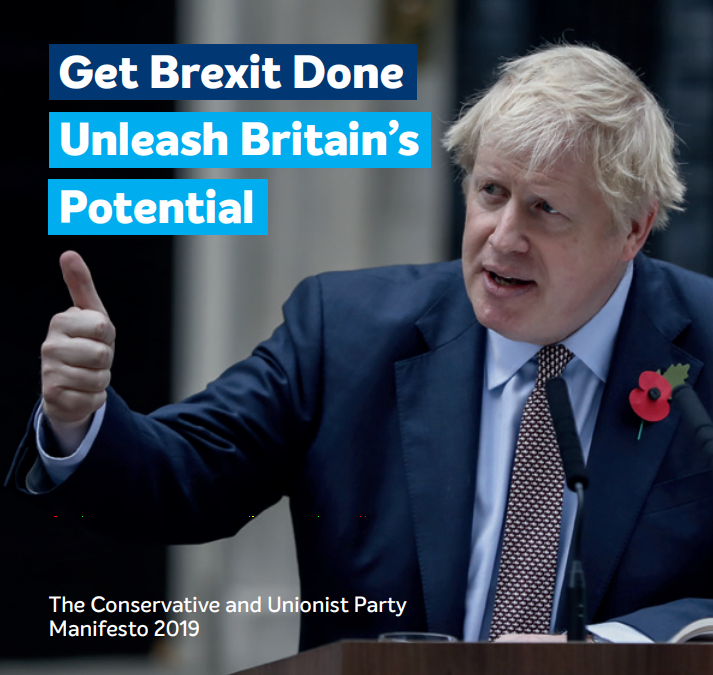 We Will Focus On Your Priorities
Supporting all victims of crime
We will protect people fromphysical attack or harassment whether for their sex, sexual orientation, ethnicity, religion or disability, and expand funding for and protect places of worship. We will vigorously combat harassment and violence against all religious groups, and against LGBT people. We will ensure that those who work in countering extremism are protected from threats and intimidation. We will ban public bodies from imposing their own direct or indirect boycotts, disinvestment or sanctions campaigns against foreign countries. These undermine community cohesion.
We will legislate to make the UKthe safest place in the world to be online – protecting children from online abuse and harms, protecting the most vulnerable from accessing harmful content, and ensuring there is no safe space for terrorists to hide online – but at the same time defending freedom of expression and in particular recognising and defending the invaluable role of a free press.
Fix our immigration system
The vote to leave the EU was, among other things, a vote to take back control of our borders. That is why a majority Conservative Government will get Brexit done, and then introduce a firmer and fairer Australian-style points-based immigration system, so that we can decide who comes to this country on the basis of the skills they have and the contribution they can make – not where they come from. Migrants will contribute to the NHS – and pay in before they can receive benefits.
Our new system gives us real control over who is coming in and out. It allows us to attract the best and brightest from all over the world. Only by establishing immigration controls and ending freedom of movement will we be able to attract the high-skilled workers we need to contribute to our economy, our communities and our public services.
There will be fewer lower-skilled migrants and overall numbers will come down. And we will ensure that the British people are always in control.
Our Australian style points-based system:
We will prioritise people who:
Have a good grasp of English
Have been law-abiding citizens in their own countries
Have good education and qualifications
Most people coming into the country will need a clear job offer. In addition:
We will not allow serious criminals into the country. If people abuse our hospitality, we will remove them as quickly as possible.
We will keep track of who is coming in and out of our country.
We will overhaul the current immigration system, and make it more fair and compassionate - what happened to the Windrush generation was horrific and we will ensure it never happens again. We are committed to the Windrush compensation scheme.
We will treat EU and non-EU citizens equally. Regardless of whether they are from Europe or another part of the world, we welcome people who meet our criteria.
Integration and openness
We want our party, and our Government, to represent modern Britain – a diverse and tolerant country with confidence in its own identity and values. We believe the enduring beliefs that unite us are far more important than our differences. Our society has been enriched by immigration and we will always recognise the contribution of those who have helped build our public services, businesses, culture and communities. We will ensure no matter where in the world you or your family come from, your rights will be respected and you will be treated with fairness and dignity. We will tackle prejudice, racism and discrimination and address the complex reasons why some groups do less well at school, earn less at work, or are more likely to be victims of crime. We will act to improve the lives of all and reject the politics of division. Our priority is to focus on practical solutions that make a real difference to people's lives.
We will boost English languageteaching to empower existing migrants and help promote integration into society.
We will back the National Citizen Service and promote it in schools as a way of bringing communities together. The Youth Futures Foundation will invest at least £90 million to improve employment outcomes for young people.
We will improve the qualityof evidence and data within Government about the types of barriers different groups face, ensuring that fairness is at the heart of everything we do.
We will continue to grant asylumand support to refugees fleeing persecution, with the ultimate aim of helping them to return home if it is safe to do so.
We will champion freedom of expression and tolerance, both in the UK and overseas.
We will ensure that the historic contribution of migrant groups is recognised. We will maintain our support for a memorial recognising the contribution of the Windrush Generation in a prominent site in London.
Protect our democracy
As Conservatives, we stand for democracy and the rule of law. Our independent courts and legal system are respected throughout the world. One of the strengths of the UK's constitution is its ability to evolve – as times have changed, so have Parliament, government and the judiciary. Today, that need is greater than ever. The failure of Parliament to deliver Brexit– the way so many MPs have devoted themselves to thwarting the democratic decision of the British people in the 2016 referendum – has opened up a destabilising and potentially extremely damaging rift between politicians and people. If the Brexit chaos continues, with a second referendum and a second Scottish referendum too, they will lose faith even further. It is only by getting Brexit done that we can start the necessary task of restoring public trust in government and politics:
We will get rid of the Fixed Term Parliaments Act – it has led to paralysis at a time the country needed decisive action.
We will ensure we have updated andequal Parliamentary boundaries, making sure that every vote counts the same – a cornerstone of democracy.
We will continue to support the FirstPast the Post system of voting, as it allows voters to kick out politicians who don't deliver, both locally and nationally.
We will protect the integrity of our democracy, by introducing identification to vote at polling stations, stopping postal vote harvesting and measures to prevent any foreign interference in elections.
We will make it easier for British expats to vote in Parliamentary elections, and get rid of the arbitrary 15-year limit on their voting rights.
We will maintain the voting age at 18 – the age at which one gains full citizenship rights.
We will ensure that no one is put off from engaging in politics or standing in an election by threats, harassment or abuse, whether in person or online.
We will champion freedom of expression and tolerance, both in the UK and overseas.
To support free speech, we will repeal section 40 of the Crime and Courts Act 2014, which seeks to coerce the press.
We will not proceed with the second stage of the Leveson Inquiry.
We will ensure redundancy payments can be clawed back when high-paid public servants move between jobs.
We will improve the use of data, data science and evidence in the process of government.
We will strengthen Britain in the world
As Conservatives, we are immensely proud of the UK's history and its standing in the world. Unlike those currently leading the Labour Party, we view our country as a force for good. The strength of the Armed Forces, our alliances with like-minded democracies and our willingness to act are all reasons for the UK to hold its head high. So too is our work in promoting international development and fighting climate change – both issues on which the Conservative Party and Conservative Governments have driven the agenda forward.
And in an uncertain world, in which the threat of terrorism, rogue states and malign non-state actors is everpresent, it is vital that Britain stands up and is counted.
Getting Brexit done will allow us to do more on the international stage. We will continue to be an outward-looking country that is a champion of collective security, the rule of law, human rights, free trade, anti-corruption efforts and a rules-based international system.
After Brexit, we will bolster the alliances and institutions that help project our influence and keep us safe: the UN and the UN Security Council; NATO; the Commonwealth; Five Eyes; the G20; the G7; and the World Trade Organisation.
As we extend our diplomatic network, we will reinvigorate relationships with Europe and seek to strengthen old and new partnerships across the world.
We will work with our cultural institutions like the BBC and British Council to expand our influence and project our values. And unlike Jeremy Corbyn, we will stand up to foreign countries that threaten the stability of Europe, or commit statesanctioned murder on British soil.
Put our national security first
The security of our nation comes first. We will protect the British people at home and abroad, and also ensure that the democratic rights of people in Gibraltar, the Falklands and all our overseas territories are protected.
We will continue to exceed the NATO target of spending 2 per cent of GDP on defence and increase the budget by at least 0.5 per cent above inflation every year of the new Parliament.
We will modernise the equipmentand improve the capability of our world-class Armed Forces and intelligence agencies.
We will invest in training andequipping our Armed Forces, and constantly champion their exemplary contribution to our security and our country.
We will maintain our Trident nuclear deterrent, which guarantees our security. We will adapt to new threats,investing more in cybersecurity and setting up the UK's first Space Command.
We will stand against terrorism and extremism around the world.
We will support the UK's worldclass defence industry by investing in ambitious global programmes, including building the new Type 31 frigates in British shipyards such as Rosyth and a new generation of armoured vehicles, made in Britain.
Promote our values
From helping to end the slave trade to tackling modern slavery, the UK has long been a beacon of freedom and human rights – and will continue to be so. We are proud of our peace-building and humanitarian efforts around the world, particularly in war-torn or divided societies, and of our record in helping to reduce global poverty. We will continue to support international initiatives to achieve reconciliation, stability and justice across the world, and in current or former conflict zones such as Cyprus, Sri Lanka and the Middle East, where we maintain our support for a two-state solution.
We will further develop an independent Magnitsky-style sanctions regime to tackle human rights abusers head on.
We will stand up for the right ofevery girl in the world to have 12 years of quality education.
We will continue our campaigns topromote international media freedom and to eradicate human trafficking and the scourge of modern slavery.
We will support marginalisedcommunities in the developing world, hosting the UK government's first ever international LGBT conference.
We will seek to protect those persecuted for their faith and implement the Truro Review recommendations.
We will proudly maintain ourcommitment to spend 0.7 per cent of GNI on development, and do more to help countries receiving aid become self-sufficient. Building on this Government's existing efforts, we will end the preventable deaths of mothers, new-born babies and children by 2030, and lead the way in eradicating Ebola and malaria.
We will support the constructionof the planned UK Holocaust Memorial.