The Brexit Party Contract With the People
The Brexit Party have a Contract With the People ahead of the General Election on 12 December. We have included aspects of it that may be of relevance.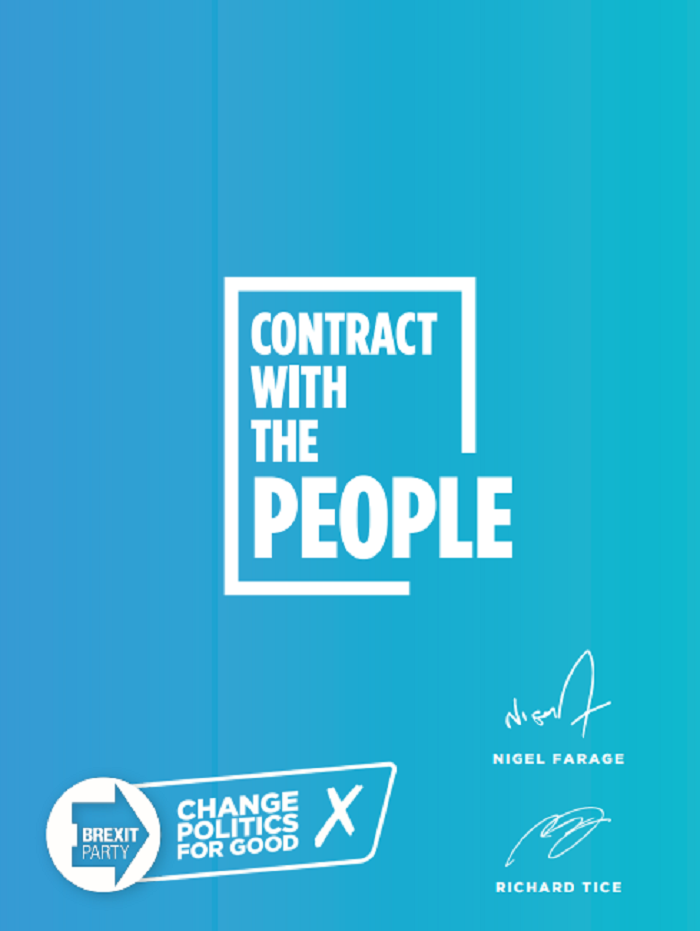 A Clean Break Brexit is the Key to Changing Britain for Good
We want to cancel HS2, save 50% of the foreign aid budget and save another £13bn a year in payments to the EU. That money can form part of a Brexit dividend to invest billions in Britain's Regions, cut the cost of living, and build a better future for millions of our people.
The Brexit Dividend
The Brexit Party supports policies aimed at regional regeneration, supporting key sectors of the economy and targeted investments in the young, the High Street and families. We pledge to:
Raise £200bn by:
Scrapping HS2
Keeping the £13bn annual EU contribution
Recovering our £7bn from the EIB
Redirecting 50% of the foreign aid budget (£40bn over a five-year term).
Protect Britain's Borders and People
A Clean-Break Brexit means that we can control our own national security and borders, free from entanglement in the EU's integrated defence and discriminatory immigration policies. We pledge to:
Ensure that the UK maintains its commitment to NATO and meets its commitment to spend 2% of GDP on defence as an absolute minimum.
Withdraw from the European Defence Union. This will mean we leave the EU defence procurement directive ensuring the UK has the right to stipulate defence contracts stay at home.
Crack down on illegal immigration and stop the human tragedy associated with human trafficking.
Reduce annual immigration and address wage stagnation and the skills gap by introducing a fair points system that is blind to ethnic origin. And always provide a humane welcome for genuine refugees.