Foreign Office Minister Alistair Burt responds to Caabu correspondence about Southern Syria
Caabu has recieved a response to an email sent on 11 July on Southern Syria from Foreign Office and Department for International Development (DFID) minister Alistair Burt. In the letter, Burt says that "the governments of Syria and Russia bear full responsibility for the desperate situation these civilians now face." He also says that "the UK is providing essential support to Southern Syria, in the form of food, relief packages, shelter, support to health facilities and other special services to vulnerable groups." He also states that when US President Donald Trump visited the UK, discussions with the Prime Minister Theresa May included "shared foreign policy and security challenges, including Syria."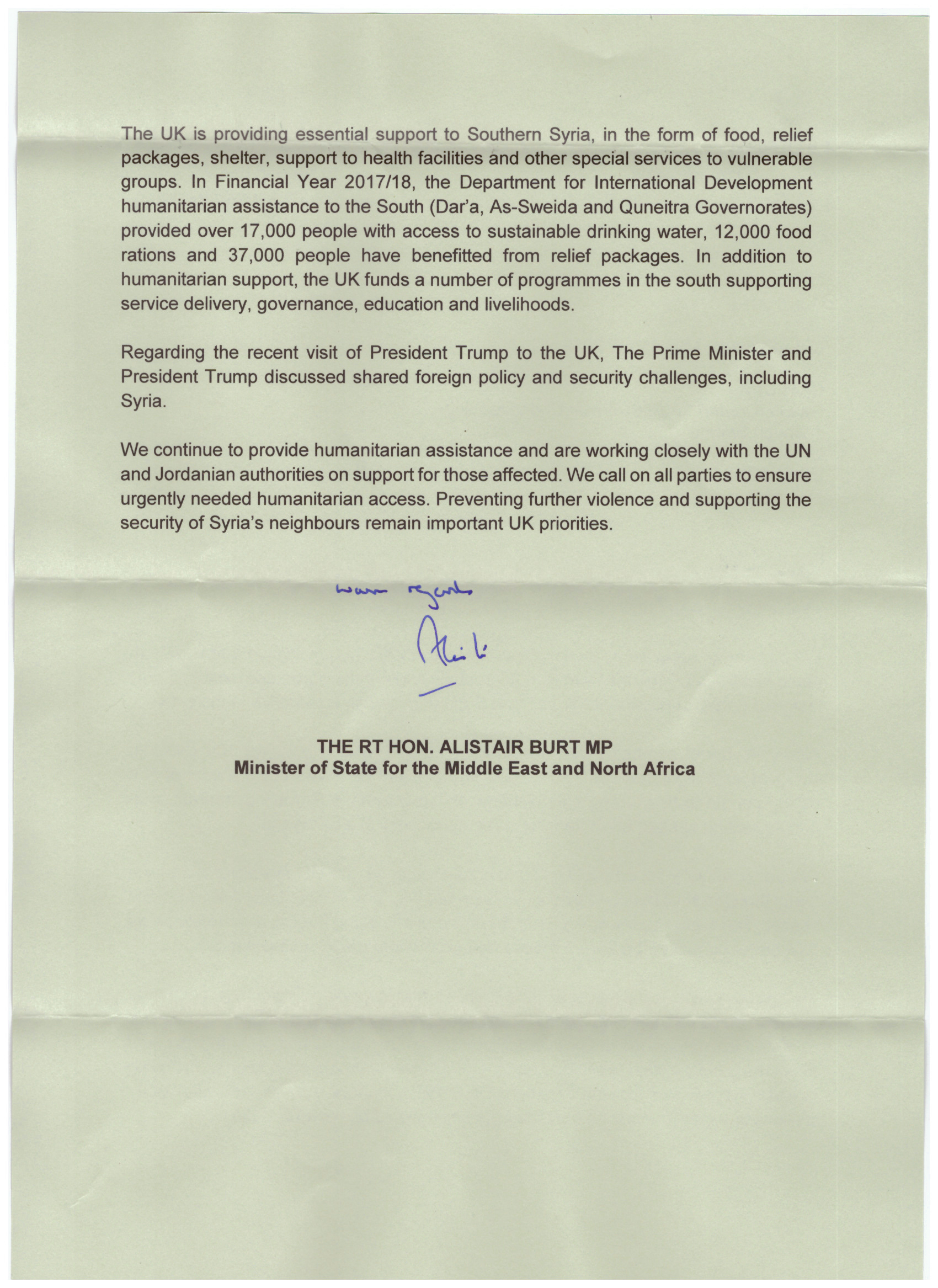 The original email to Alistair Burt on 11 July is as follows:
Dear Alistair,
I wanted to write to you about the situation in southern Syria. It is a matter of grave concern as I know it is for you that over 300,000 people have been displaced since mid-June in this fighting.
The visit of President Trump to the UK provides a perfect opportunity in advance of his meeting with President Putin in Helsinki to make the case that those party to the de-escalation zone in the south must do more in concern with other partners to alleviate the untold humanitarian suffering and put together a fair political deal for the area. It was extremely disappointing to see the lack of a coordinated international humanitarian response given how much warning there was of the Syrian regime's military assault.
We also believe that local civil society in southern Syria is strong with excellent grassroots connections. We hope that you can use your best offices to ensure that their voices are heard and even participate in any local negotiations.
Would it be possible to ensure that the issue of southern Syria and the people suffering is on the agenda for discussion between the President and the Prime Minister? The stakes are high given the ability of this crisis to undermine the security of neighbouring states including Israel and Jordan as well as to add to the prolonged suffering of the Syrian people. It does also as you know provide yet another fertile area for the spread of extremism and groups like ISIS and Al Qaida, which feed off instability and conflict.