Several of Caabu's Parliamentary delegates spoke in a Westminster Hall debate on the military detention of Palestinian children by Israeli authorities on 7 February 2018. The debate was secured by Sarah Champion MP, who visited the West Bank on a Caabu/Medical Aid for Palestinians delegation in September 2015. The debate can be read in full here and watched here.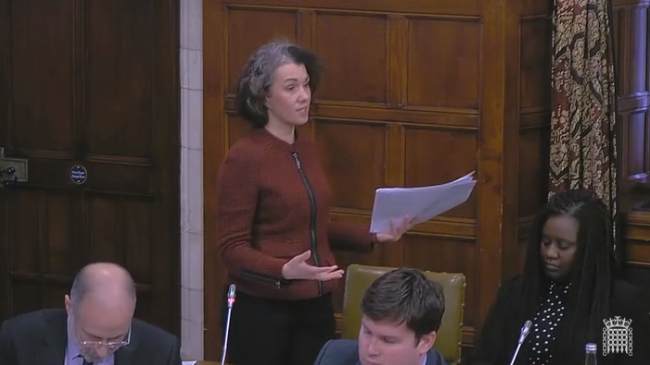 Sarah Champion opened the debate calling on Israel to meet its international obligations regarding the rights of children, and that four years after the publication of the UNICEF's 2013 report, Children in Israeli Military Detention: Observations and Recommendations, only one reccomendation out of 88 had been substantially implemented:
I strongly welcome the fact that the Government addressed the issue of Palestinian child detainees during the third universal periodical review of Israel at the UN Human Rights Council two weeks ago. They recommended that Israel take "action to protect child detainees, ensuring the mandatory use of audio-visual recording in interrogations with all child detainees, ending the use of painful restraints, and consistently fully informing detainees of their legal rights."
That important statement signals a positive intent to engage constructively with this issue.
I called this debate in the same spirit: I want to support and encourage Israel to meet its international obligations regarding the rights of children. It meets them fully for Israeli citizens but, alas, does not do so for Palestinian children. To be clear, I am not making a judgment about the crimes Palestinian children are alleged to have committed or about Israel's right to uphold the law. This debate is specifically focused on Palestinian children in military detention.
Two years ago, I secured a similar debate. I would love to tell the House that many of the issues discussed then have now been addressed, but sadly the situation remains largely the same. In March 2013, UNICEF published a report entitled "Children in Israeli Military Detention: Observations and Recommendations", which concluded that "the ill-treatment of children who come in contact with the military detention system appears to be widespread, systematic and institutionalized throughout the process, from the moment of arrest until the child's prosecution and eventual conviction and sentencing.....
Last year, the authoritative west bank non-governmental organisation Military Court Watch found that, four years after the publication of the UNICEF report, only ​one of its 88 recommendations—No. 21, on access by lawyers to medical records—had been substantially implemented......
A year before the UNICEF report, a group of senior UK lawyers published an independent study entitled "Children in Military Custody". Published in 2012 and funded by the Government, it found that Israel was in breach of at least eight of its international legal obligations under the UN convention on the rights of the child and the fourth Geneva convention, due to its treatment of Palestinian children held in military detention.
The UK report set out 40 recommendations on arrest, interrogation, bail hearings, plea bargaining, trials, sentencing, detention, complaints and monitoring. Military Court Watch stated last year that only one of the UK report's recommendations—No. 33, on the separation of children from adults in detention—had been substantially implemented. The empirical evidence is clear: half a decade after the publication of the UNICEF and UK lawyers' reports, which contained dozens of recommendations to ​bring Israel's military system of detention of Palestinian children in line with basic international legal standards, there has been limited implementation by the authorities......
Although I praise the Israeli Government for allowing the studies to go ahead, it is disappointing that that leading international democracy has largely not acted on the recommendations, which were made in good faith. I now turn to the specific areas I would like the Minister to focus on.
The SNP's Joanna Cherry QC MP, who visited the West Bank on a Caabu/Human Appeal delegation in October 2016 spoke about her visit to the military court at Ofer with Military Court Watch, and witnessing a trial. In the debate, she said:
I am grateful to be called to speak in this debate on a very important issue about which hundreds of my constituents in Edinburgh South West write to me on a regular basis.
In October 2016, I visited the west bank on a cross-party parliamentary delegation with the Council for Arab-British Understanding and Human Appeal. I refer to my entry in the Register of Members' Financial Interests in that regard. I visited the military court at Ofer. As a lawyer of 25 years' standing, I was not impressed with what I saw there, because of the lack of due process and the lack of respect for basic human rights norms.​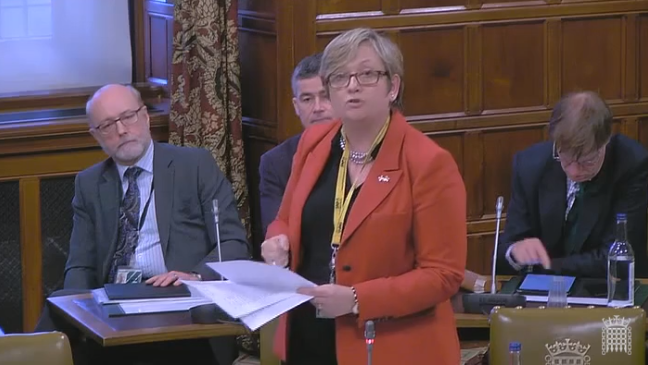 To give one example, we observed the trial of a young Palestinian man for allegedly throwing stones at a settler car. The man's interrogator, who the defendant claimed had assaulted him during interrogation, was in court as a witness, with his gun casually slung in the back pocket of his jeans. It was claimed that the interrogation was conducted in Arabic and that alongside the statement an audio recording was taken. However, the audio recording was nowhere to be found, and the level of the interrogator's Arabic was revealed to be insufficient to be able to obtain and record a fair and accurate statement. The only transcript of the interview was in Hebrew. In a fair trial in a democracy that respects the rule of law, that case would have been thrown out. It was not, and that is the gravamen of the issue here.
The issue is not about military law, because sadly the west bank is under a hostile occupation, and occupations require military law—although they are meant to be temporary, and this one has lasted 50 years. However, having military courts is no excuse for disregarding the proper rules of justice and legal safeguards, particularly for children, but also for adults. There should be proper accounting for the physical and mental maturity of the detainees and an awareness of the long-term consequences of actions on children. That is not the case for Palestinian children in Israel's judicial system under military law in the west bank, and something needs to be done about it. I have been an MP for less than three years, and I remember when the hon. Member for Rotherham (Sarah Champion), whom I congratulate, secured a debate on this issue two years ago and we seem to be absolutely no further forward.
I know the Minister is an honourable man and that he takes his duties very seriously, particularly in this area. I am not speaking as a result of what I witnessed, but on behalf of hundreds of constituents who write to me about this matter regularly and feel passionately about it because they believe in human rights, due process and the rule of law. I look forward to hearing what the Minister is going to do about it.
Chair of the Britain-Palestine All Party Parliamentary Group, who last visited the West Bank with Caabu and Medical Aid for Palestinians in April 2016, Richard Burden MP also spoke in the debate. He called on the Government to push for a thorough review of Israel's implementation of the reccomendations of the 2012 Foreign Office commissioned report, Children in Military Custody:
I congratulate my hon. Friend the Member for Rotherham (Sarah Champion) on securing this important debate and on the comprehensive way in which she introduced it. I also commend the Minister and the Government for the leadership that they showed on this issue during Israel's third universal periodic review at the UN Human Rights Council.
A range of bodies have made a number of core recommendations in the past six years that are relevant to the issue of military detention. The Foreign Office-commissioned "Children in Military Custody" report published in 2012 found that Israel was in breach of at least eight articles of international human rights law and international humanitarian law. In 2013, as my hon. Friend said, the UN Committee on the Rights of the Child expressed concern in a report that recommendations it made in 2002 and 2010 had been fully disregarded, and UNICEF published a report with 14 core recommendations, again reflecting concerns that had been raised time and again.
The Minister will know that the vast majority of those recommendations, the recommendations made in a debate in this place seven years ago and the recommendations made in the debate that my hon. Friend led just over two years ago remain unfulfilled. He will also know that in February 2016, a follow-up mission by UK lawyers to investigate the situation was cancelled because the Israeli authorities withdrew co-operation.
I know that the Minister cannot magically fix the world's problems, even though I am sure he would like to try, but I ask him to do two specific things as a result of this debate. First, will he push for a thorough review ​of the implementation of the recommendations of the 2012 report commissioned by his Department, which should include seeking from Israel an assurance that it will facilitate a return mission so that those independent lawyers can assess whether, and if so how, things have changed since their first report and what will happen in the future? Secondly, will he follow through on the Government's approach to Israel's third universal periodic review last month? I would appreciate it if, as part of that, the Minister outlined how he intends to follow up on the recommendations I mentioned. The Government were absolutely right to call for Israel to put right these problems. The question is what is done about them.
There were also interventions from Imran Hussain MP, Seema Malhotra MP, Paula Sherriff MP and Andy Slaughter MP, who have all been on Caabu delegations. 
Responding of the Labour Party, Shadow Foreign Office Minister Fabian Hamilton MP spoke about the worsening context that Palestinian children are finding themselves in, including settlement expansion and cuts to UNRWA funding. He also spoke of the disparity between the treatment of Palestinian and Israeli settler children:
I will be as brief as possible because we want to hear from the Minister, but from the official Opposition's point of view, as in any debate on issues relating to Israel and Palestine, it is important to think about the context in which these children find themselves. I ask the Minister and hon. Members to consider this question: how much has changed since my hon. Friend the Member ​for Rotherham introduced her first debate on this issue in December 2016 in Westminster Hall? Have things got better, or have they got worse?
We have heard about the 50 years of occupation of the Palestinian territories and the increasing expansion of settlements that are illegal under international law. We heard that there is no plausible ongoing peace process, and of course we know about Donald Trump's attempts to help the situation as he sees it by recognising Jerusalem as the capital of Israel, which has sparked the resurgence of tensions all over the region—not just in the occupied territories and Palestinian areas but in Jordan and other countries. There have also been cuts by the United States to United Nations Relief and Works Agency funding, which has jeopardised the schooling and healthcare of Palestinian refugees all across the middle east, including around 500,000 children who are being educated in UNRWA schools.
The prospect of a two-state solution, which I am sure every Member in the Chamber supports, seems to be increasingly far off. As hon. Members will know, the Labour party has a strong policy of recognising the state of Palestine as an attempt to help the process of a two-state solution. Back in November, when I visited the region with the shadow Foreign Secretary, my right hon. Friend the Member for Islington South and Finsbury (Emily Thornberry), we met Israeli and Palestinian politicians, who are struggling to engage with young people in the area. A generation is being badly let down by their own leaders.
Members have reflected on the numerous problems in the system that allow child prisoners to be kept. My hon. Friend the Member for Hammersmith (Andy Slaughter) was with us when we met children in the occupied territories last November. He referred to arrests, which are often made late at night, and often in Hebrew, which is traumatic for the families concerned. There is a disparity in the treatment of Israeli and Palestinian children in the way in which evidence is collected, and many other disparities between the treatment of settler children, who are Israelis under Israeli law, and Palestinian children, who are treated under military law.
To conclude the debate, joint Foreign Office and Department for International Development Minister responsible for the Middle East, Alistair Burt MP called on Israel to implement the reccomendations of the 2012 Foreign Office report:
As I said in the House on 9 January, Israel's treatment of Palestinian minors, particularly the practice of holding them in military detention, remains a human rights priority for this Government, as set out in the universal periodic review. Clearly, the whole situation is inextricably mixed up with Israel's occupation of Palestinian territories, which is also why there are no civilian detention facilities. The situation will not be resolved until a settlement is negotiated that serves the interest of both sides. I will return to that later.
Children are entitled to special protections and due process under international humanitarian law. Those protections are reaffirmed in the UN convention on the rights of the child, to which Israel is a state party. Many of the issues raised today come fully within that convention. To take a phrase from its text:​
"States Parties recognize the right of every child alleged as, accused of, or recognized as having infringed the penal law to be treated in a manner consistent with the promotion of the child's sense of dignity and worth".
That covers quite a lot. I do not stint in making very clear that Israel needs to live up to what is in conventions that it signs. We are talking here about everybody who is responsible, and everybody who bears the need to respond to obligations, and that is one right there.
We recognise, as a number of Members said, that Israel has made some progress toward fulfilling those obligations. It has reduced the number of detainees aged between 12 and 14, increased the age of maturity from 16 to 18, established separate juvenile courts and enacted a special statute of limitations for minors. However, our assessment is that Israel is still falling short and needs to do more to safeguard vulnerable people in its care.
In 2012, the Foreign and Commonwealth Office sponsored an independent report, "Children in Military Custody", by leading British lawyers, as has been mentioned. It made 40 specific recommendations for protecting child detainees, including that Israel should make audio-visual recording mandatory in interrogations, that it should stop using painful restraints and that it should inform detainees fully and consistently of their legal rights. To our knowledge, Israel has only implemented one of those recommendations. We have repeatedly and publicly called on Israel to fulfil its international legal obligations, and I do so again today.
In answer to the question of what we can try to do about this, I raised our concerns during my visit to Israel last summer, and our ambassador in Tel Aviv raised the issue with the Israeli Justice Minister as recently as December. We have a regular dialogue with Israeli authorities on legal issues relating to the occupation, as part of which we discuss the treatment of Palestinian children in military custody. Our "Human Rights and Democracy Report 2016" explicitly referred to Israel's treatment of children in detention and this year's report does likewise, as colleagues will see when it is published shortly. We also raised the issue at the United Nations universal periodic review last month, as I said, and while welcoming the positive steps that Israel has taken since the last review in 2012, we urged the Israelis to take further action to meet their obligations. We also continue to urge them to implement in full the recommendations I mentioned earlier.
Significantly, the hon. Member for Rotherham spoke about an understanding, particularly given her background, of wanting to help in this situation. It serves no one's purpose to use the detention of minors as a weapon in this long-running dispute, and it serves nobody's interest to defend a situation if minors are treated wrongly. It serves us all to work toward a situation where those who are engaged in detaining people for infringement of law do so only in a manner that absolutely conducive to fulfilling their obligations.
It is in that spirit that the United Kingdom continues its efforts. We are committed to helping the Israeli authorities to make the necessary changes. Last year, we invited them to attend expert discussions with the Metropolitan Police to share more than 30 years of UK experience of implementing regulations designed specifically to protect the rights of minors in detention. Do we have ​to arrest young people? Yes, we do, but it is all a question of how we do it and in what context. We were disappointed when our invitation was declined. It is not a threatening invitation or a condemnatory invitation, but an opportunity to put something right. It still stands, and we hope it is taken up in due course.
As of 9 February 2018, 135 MPs had also signed an EDM on the detention of Palestinian children by Israel. More information about the EDM can be found here.