Caabu delegates speak in Parliament about killings of and violence against protesters in Gaza
21 MPs who have been on Caabu delegations to Palestine spoke in a parliamentary debate following an Urgent Question tabled by Shadow Foreign Secretary Emily Thornberry on 15 May 2018 on the issue of violence against protesters in Gaza. It can be watched from 12:43 here.
20 of the Parliamentarians that spoke in the debate have been part of joint Caabu/Medical Aid for Palestinians (MAP) delegations to Palestine. MAP are responding to a large number of casualties in Gaza, and have set up an emergency appeal which can be supported here and through Facebook.
According to UN figures, 62 Palestinians were killed by Israeli snipers during or shortly after the protest on 14 May. 2,768 people were reported injured, including 1,357 by live ammunition, with 127 people in a critical condition, according to the MoH. A paramedic was among the dead, and 18 others were injured. 7 ambulances were also partially damaged. Since the protests began on 30 March, there have been 102 people killed, including 12 children. 12 other Palestinians were killed outside of the protests by Israeli forces since 30 March. There have been 12, 271 injuries of whom 6,760 have been hospitalised. 3,598 injuries (53%) from live ammunition.
Foreign and Commonwealth Office Minister Alistair Burt MP began the discussion by saying:
"We have been clear that the United Kingdom supports the Palestinians' right to peaceful protest. It is deplorable, but true, that extremist elements have exploited the protests for their own violent purposes. We will not waver from our support for Israel's right to defend its borders, but the large volume of live fire is extremely concerning. We continue to implore Israel to show greater restraint.
The United Kingdom remains committed to a two-state solution, with Jerusalem as a shared capital. All sides now need to show real leadership and courage, promote calm, refrain from inflaming tensions further, and show with renewed urgency that the path to a two-state solution is through negotiation and peace."
Shadow Foreign Secretary Emily Thornberry responded by calling the Israeli response, "a calculated and deliberate policy to kill and maim unarmed protestors". She said:
"What makes yesterday's events all the worse is that they came not as the result of some accidental overreaction to one day's protests but as the culmination of six weeks of an apparently calculated and deliberate policy to kill and maim unarmed protestors who posed ​no threat to the forces on the Gaza border. Many of them were shot in the back, many of them were shot hundreds of metres from the border and many of them were children."
Thornberry stressed the importance of investigation and accountability for violations of international law in Gaza, asking Alistair Burt:
"Will the Minister of State take the initiative, not just in supporting a new Security Council statement but in helping to draft a new statement … calling for an urgent, independent investigation into the violence in Gaza to assess whether international law has been broken and to hold those responsible to account—a statement to which no country could reasonably object, not even the United States, unless it is prepared to make the case that there is one rule for the Government of Israel and another rule for everyone else"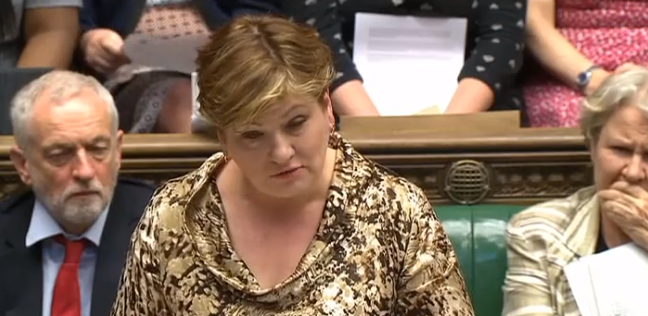 Former Caabu board member and Conservative MP, Sir Nicolas Soames criticised the Foreign Office's response on Gaza. He said:
"Even allowing for Hamas's wicked manipulation of the Palestinians, does my right hon. Friend accept that the response of the Israeli defence force was a wholly unacceptable and excessive use of force, and that it was totally disproportionate? May I also say, to my shame, that I hope our Foreign Office will indulge in a little less limp response to this terrible situation?"
SNP MP Joanna Cherry, who was party of a Caabu delegation in October 2016 asked "why the British Government refuse to condemn unequivocally the shooting dead of unarmed civilians."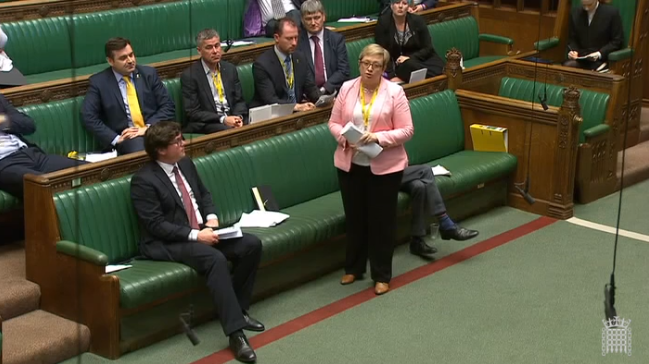 Labour MP Rushanara Ali who travelled to Palestine with Caabu in April 2011 also called for greater leadership from the Foreign Office and "stop the trend…to be mealy mouthed":
"I implore him [Alistair Burt] to use the word "condemn" and stop the trend of those in the Foreign Office to be mealy-mouthed when these killings happen. I implore our Government to take a leadership role and condemn the attacks."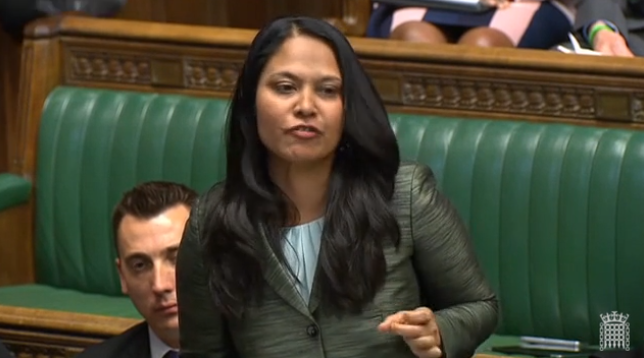 Labour MP Richard Burden, who last travelled to Palestine with Caabu in April 2016 and who is also the Chair of the Britain-Palestine All Party Parliamentary Group, also asked why the UK Government was not speaking "with the same clarity" as Israeli human rights organisations such as B'Tselem:
"The respected Israeli human rights organisation B'Tselem said yesterday that the use of live fire against demonstrators in Gaza
"evinces appalling indifference towards human life on the part of senior Israeli government and military officials."
If Israeli human rights defenders can see that, is not the White House's response, absolving Israel of all responsibility for the deaths, as reprehensible as it is short-sighted for peace? Is it really too much to expect our Government to speak with the same clarity as Israeli human rights defenders?"
Burt said that he respected B'Tselem and that the UK Government shares their concerns about the use of live fire, and that "this is an issue on which we are not in agreement with the views of the United States of America."
Labour MP Wes Streeting, who was part of a Caabu/MAP delegation in February 2016, also quoted B'Tselem, and also highlighted the "needless bloodshed" in Gaza, other human rights abuses by Israel, and the demolition of Palestinian homes in the West Bank. He said:
"Yesterday's needless bloodshed, the demolition of Palestinian homes and the ongoing abuse of Palestinian human rights demonstrate that Hamas has no better friend, or indeed recruiting sergeant, than the current Israeli Government. Given the realignment of US policy exemplified by its embassy move, is it not time for all friends of Israel, including this Government, to say plainly to the Israeli Government that their actions undermine their own peace and security and that, as B'Tselem's executive director argued only yesterday, defending the border is not a licence to kill?"
Caabu board member and Labour MP Paula Sherriff, who visited Palestine with Caabu and MAP in September 2015 highlighted the comments made by Israel's Defense Minister Avigdor Lieberman who said "there are no innoncents in Gaza":
"Does the Minister, for whom I have the greatest respect, share my outrage and sorrow that the Israeli Defence Minister, the man in charge of the Israeli snipers killing Palestinians, has declared that there are no innocents in Gaza?"
Burt responded:
"The statement she quotes is not one with which I agree. I think there have been other statements from Israeli Ministers that everyone in Gaza is a terrorist or that there is no such thing as a peaceful march. The truth is that a lot of people were taking part in the march for perfectly proper reasons: to express their concern about the despair and the hopelessness that we talked about earlier. Equally, it is true to say that there were those who knew that they could exploit it and did so. But the blanket condemnation of everyone in these circumstances does not help a proper understanding of those circumstances, and the hon. Lady is right to draw attention to such comments."
The medical emergency that many are facing in Gaza, intensified even further by recent events, was raised by Labour MP Chris Elmore who visited with Caabu and MAP in September 2017. He said:
"There is a deepening crisis in Gaza when it comes to medical support and equipment—including, following yesterday's horrific attacks at the border, for amputees, including children—as well as in reconstruction and rehabilitation. What can the Minister practically do to offer more support to the people of Gaza and ensure that they get real medical support and the rehabilitation that they need?"
Burt responded by saying that DFID "have already been in touch with those concerned about medical supplies in Gaza" and that he is "looking urgently at whether there is even more that we can do, although we have responded to some concerns already."
Labour MP Jess Phillips, who was part of Caabu and MAP's most recent delegation in February 2018, spoke of what she witnessed at Makassed Hospital in East Jerusalem:
"I met a mother who had just given birth to triplets, but she was to be removed from the hospital in Jerusalem where she was receiving care because she was a security risk. A woman who has just given birth is not a security risk to be removed from her children; but as soon as somebody removed my babies, I would certainly become one. What are the Government going to do to ensure that people seeking desperate healthcare outside Gaza—in Jerusalem—are able to get it?"
Alistair Burt responded by saying that the UK Government "do raise with the Israeli authorities the subject of movement for medical help, but it should also be recognised that there are many occasions when that help is given."
Labour MP Louise Haigh, who was part of the same delegation, highlighted the shrinking space of criticism of Israel, and in particular the case of Human Rights Watch's Omar Shakir who Israeli authorities are deporting.
"Does the Minister recognise that recent events have coincided with the clamping down on and shrinking of the space for criticism of Israel and its human rights record? Will he condemn the deportation of Human Rights Watch workers from Israel?"
Alistair Burt responded:
"The word "condemn" is easy to use; the issue is about trying to get some practicalities out of the situation. Israel's immigration policy is a matter for itself as ours is for us, but we have already drawn attention to the fact that Israel's use of it in some circumstances—in respect of human rights defenders and those with different political views—does not make for the opening up of political space. Some time ago, I gave a clear answer to a question about whether the United Kingdom would be dissuaded from talking to B'Tselem, Peace Now and one or two other such organisations. The answer is absolutely not."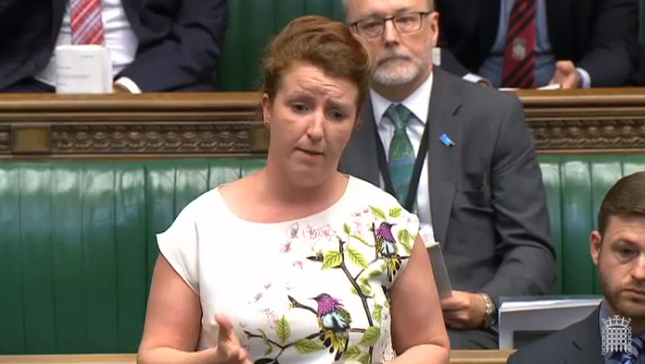 Labour MP Stephen Kinnock, who visited Palestine with Caabu in 2014, criticised the Government's "empty words" on the Occupation and illegal settlements, and called for a ban on trade with illegal settlements:
"We have been issuing stern condemnations of Israeli behaviour for decades, and all the while, the occupation has become more entrenched, illegal settlements have mushroomed ​and Palestinians have less land, rights and freedoms than ever before. Surely it is time now to move from empty words to tangible actions, starting by banning the trade from illegally occupied territories. The trade and products of businesses in the illegal territories should be banned from the European Union, and the British Government should take the lead on making that happen."
Alistair Burt responded by conflating boycotts of illegal settlements which are about maintaining international law, with boycotts of Israel:
"I am grateful to the hon. Gentleman, but that is not a view that the United Kingdom takes. We are not part of the boycott, divestment and sanctions process. We believe in giving consumers the choice, and that is not a road down which we are going to go."