On 25 May, Human Appeal and Caabu hosted a dinner to celebrate the arrival of Ramadan. The event marked the acheivements of both Human Appeal and Caabu. 2016 is Human Appeal's 25th year, who have gone from strength to strength - they have grown from a £3.7m organisation in 2011 to a £30m organisation in 2016 which makes them the fastest growing charity in the UK. You can read more about Human Appeal's work here.
The event included speeches from Channel 4's Jon Snow, Conservative MP and Caabu patron Sir Alan Duncan MP, the SNP's Leader in Westminster Angus Robertson MP, Labour's Shadow International Development Secretary Diane Abbott, Human Appeal's CEO Othman Moqbel and Caabu's director Chris Doyle. It was hosted by journalist Remona Aly. It was also attended by 25 Parliamentarians, many of which had been on Caabu delegations to the region. You can see more about the event by having a look at #BeHuman.
Sir Alan Duncan MP spoke about the vital and urgent need to end the conflict in Yemen, and how the international community must not allow this peace process to fail. He said that if talks failed in Kuwait, the result would be "catacylsmic". He also spoke about how the needs of Palestine must not be forgotten amongst other disasters in Syria and Yemen and emphasised the importance of Caabu's Parliamentary delegations to the region.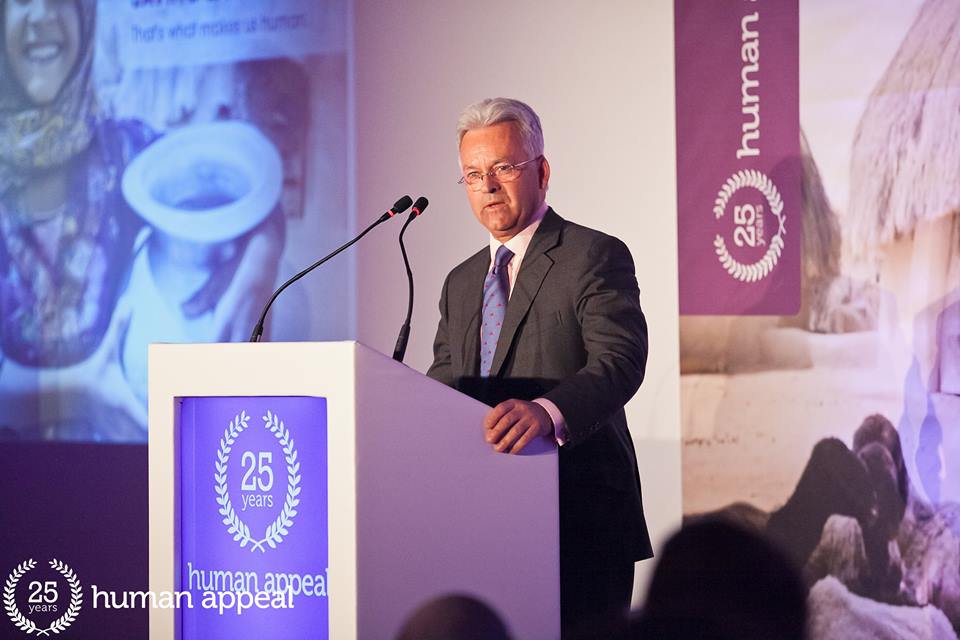 Angus Robertson MP spoke about the need to do more for Syrian refugees, and that the UK in particular has an obligation to do more for unaccompanied child refugees. He said that the UK should learn from history and help adults as well as children. He praised the work of Lord Alf Dubs, himself a beneficiary of the Kindertransport in the Second World War, rescued from the Nazis in then Czechoslovakia at the age of 6. Lord Dubs' amendment called on the UK Government to take in 3,000 unaccompanied child refugees compelled the Prime Minister David Cameron to reconsider the UK Government's position.
Diane Abbott has recently visited Somaliland, Lebanon and Turkey with Human Appeal. She spoke about meeting Syrian refugees in camps in Lebanon and Turkey, and highlighted the vital work that Human Appeal is doing with Syrian refugees and inside Syria.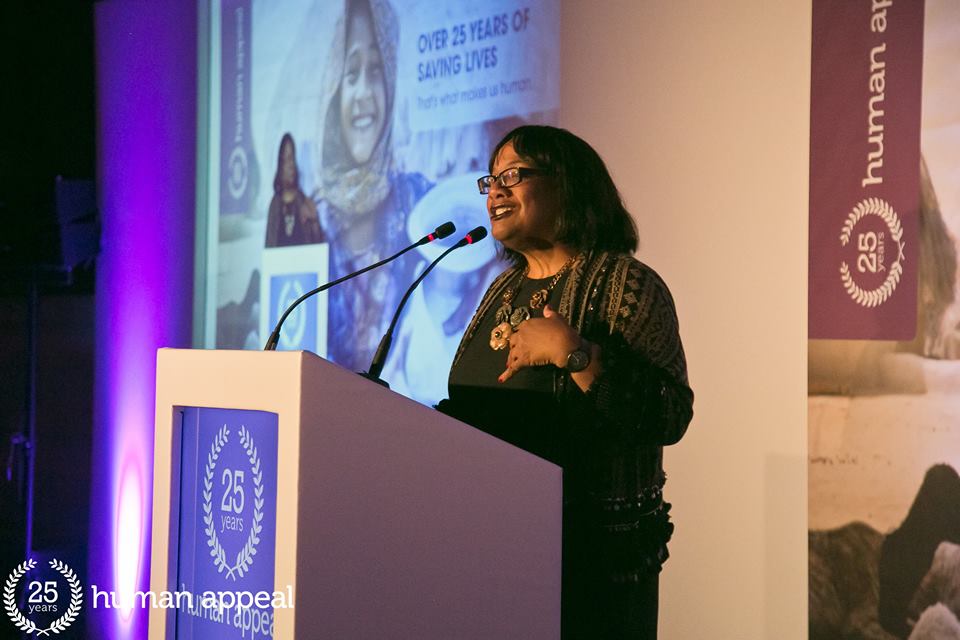 Jon Snow said that Western powers begat ISIS in Iraq, and that they now had to face up to that fact. He also said that we should treasure our multicultural society in the UK, whilst comparing it to 'apartheid-like' issues in Paris, which he witnessed after the attacks in January 2015. Too many people write off refugees, Snow said, again urging more to be done for Syrian refugees. On the issue of Arab-British understanding, Snow said that there was still so much more to be done, and has a long way to go, whilst discussing Caabu's work. He also emphasises the importance of Caabu's Parliamentary delegations, and that there needs to be more Arab-British understanding, particularly within British politics. 
The CEO of Human Appeal Othman Moqbel said that if we did not tackle the root problem in Syria, we will see Syrians become the new Palestinians - in camps 60 years down the line. Moqbel had just returned from the World Humanitarian Summit in Istanbul. He highlighted the acheivements that Human Appeal had made, and emphasised the importance of cross-party political engagement in the UK.
Caabu's director Chris Doyle spoke about Caabu's work in taking out MPs and Lords to the region "to see first hand what is happening - to meet communities under threat". He introduced the Parliamentarians in attendance that had been on Caabu delegations:
"We have here with us tonight some of the 200 MPs and Peers who have been on delegations with us since 1997 -  David Jones MP, -  Paula Sherriff, Simon Danczuk,  Lord Purvis, Baroness Sayeeda Warsi, Lord Williams and party politics aside, we also took the new Mayor of London,  who happens to be Muslim - out to the West Bank together with our partner Medical Aid for Palestinians.  We also have Lord Alf Dubs- himself as a child of 6 fled from Nazi persecution but in 2016 has forced the Prime Minister to reconsider taking in unaccompanied refugee children."
He concluded:
"We gather tonight in the shadow of long term major political crises in the Middle East with massive humanitarian consequences - in Syria, Iraq, Yemen, Libya, Palestine and elsewhere. And we at Caabu insist on seeing it like that.  Not for one second should we ever forget that what is happening in all these places, what caused the refugee crisis, what had led to the rise of Al Qaida and ISIS, and then the renaissance of the far right neo-fascist, anti-Muslim,  parties across Europe,  is long term political failure for which few parties here or in the region are innocent or blameless.  Whatever Britain's future in or out of the EU, there is a role, an opportunity for a wise cool head, a pragmatic Britain that can lead not just follow."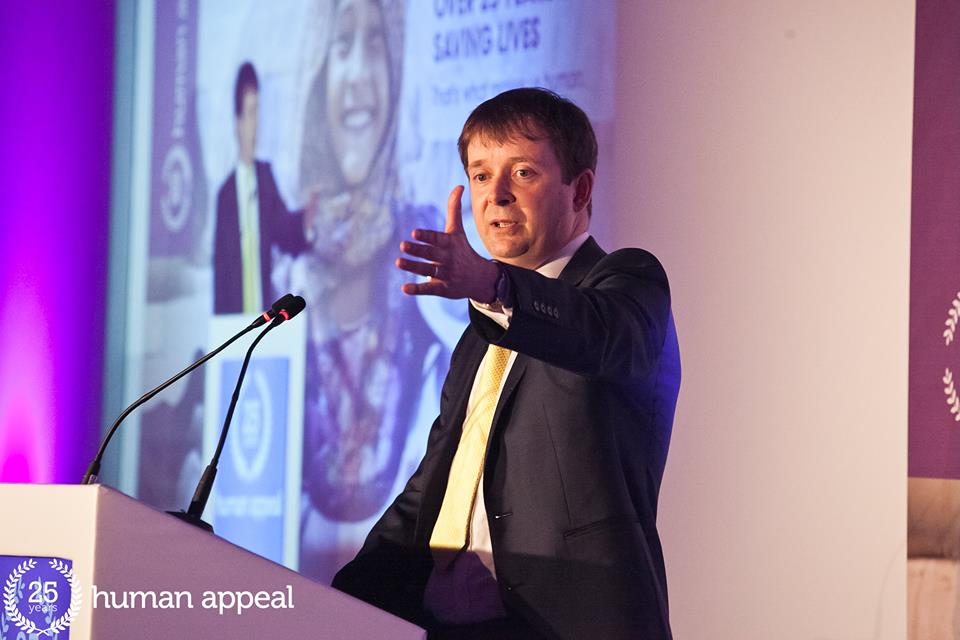 Photos by Yakub Merchant.