Martial law on the West Bank: Discrimination in action
Kate Meekings
3 October 2012
In May 2012, a Caabu delegation to Ofer military court in the West Bank saw a Palestinian child tried for throwing a Molotov cocktail. The 16-year-old boy looked close to tears throughout his 'trial': his legs were shackled together, he had a lesion on his cheek and for most of the time he was in the courtroom his eyes were fixed on his mother, not the judge. When asked how he pleaded, he seemed confused and looked imploringly across the room to his mother, whom he had not seen since his arrest. His lawyer instructed him to plead guilty and he was swiftly sentenced to 20 months in prison.
Three months later, on 16 August, six Palestinian civilians - including two children - were wounded in a firebomb attack on a taxi by Israeli settlers in the West Bank. Three Israeli children, aged between 12 and 13, from the nearby settlement of Bat Ayin were arrested, questioned, and then released three or four days later.
It is useful here to compare the equivalent processes that a 12-year-old Palestinian child would go through if arrested on suspicion of a firebomb attack. While both children would be held criminally responsible for such an attack, only the Palestinian child could receive a custodial sentence. A 12-year-old Israeli child can be held without access for a lawyer for 48 hours, while his Palestinian counterpart can be held for 90 days. Bail is granted for 80% of Israeli children, but only 13% of Palestinian children. As mentioned, an Israeli 12-year-old cannot receive a custodial sentence (older Israeli children, aged from 14 to 17, receive custodial sentences in 6.5% of cases), yet 90% of Palestinian 12-year-olds will receive a custodial sentence.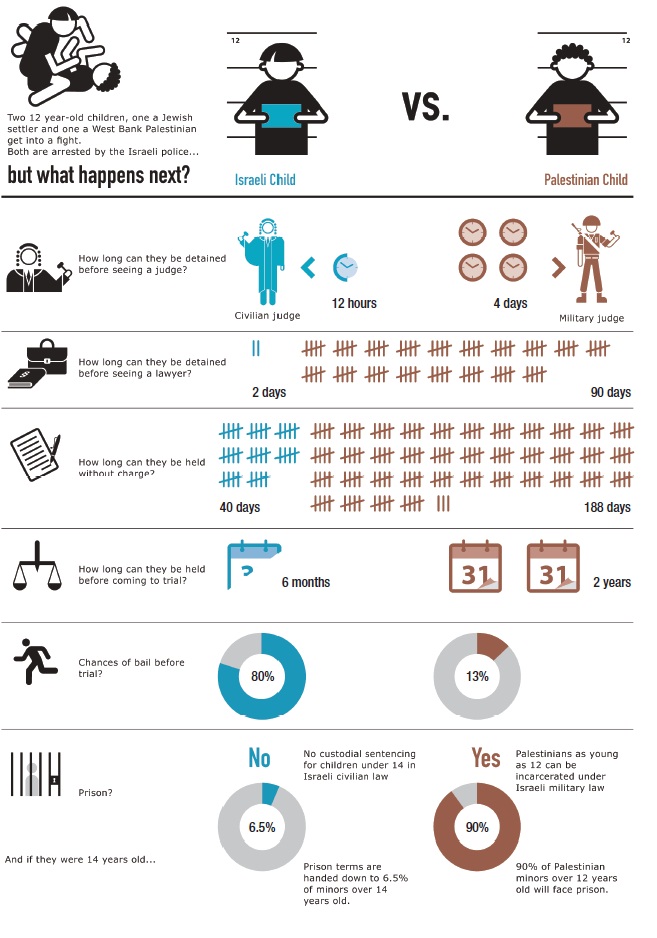 Clearly I cannot know for certain whether any of the young people mentioned above were guilty of what they were accused of. What is clear however is that this dual judicial system, which differentiates between two peoples living in one land on the basis of race, systematically discriminates against Palestinians. When taken in combination with the findings of Israeli human rights organisation Yesh Din, which indicate that 91% of cases brought by Palestinians against Israelis are closed without indictment, it is plain that Israel's rule of law in the West Bank has nothing to do with protecting Palestinians.
Ends
Notes
1 Caabu has taken eight delegations of MPs to visit Israel's military courts since 2010.
2 Caabu will soon be publishing a new report, Palestinian detainees: no security in injustice, which analyses the plight of Palestinian detainees in Israeli and Palestinian jails. The report will include research and analysis on various troubling aspects of the detainee's experience, including ill-treatment, arrest without charge and child detention.