25 Apr 2023 18:00 - 19:00
Caabu invites you to an online briefing: In Search of the River Jordan: A Story of Palestine, Israel and the Struggle for Water, with James Fergusson who will discuss his new book of the same title, on Tuesday 25 April 2023 at 6pm (BST UK time).
Register for this online briefing here.
In Search of the River Jordan: A Story of Palestine, Israel and the Struggle for Water can be purchased here. Books by Caabu speakers can be purchased here through Caabu's affiliate page on Bookshop.org. Caabu receives 10% of any purchase made as does an independent book shop.
When: Tuesday 25 April 2023, 18:00 (BST, UK time).
Where: Online. Sign up for the discussion here.
The event will also be live-streamed on Caabu's Youtube channel which you can also subscribe to. Previous Caabu briefings and discussions can also be watched here and a recording of this event will be posted here afterwards also. Previous Caabu briefings can be watched in this playlist here.
Caabu has created an affiliate page on Bookshop. This means, that with any purchase through this site, 10% of the sale price will be sent to us and another 10% will go to support local bookshops. We think this is a great way to support Caabu's work and independent bookshops across the country. More details about it can be found here.
Buy other books from previous online Caabu briefings 

here

 and from physical events we've hosted 

here

.
Other books written by Caabu speakers, including others written by James Fergusson, can be found

here

.
We hope you enjoy reading any of these titles, and supporting Caabu in the process.
You can sign up for the discussion here using your email address. Please note that sign up is a two part process. Once you have signed up with your email address, this will then be approved, and details will then be emailed to you ahead of the event. Please do check your inbox (including Junk and Clutter folders) for this email with the link to join the event on the day. 
Please register below AHEAD of time to join this online briefing. This makes it much more helpful to us: https://us06web.zoom.us/meeting/register/tZwvde6qqjMiHNIc5shNJZ-TvZMhLVOk2ey6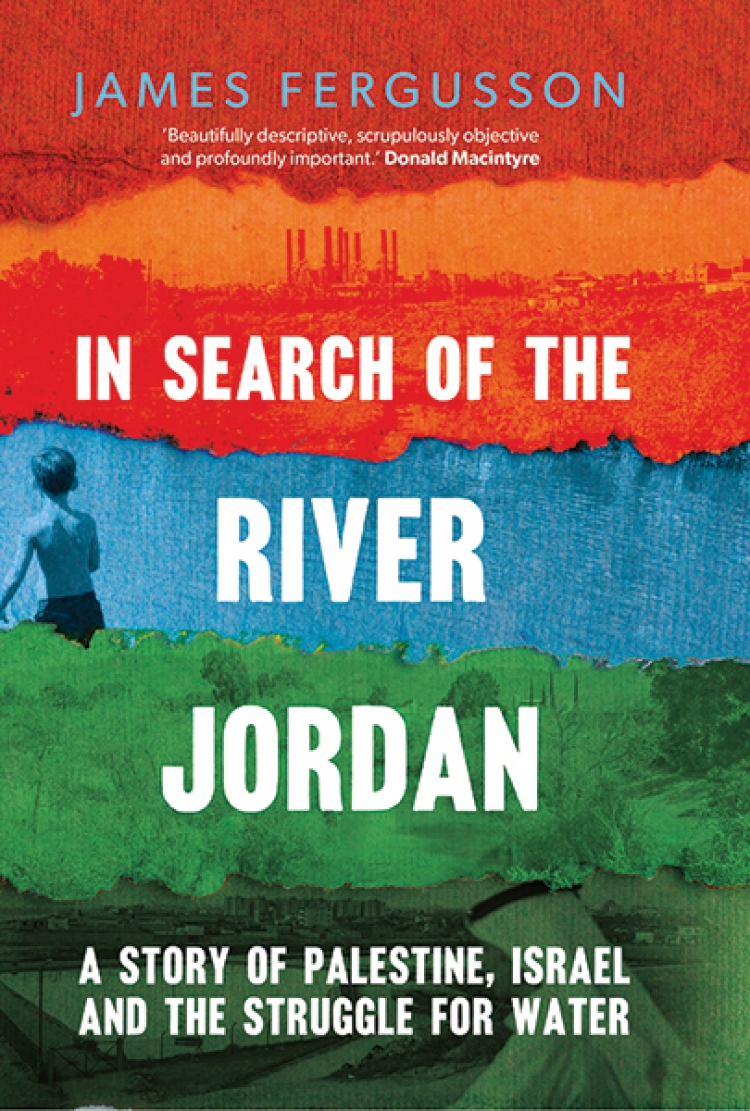 PLEASE DONATE TO SUPPORT CAABU'S VITAL WORK: We would be also be very grateful for any donations to help us in our work right now and keep our programme including the webinars going forward. Donate here. Become a member for £50 a year here.
You can watch previous online Caabu briefings on our Youtube channel which you can also subscribe to. 
Keep up to date with Caabu's work by liking our Facebook page and following us on Twitter. Please do also watch our video, about 50 years of our vital work. 
About the book:
Access to water has played a pivotal role in the Israel-Palestine dispute. Israel has diverted the River Jordan via pipes and canals to build a successful modern state. But this has been at the expense of the region's cohabitants. Gaza is now so water-stressed that the United Nations has warned it could soon become uninhabitable; its traditional water source has been ruined by years of over-extraction and mismanagement, the effects exacerbated by years of crippling blockade.
 Award-winning author and journalist James Fergusson travels to every corner of Israel and Palestine telling the story of the River Jordan and the fierce competition for water. Along the way, he meets farmers, officials, soldiers, refugees, settlers, rioting youth, religious zealots, water experts, and engineers on both sides of the Green Line. Fergusson gives voice to the fears and aspirations of the region's inhabitants and highlights the centrality of water in negotiating future peace.
"James Fergusson gives the reader a vivid understanding of the intricacies of occupation in Israel-Palestine by showing how the issue of water has been weaponised. The book describes the strange geography of the River Jordan and the vanishing Dead Sea, and gives lively descriptions of people and places along the way."—Raja Shehadeh, author of We Could Have Been Friends, My Father and I: A Palestinian Memoir
"In this beautifully descriptive, scrupulously objective, and profoundly important book, James Fergusson exposes the shamefully unequal allocation of vital water resources between Israelis and Palestinians – while daring to dream that righting this wrong could be a first step towards a just peace."—Donald Macintyre, author of Gaza: Preparing for Dawn
"Presents a vivid and enlightening new angle on the Middle East's most intractable conflict. Fergusson's book is both a highly readable and engaging travelogue and a nuanced political analysis of the balance of power in contemporary Israel-Palestine."—William Sutcliffe, author of The Wall 
"A beautifully conceived and written book. That contemporary Israel-Palestine is a land of both environmental destruction and hydro-apartheid is not news. But in Fergusson's hands, these brute realities are revealed in the most sensitive, compelling and accessible of styles."—Jan Selby, author of Water, Power and Politics in the Middle East
"James Fergusson's meticulous search for each rivulet, stream, mountain aquifer, sewage pipe and desalination plant concludes with a crystal-clear vision of an ecological reconciliation. Anyone interested in peace should read this book."—Nick Thorpe, author of The Road Before Me Weeps
About the speaker:
James Fergusson started out in journalism in 1989 on The Independent. He has written for many publications since, covering current affairs in Europe, North and East Africa, the Far East, the Caribbean and, especially, Central Asia and Afghanistan. For three years he was also the political features editor of Robert Maxwell's ill-fated newspaper, The European.
From 1998 to 2000 he worked in Sarajevo as a press spokesman for the Office of the High Representative, the body charged with implementing the Dayton Peace Accord that ended Bosnia's civil war in 1995. This was followed by a spell at Hakluyt & Co, the London-based corporate intelligence firm.
His first book, Kandahar Cockney (2004), was a Radio 4 Book of the Week, and told the story of Mir, his Afghan fixer/interpreter who he helped gain political asylum in London.
His second, The Vitamin Murders (2007), concerned the mysterious death of Sir Jack Drummond, Britain's top government food scientist during World War Two. It was shortlisted for the the André Simon Award for gastronomic literature.
A Million Bullets (2008), about Nato's campaign in southern Afghanistan, was the British Army's Military Book of the Year, and became required reading on many Staff College courses This was followed by Taliban (2010), an argument for a negotiated settlement to the Afghan war.
In 2013 came The World's Most Dangerous Place, which deals with Somalia and its diaspora, and the security threat posed to the West by the Al Qaida affiliate, Al Shabaab. It was shortlisted for the Orwell Prize and Paddy Power Political Book Awards International Affairs Book of the Year.
There followed in 2017 Al Britannia, My Country, a wide-ranging survey of British Islam which was shortlisted for the British Academy Nayef Al-Rodhan Prize for Global Cultural Understanding. His latest book, In Search of the River Jordan (2023), deals with the water politics of Israel-Palestine.
He Tweets: @jferg66.
Caabu is a not-for-profit cross-party organisation whose mission is to work for a British Middle East policy that promotes conflict resolution, human rights and civil society in the Arab world through informed debate and mutual understanding. Caabu is one of the most active NGOs working on the Middle East in British parliament since its establishment in 1967. From then on Caabu has assumed an active advocacy, educational and media role.
Keep up to date with Caabu's work by liking our Facebook page and following us on Twitter. Please sign up as a Caabu member or make a donation to support our work.