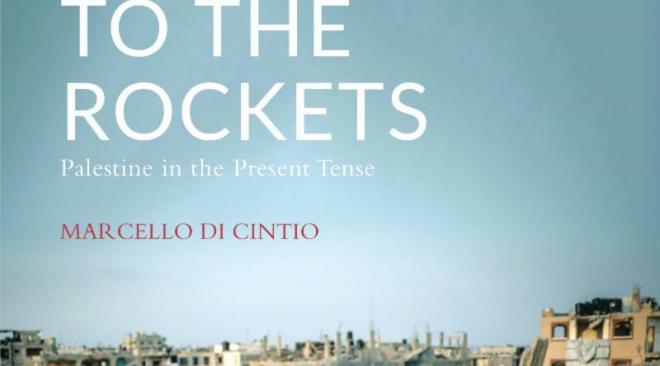 16 May 2018 11:57 - {11}:{57}
The Arab British Cenre
1 Gough Square, London
Chancery Lane, Temple, Farringdon, Blackfriars
Caabu would like to invite you to a book launch on Palestine with award winning author, Marcello Di Cintio. Di Cintio will be in conversation with author and academic Atef Alshaer , talking about his book, Pay No Heed to the Rockets: Palestine in the Present Tense.
On the day, the book will be sold with a 10% discount at £8.
When: 16 May 2018, 12:00 
Where: Boardroom, The Arab British Centre, 1 Gough Square, London, EC4A 3DE - directions here.
RSVP is essential. Please confirm your attendance with Joseph Willits (willitsj@caabu.org). 
Keep up to date with Caabu's work by liking our Facebook page and following us on Twitter.
Also if you would be interested in signing up as a member to support our work, you can do so here. Please do also watch our video, about 50 years of our vital work. 
About the book
Across Palestine, from the Allenby Bridge and Ramallah, to Jerusalem and Gaza, Marcello Di Cintio has met with writers, poets, librarians, booksellers and readers, finding extraordinary stories in every corner. Stories of how revolutionary writing is smuggled from the Naqab Prison; about what it is like to write with only two hours of electricity each day; and stories from the Gallery Café, whose opening three thousand creative intellectuals gathered to celebrate.
Pay No Heed to the Rockets offers a window into the literary heritage of Palestine that transcends the narrow language of conflict. Paying homage to the memory of literary giants like Mahmoud Darwish and Ghassan Kanafani and the contemporary authors they continue to inspire, this evocative, lyrical journey shares both the anguish and inspiration of Palestinian writers at work today.
About the author
Marcello Di Cintiois an award-winning Canadian writer who has lived in West Africa, North Africa, India and the Middle East. He is the author of Harmattan: Wind across West Africa, Poets, Pahlevans: A Journey into the Heart of Iran and Walls: Travels Along the Barricades, which won the City of Calgary W. O. Mitchell Book Prize and the Wilfred Eggleston Prize for Non-Fiction, and was also named as one of The Globe and Mail's top 100 books of 2012. He is a former writer in residence with the Calgary Distinguished Writers Program and the Palestine Writing Workshop, and an instructor at the 2015 Iceland Writers Workshop. More information can be found on his website.
He Tweets @DiCintio.
About the chair
Atef Alshaer is a Lecturer in Arabic Studies at the University of Westminster. He first came to London after completing his Bachelor degree in English Language and Literature at the University of Birzeit in Palestine. He then went on to obtain a masters and PhD from the faculty of Languages and Cultures at SOAS, University of London and has taught there until 2014. Alshaer has written several research papers and monographs, including his book, Poetry and Politics in the Modern Arab World and an edited volume, Love and Poetry in the Middle East; andLanguage and National Identity in Palestine: Representations of Power and Resistance in Gaza. This is in addition to his co-authored book (with Dina Matar and Lina Khatib), The Hezbollah Phenomenon: Politics and Communication.
He also writes and translates poetry. His latest translations include poems by the Sudanese poet, Al-Saddiq Al-Raddi.