Read Caabu's Annual Report. Support Caabu's work
Click here to read Caabu's Annual Report 2012:
_________________________________________________________________________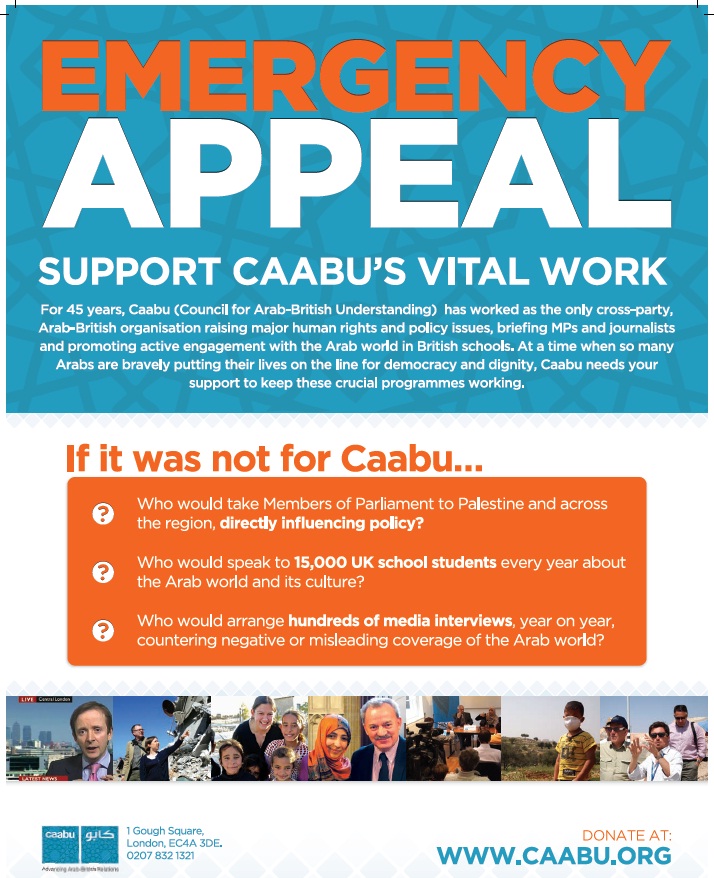 Caabu EMERGENCY APPEAL update
October 2012
Caabu launched an emergency appeal in January 2012 to help save the organisation from closure. We are extremely grateful to your support but we still need your help. Thanks to your help so far, Caabu will stay open at least until the end of December 2012. But after then Caabu will shut for good unless you can help us with a donation today.
If Caabu is to carry on briefing decision makers on the facts of the region we need your help now.
Whilst Caabu has been working hard to raise funds to cover our core costs, there have also been significant reductions in staff. Sadly, Caabu had to suspend its education programme in May. Proposals have gone to potential donors to see if they will fund our education work, giving talks and workshops up and down the country. Caabu does not wish to see this aspect of our work disappear, as speaking to 15,000 schoolchildren a year helping introduce the Arab World to British schools was one of our most crucial programmes.
Caabu is now focusing its work on a few of the major crises where our specific expertise can be best used. Although there are huge challenges facing the region, as a small organisation, Caabu simply cannot address them all.
Palestine– Caabu will continue its successful delegations to Palestine, building up parliamentary support for Palestinian rights. The focus will be on ending the occupation and adhering to international law, concentrating on settlements, Area C, the blockade of Gaza and child detainees.
Syria and Lebanon– Caabu's Syria programme has developed a reputation for giving top-level briefings to Ministers, politicians and civil servants to find solutions to a crisis that could threaten the entire region. Caabu's Director has become a much sought after commentator in the media. The Syria programme will continue to:
Highlight the key trends inside Syria with a view to inform policy. There is a clear need to sponsor further research into events and trends in Syria as there are huge gaps in knowledge.
Develop proposals to support Syrian civil society and transition planning.
Events: Caabu will continue to deliver high quality events to members, politicians and the media promoting a better informed British policy towards the region. We also arranged a major speaking tour for the Nobel Prize winner Tawakkol Karman that included a meeting with the Foreign Secretary on Yemen.
In the last 12 months, Caabu has taken 19 parliamentarians to Occupied Palestinian Territory, seven Parliamentarians to Jordan and three to Lebanon. Delegates included Richard Graham MP, PPS at the Foreign Office; Ian Lucas MP, the Shadow Minister for the Middle East and former cabinet Ministers, Andy Burnham MP, Ben Bradshaw MP and John Denham MP. As follow up to these delegations, MPs have briefed Parliament, ministers and party spokesmen and secured debates on various topics to ensure they remain on the agenda. No other cross party group is carrying out this vital work.
We hope that you will consider supporting Caabuand its work.