'Pitching for Palestine' briefing paper available from Caabu-MAP Event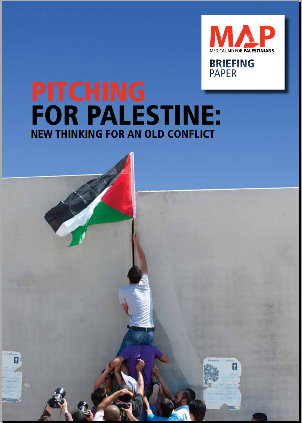 In April of this year, Caabu and Medical Aid for Palestinians (MAP) organised a sell-out event at Church House in Westminster, which drew an illustrious panel to generate new, imaginative and practical ways forward for the Israeli-Palestinian conflict. Chaired by Channel 4's Jon Snow, the panel included the Commissioner-General of UNRWA, a shadow International Development minister, two renowned professors, the editor of a world famous medical journal and a former Palestinian negotiator.
The difficulty today is that the only game in town seems just that - a game. Palestinians are angered by the lack of urgency in resolving the conflict, ending the colonisation and occupation of their lands, the blockade of Gaza and their enforced exile, while Israel is isolated and no closer to making peace with its neighbours. As a result, the debate has been reduced to the question of how to have more talks about talks, while governments still refer to a 'peace process' that has been non-existent for years.
The need for new thinking on this conflict couldn't be more crucial and we were delighted to see our panel rise to the challenge, putting forward a whole host of constructive ideas to kick-start a move forward.
The ideas generated that night have now been collated in a briefing paper produced by MAP and available here.