MAP: Europe and Palestine's UN bid
Caabu has created these maps to illustrate Europe's position on the issue of recognising a Palestinian State at the United Nations.
We will update this map as more information comes in.
Green indicates support
Red indicates oppositon
Orange indicates abstention
White indicates position unclear
(As of 21:00 GMT 29.11.2012)
The final votes have been cast in the United Nations General Assembly: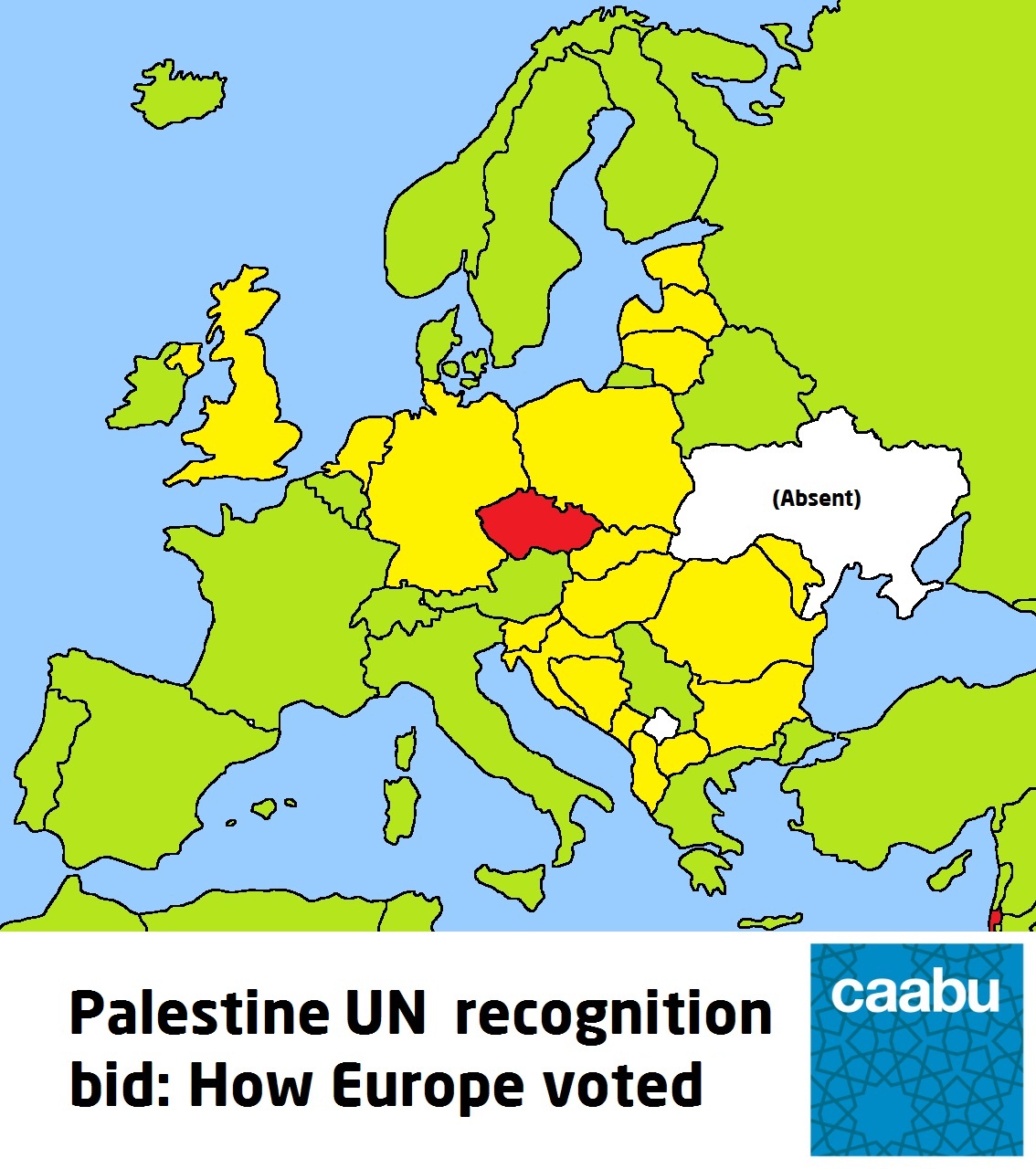 The draft resolution on the Status of Palestine at the United Nations (document A/67/L.28) was adopted by a recorded vote of 138 in favour to 9 against, with 41 abstentions, as follows:
In favour: Afghanistan, Algeria, Angola, Antigua and Barbuda, Argentina, Armenia, Austria, Azerbaijan, Bahrain, Bangladesh, Belarus, Belgium, Belize, Benin, Bhutan, Bolivia, Botswana, Brazil, Brunei Darussalam, Burkina Faso, Burundi, Cambodia, Cape Verde, Central African Republic, Chad, Chile, China, Comoros, Congo, Costa Rica, Côte d'Ivoire, Cuba, Cyprus, Democratic People's Republic of Korea, Denmark, Djibouti, Dominica, Dominican Republic, Ecuador, Egypt, El Salvador, Eritrea, Ethiopia, Finland, France, Gabon, Gambia, Georgia, Ghana, Greece, Grenada, Guinea, Guinea-Bissau, Guyana, Honduras, Iceland, India, Indonesia, Iran, Iraq, Ireland, Italy, Jamaica, Japan, Jordan, Kazakhstan, Kenya, Kuwait, Kyrgyzstan, Lao People's Democratic Republic, Lebanon, Lesotho, Libya, Liechtenstein, Luxembourg, Malaysia, Maldives, Mali, Malta, Mauritania, Mauritius, Mexico, Morocco, Mozambique, Myanmar, Namibia, Nepal, New Zealand, Nicaragua, Niger, Nigeria, Norway, Oman, Pakistan, Peru, Philippines, Portugal, Qatar, Russian Federation, Saint Kitts and Nevis, Saint Lucia, Saint Vincent and the Grenadines, Sao Tome and Principe, Saudi Arabia, Senegal, Serbia, Seychelles, Sierra Leone, Solomon Islands, Somalia, South Africa, South Sudan, Spain, Sri Lanka, Sudan, Suriname, Swaziland, Sweden, Switzerland, Syria, Tajikistan, Thailand, Timor-Leste, Trinidad and Tobago, Tunisia, Turkey, Turkmenistan, Tuvalu, Uganda, United Arab Emirates, United Republic of Tanzania, Uruguay, Uzbekistan, Venezuela, Viet Nam, Yemen, Zambia, Zimbabwe.
Against: Canada, Czech Republic, Israel, Marshall Islands, Micronesia (Federated States of), Nauru, Palau, Panama, United States.
Abstain: Albania, Andorra, Australia, Bahamas, Barbados, Bosnia and Herzegovina, Bulgaria, Cameroon, Colombia, Croatia, Democratic Republic of the Congo, Estonia, Fiji, Germany, Guatemala, Haiti, Hungary, Latvia, Lithuania, Malawi, Monaco, Mongolia, Montenegro, Netherlands, Papua New Guinea, Paraguay, Poland, Republic of Korea, Republic of Moldova, Romania, Rwanda, Samoa, San Marino, Singapore, Slovakia, Slovenia, The former Yugoslav Republic of Macedonia, Togo, Tonga, United Kingdom, Vanuatu.
Absent: Equatorial Guinea, Kiribati, Liberia, Madagascar, Ukraine.
(As of 14:45 GMT 29.11.2012)
Italy has announced that it will be joining a growing landslide of states supporting Palestine's UN recognition bid.
Meanwhile, Germany revealed that they ended their opposition to the bid after Israel refused to engage on issue of settlement expansion.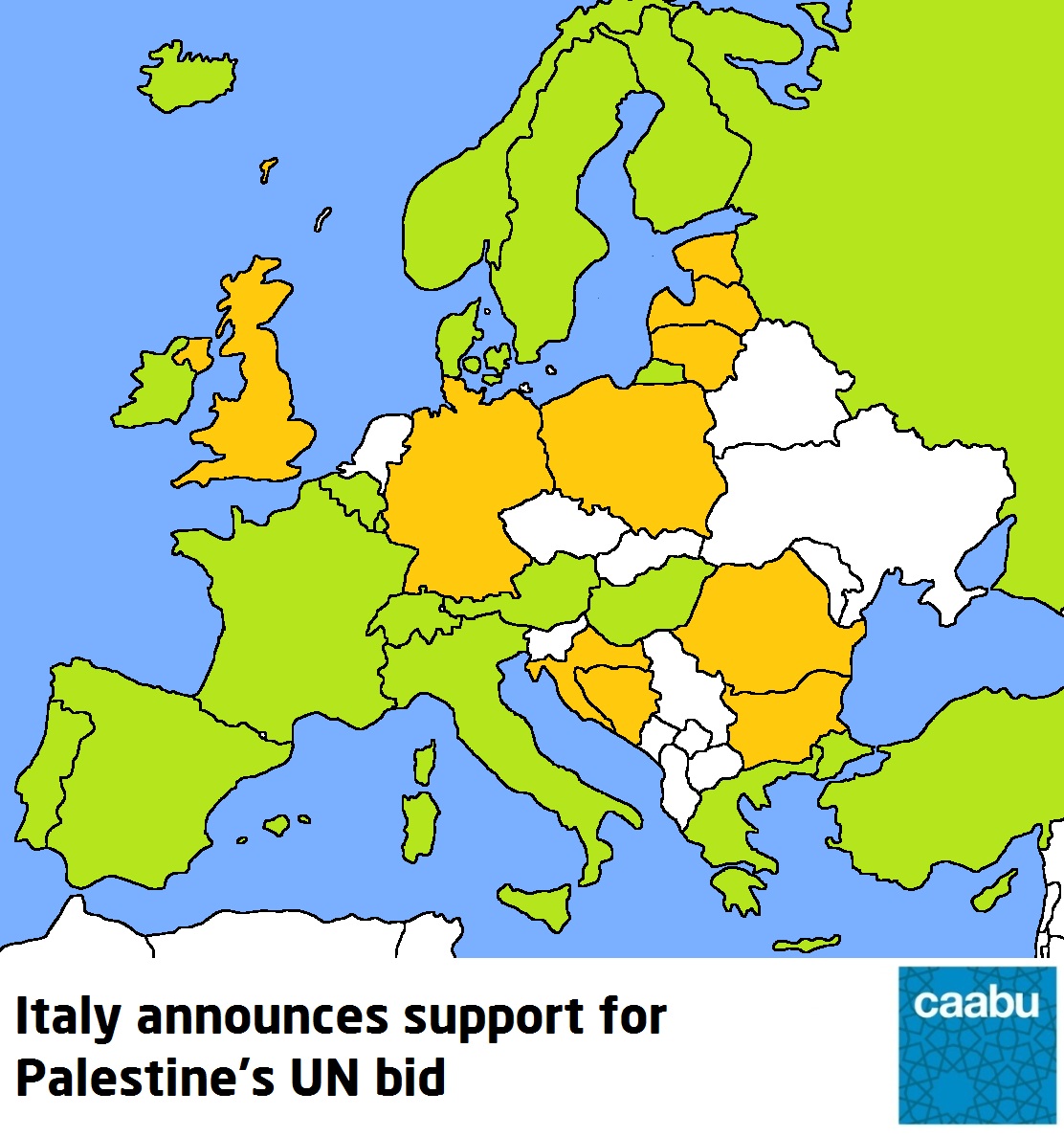 (As of 13:00 GMT 29.11.2012)
Europe's overall position has changed dramatically overnight as Germany and Belgium made unexpected reversals on their opposition to Palestine's UN bid. Germany has said it will now abstain with the UK, while Belgium has opted to support the initiative. This in turn has thrown into doubt the Czech Republic's position, leaving no European state clearly voting 'no':
(As of 16:00 GMT 28.11.2012)