Caabu Director gives evidence on UK relations with the Gulf to the Foreign Affairs Select Committee
Caabu Director gives evidence on UK relations with the Gulf to the Foreign Affairs Select Committee
29 January 2013
In oral evidence to the Foreign Affairs Select Committee on 29 January Caabu Director, Chris Doyle, outlined the major importance of the relationship with the Gulf to the UK. He argued that we should not take these relationships for granted given increased competition from other states and changes in the region. Britain should have a constructive engagement including robust discussions on human rights, aiming to assist where possible in evolution not revolution in these states. Throughout his evidence he stressed the major changes in the region, how they were affecting the Gulf and that British policy makers would have to accept that the existing political order in the Gulf may not remain the same in decades to come.
"There are huge levels of youth, high unemployment. They are not getting jobs. They have large migrant work forces. Plus, there is a very delicate regional neighbourhood, with potential conflict with Iran and still huge issues going on in Iraq. It looks stable on a day-to-day basis when you go there, but if you actually dig down a little bit deeper, I am not so sure that it is anymore."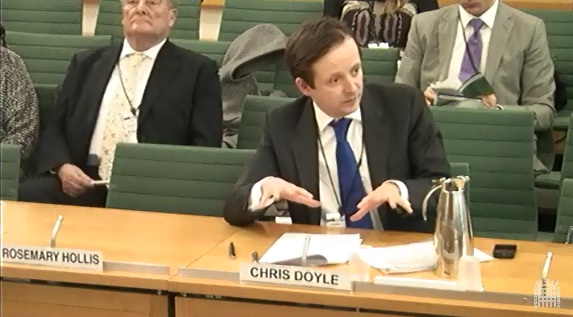 Doyle stressed how important it was to understand attitudes amongst young Arabs who make up the majority of the population in these states.
"I think it is very difficult for us sitting in London, and for Foreign Office officials, actually to tap into the huge, large young populations in all these countries, which are increasingly connected and increasingly on social media, with new access to information and inspired by what has gone on in other countries as to exactly what they want for their futures and how they see us. I think it is very fluid and very changing. Add on top of that increasing signs of radicalisation and extremism in the region, which has its impact if they feel frustrated and angered at the slow progress of change, plus a very worrying sectarian narrative that is going on, exacerbated by events in Iraq and Syria, and it means that, underneath the relationship, there are some great uncertainties about where it is heading."
Doyle argued that the increased level of British ministerial visits had helped in cementing relations, allowing Britain to be more open about our concerns. However, he said that he did not accept what the Prime Minister, David Cameron, claimed when visiting the Gulf in November 2012, "that there were no no-go areas. I have spoken to diplomats and former diplomats, and I do not think that they would necessarily share the belief that, when it really comes down to, say, a British Prime Minister meeting with one of these major rulers, there are no no-go areas."
He went on to argue that"the problem will come as more and more people become more aware of what Britain's position on these issues is [democracy and human rights]; they are watching and looking to see how we handle it and, increasingly, they may not be so impressed."
Ends…
Notes to editors:
1. For more information contact Chris Doyle, on + 44207 832 1321 or +447968 040281.
2. The full text of the evidence can be read here